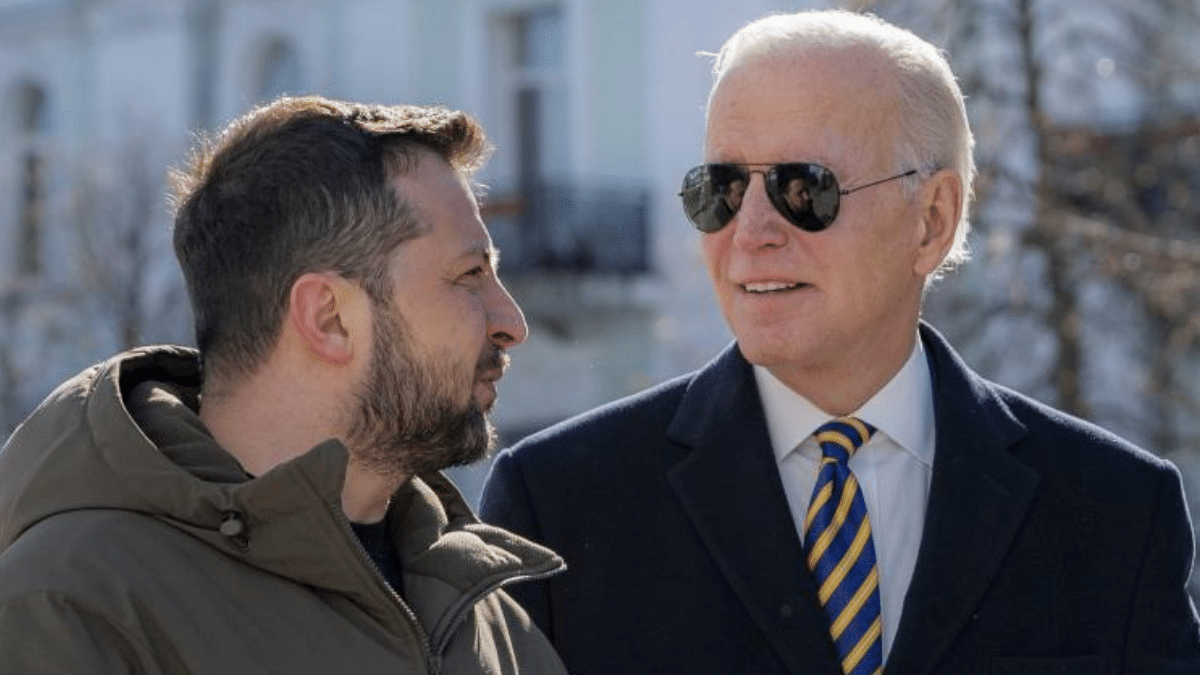 Biden makes surprise visit to Kiev on day before Ukraine war anniversary
COUNTRIES
|
FEBRUARY 21, 2023
|
LAST UPDATE: FEBRUARY 21, 2023 10:40
NEWSROOM
US President Joe Biden made an unannounced visit to Kiev on Monday, the first since the beginning of Russia's one-year invasion on Friday, and met with his Ukrainian counterpart, Volodymyr Zelenski. He announced $500 million in additional aid to Ukraine and said he would announce more sanctions against Russia this week.
Biden explained with Zelenski at the Mariinsky Palace in Kiev that the new aid package will include more military equipment, as well as artillery ammunition, howitzers and Javelin missiles, a man-portable weapon designed to destroy tanks and other heavy vehicles.
However, Biden did not announce the delivery to Ukraine of new military equipment, such as F-16 fighter jets, which Zelenski is demanding to defend against Russia.
"One year later, Kiev is still standing. Ukraine is still standing and democracy is still standing," the US president proclaimed.
Biden said he did not want there to be any doubt about America's "unwavering" support for Ukraine's democracy, sovereignty and territorial integrity, which is why he had travelled to Kiev on Monday.
For his part, Zelenski thanked him for his presence in Kiev and explained that the two had discussed "long-range weapons and weapons that could still be supplied to Ukraine, but have not been supplied before", without elaborating on exactly what kind of weapons he was referring to.
Ukrainian media showed images of the two leaders walking near St Michael's Cathedral in central Kiev on a morning walk and heading towards a memorial wall in honour of Ukrainian soldiers killed in the war against Russia.
Biden visits Kiev as it marks the anniversary of the culmination of the EuroMaidan Revolution, a series of anti-government protests between 2013 and 2014 that toppled pro-Russian President Viktor Yanukovych.
More than 100 protesters were killed during those protests, many of them in a single day on 20 February 2014, and are known in Ukraine as the Heavenly Hundred.
Biden's commitment to Ukraine
Biden's arrival also comes after Ukrainian Foreign Minister Dmytro Kuleba cancelled a planned visit to Brussels on Monday to meet with his European Union (EU) colleagues to discuss further aid to Ukraine.
At the moment, Kiev is under tight security, which is why this visit, as Zelenski suggested last week, is a clear sign of the commitment to this war by the United States, which is so far the main financial and military support that Ukraine has at its disposal to confront Russia.
In this vein, Biden has insisted since the beginning of the Russian invasion that Ukraine could rely on the US to be its biggest partner in this conflict for "as long as it takes", even in the absence of any short-term prospects for peace talks.
To date, the US has sent more than $30 billion in military and financial support to Ukraine, while pressing its NATO partners to step up arms deliveries, including long-awaited Leopard 2 tanks.
Other world leaders have already visited Kiev over the past year to show solidarity with Ukraine. They include French President Emmanuel Macron, German Chancellor Olaf Scholz, Canadian Prime Minister Justin Trudeau and Spanish Prime Minister Pedro Sánchez.
Following his visit to Kiev, Biden is scheduled to visit Poland to reaffirm his commitment to NATO's eastern flank countries.