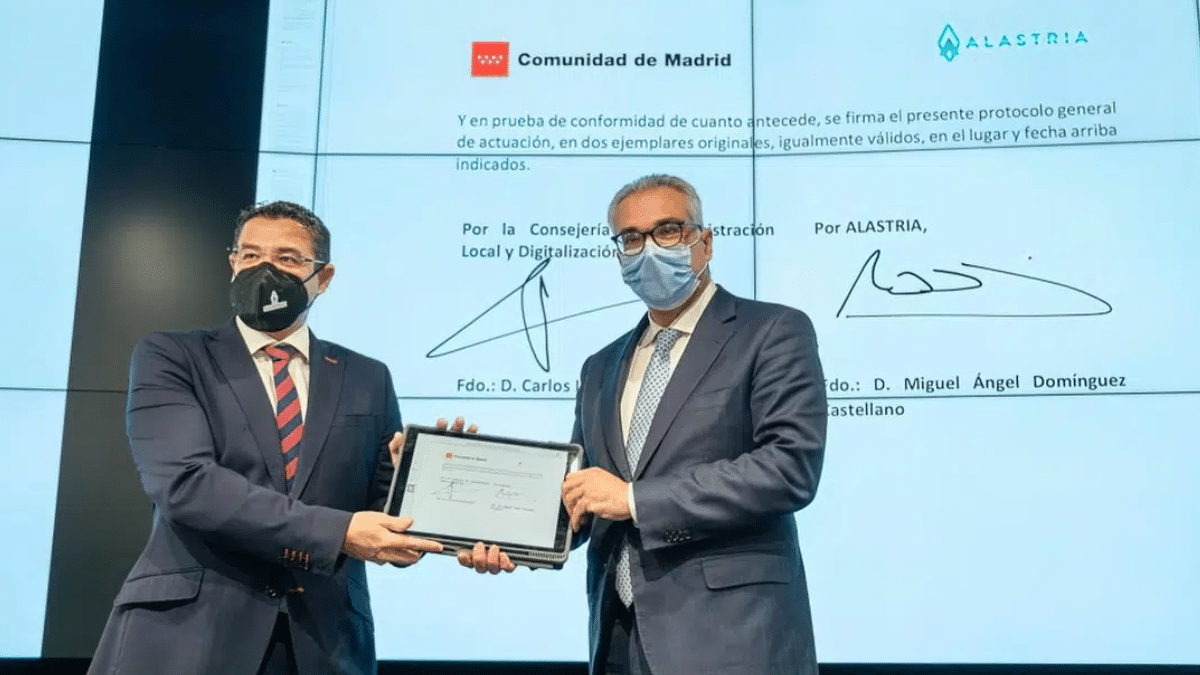 The Community of Madrid joins forces with Alastria to promote a new technology industry with international projection
FINANCE
|
MAY 7, 2022
|
LAST UPDATE: DECEMBER 14, 2022 17:35
NEWSROOM
Isabel Díaz Ayuso's idea is to turn the Autonomous Community of Madrid (CAM) into the digital nerve centre of southern Europe, creating a thriving digital technology industry based on the Blockchain.
The clear objective is to make Madrid an export powerhouse for this technology.
To that end, Carlos Izquierdo, CAM's Minister for Local Government and Digitalisation, Miguel Ángel Domínguez, President of the Alastria association and CEO of Add4you, and the law firm Garrigues – in its role as Alastria's secretary – have signed an agreement to create a cluster, a public-private entity, in the municipality of Tres Cantos, in the north of the region.
It is one of four that CAM will set up under the leadership of Alberto Retana de la Fuente, the Community's digital director.
The other three are the Digital Transformation Centre, located in Torrejón de Ardoz, the Internet Centre in Las Rozas, and the Artificial Intelligence Centre in Leganés.
CAM will contribute a total of 5.4 million euros – 1.8 million euros in 2022 and 3.6 million euros in 2023 – to the three clusters.
Alastria, for its part, will contribute all of its technology funds, valued at many millions of euros. Among these funds is the sovereign digital identity protocol, a benchmark in the European Union because it is a revolutionary and innovative approach that gives citizens control over their digital person.
Alastria has been joined by 22 companies and organisations – all members of Alastria – such as Accenture, Banco Santander; BBVA, Bizum, ADDALIA Technology, Metrovacesa, Sci The World, Sunte Solutions, Usyncro, Thales Alenia Space, Universidad Autónoma de Madrid, IMDEA Software, IMDEA Networks, Fundación Madrid+, Madrid Digital, S2, Garrigues, Blockchain Intelligence, and CEIM, the Madrid business association.
PwC and Omega Peripherials are also on board.
GOAL: TO MAKE MADRID A HUB FOR BLOCKCHAIN TECHNOLOGY
According to Minister Izquierdo, "this agreement will turn Madrid into the neuralgic point of connection of nodes of this technology not only with Europe but also with the American continent".
The Tres Cantos cluster is expected to carry out research, studies, analyses and projects on Blockchain, as well as promoting its knowledge and use by society. In addition to promoting the establishment and adoption of sovereign digital identity models.
Izquierdo has chosen Alberto Retana de la Fuente, the driving force behind the four clusters. Retana is a professional who comes from the private technology sector.
Retana has a wealth of experience in leading companies and a great knowledge of this field.
"We are already working on this strategic plan, defining the specific activities on which we are going to concentrate. We are setting up working groups for this purpose. At the same time, we are working on an activity plan and a business plan. This entity has to be managed according to business criteria in order to be operational," he explains to Confilegal.
The idea of this consortium, which is now being set up, where public-private collaboration is essential, is to provide a "service to the business community, and also to citizens, with the use of blockchain as a reference concept. It is about promoting this technology to generate confidence in its different uses," he adds.
In the end, he summarises, "what we are going to do is digitally transform the Community of Madrid in every sense. To do this, it is necessary for companies and citizens to understand what we are facing".
What in the United States is technically defined as a process of evangelisation. A concept borrowed from religion itself but which perfectly describes what is intended, without having anything to do with religion.
A GREAT OPPORTUNITY
For Domínguez, president of Alastria, this is a great initiative because it will turn a regular customer of these technologies into a major player "driving an emerging technology, such as blockchain, which is emerging, in which we Spaniards are at the forefront. The opportunities that will arise are clear and unquestionable. Because what we are talking about is creating an industry that does not exist today and exporting technology".
According to Domínguez, Alastria has been working for five years on this technology, which is changing the world, "as a framework for bringing together large, medium and small companies".
And he stresses, in particular, that "the Community of Madrid is the first regional government that is committed to this technology that can generate important changes. We are at the birth of Internet 3.0".
For this reason, the implementation of this initiative could be a great benchmark for other Autonomous Communities and other governments. "Because what we want to do is to create a Spanish Blockchain technology industry that is exportable.
Blockchain technology already brings together other different technologies, such as those that make databases, cloud systems, communications, etc., which, when adapted to it, acquire a new nature that makes them impossible to hack.
ALL ROWING IN THE SAME DIRECTION
"We believe that this Blockchain cluster initiative is a very useful instrument for public-private collaboration in which the firm can help to improve the legal security of the information transmission and data exchange processes involved in this technology," Garrigues explains.
Antonio Requena, partner in charge of "Blockchain" at PwC – one of the two companies that are not part of Alastria and that have joined the future cluster – states that "it will be a key lever for transformation. It will allow us to explore options for collaboration in decentralised technologies connecting the public and private sectors, in new paradigms such as distributed digital identity, NFTs or crypto solutions in the Metaverse".
Requena assures that "from PwC we will participate by contributing to the cluster with an integrated vision of services, both in the legal/regulatory field and in the technological and business fields, with the practical objective of translating it into job creation and business growth in the Community of Madrid".
Almudena de la Mata, managing partner of "Blockchain Intelligence" -member of Alastria-, says that "as leaders in Blockchain training, we will promote the knowledge of companies, lawyers, the public sector and other relevant agents so that they can identify their potential for application and growth with this technology and can contribute to the digital transition, innovation and growth of the region".
Its blockchain training methodology, she says, is innovative, "because it combines in-depth content with the development of practical labs for each module".
This expert points out that "the 'Blockchain Intelligence' legal institute has generated a community of jurists capable of making 'Blockchain' projects 'Legal by Design', a key element to achieve the mass adoption of this technology in Madrid and Spain".
His support for this seed that is now being planted is complete.