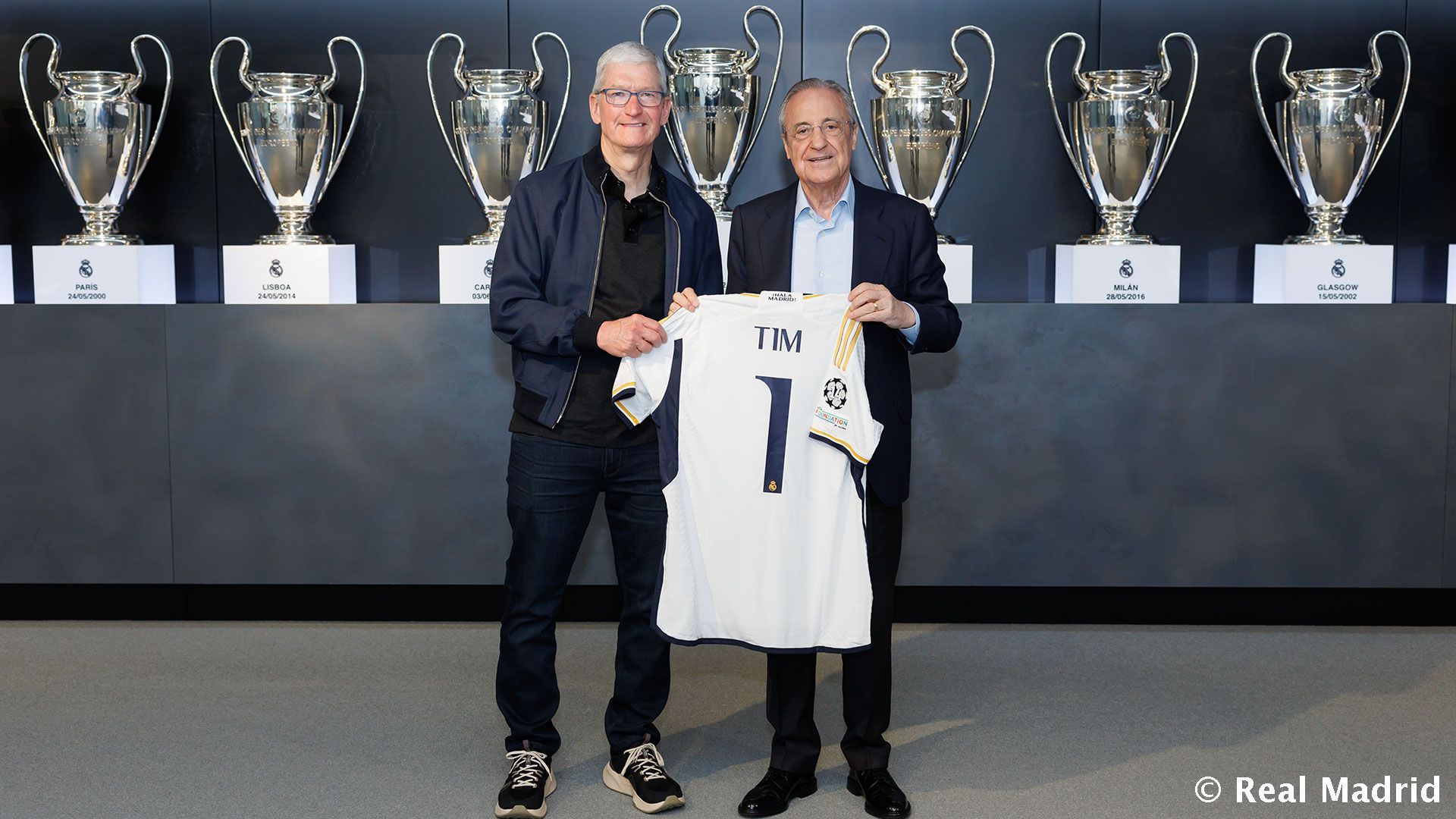 Apple CEO Tim Cook, hosted by Floretino Perez, visits Real Madrid
MEDIA
|
SEPTEMBER 25, 2023
|
LAST UPDATE: SEPTEMBER 25, 2023 9:23
NEWSROOM
In this news item we talk about: Apple
Tim Cook, CEO of Apple, visited Real Madrid. President Florentino Pérez received him in the boardroom, where they were able to contemplate the 25 European Cups, 14 in football and 11 in basketball. The two men toured the Real Madrid facilities and the CEO was able to see first-hand the fantastic facilities available to the players from the first team to the youth academy.
Cook was interested in the club's spectacular growth on social media, where Real Madrid has become the first sporting institution to surpass 500 million followers. Finally, the Apple CEO greeted Ancelotti and the first team players in training ahead of the derby against Atlético de Madrid, which they would go on to lose 3-1 at the Civitas Metropolitano.
Apple CEO Tim Cook was in Madrid this weekend in the midst of the launch of the technology company's new mobile phone, the iPhone 15, which went on sale in Spain on Friday.
The president of Real Madrid, Florentino Pérez, has given a commemorative T-shirt to the CEO of Apple.
In fact, on Saturday afternoon, Cook appeared at the Apple shop in Puerta del Sol, to the surprise of shoppers queuing to buy the new phone, and there he attended a concert by singer-songwriter Guitarricadelafuente.
Previously, according to Cook himself on his X account (formerly Twitter), he visited the Real Madrid sports city, where he attended the training session of one of the club's youth teams and was received by its president, Florentino Pérez, who gave him a commemorative T-shirt.
He then had lunch at the famous Lhardy restaurant, where he enjoyed a cocido madrileño stew accompanied by chef Dabiz Muñoz.