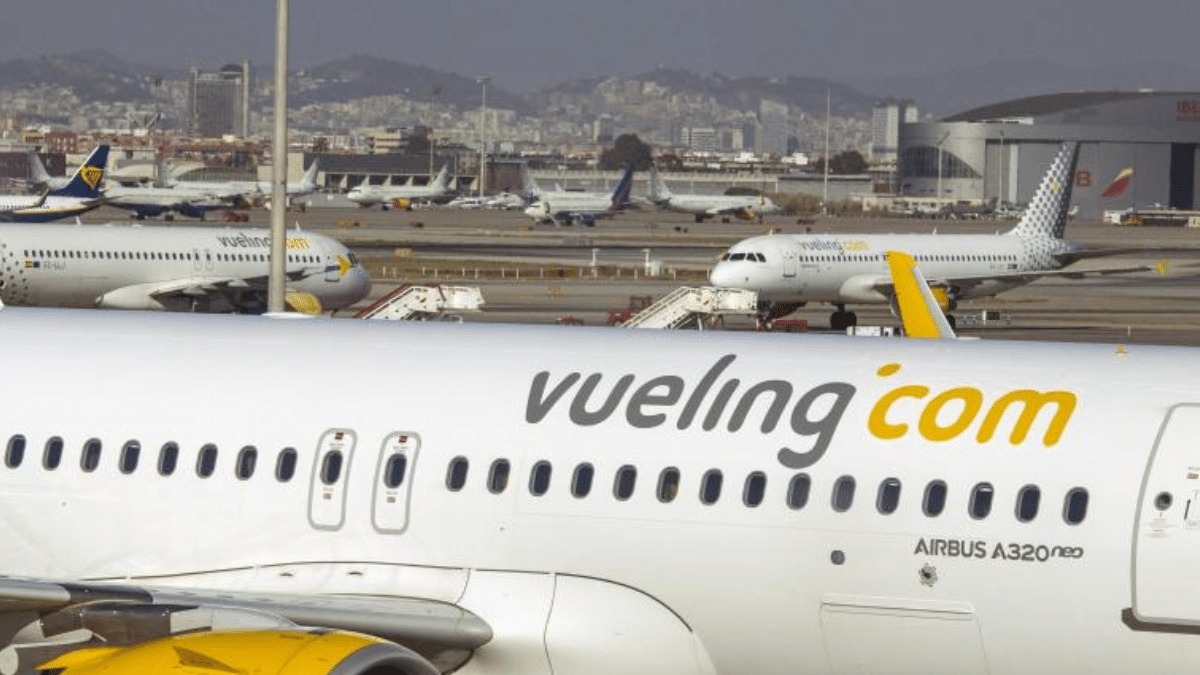 Vueling strikers protest at El Prat: 'It's difficult to make ends meet'
MOBILITY
|
NOVEMBER 11, 2022
|
LAST UPDATE: NOVEMBER 11, 2022 14:38
NEWSROOM
In this news item we talk about: Vueling
Half a hundred Vueling cabin crew members (TCP) demonstrated this Friday at Barcelona-El Prat Airport on the fifth day of the strike called by the Stavla union to demand wage increases, which has led to the preventive cancellation of 69 flights this day.
"We have an expired agreement, outdated salaries, and it is very difficult to make ends meet," said Guadalupe Romero, head of the Stavla union section at Vueling, in statements to journalists during the protest, who said that the strike is having "a large following".
Vueling plans to operate 482 flights today, 88% of those scheduled, after cancelling 69 flights in advance and as a precautionary measure due to the new day of strike.
During the protest, outside the departures area of the airport, the demonstrators, dressed in yellow waistcoats, chanted chants and waved banners with slogans such as "No se vive del aire", "Somos la cara de la compañía y nos tratan como porquería", "Amo lo que hago, no vivo con lo que ganano" or "Vocación no es explotación".
The union has called strikes on all Fridays, Sundays and Mondays between November and 31 January 2023, as well as on 6, 8, 24 and 31 December, and 5 January.
"We are asking for a salary increase in line with the increase in the standard of living," said Romero, who lamented that the collective of TCP, which in Vueling is about 2,200 people, "has historically been undervalued.
Specifically, Stavla, which is the majority union and has at the negotiating table with 60% of the workers' representation – for 40% CCOO, which does not join the strikes – is demanding a wage update of 13.4% for 2022.
From Vueling, however, they point out that this summer a wage increase of 6.5% from 1 January 2021 was already agreed, and claim that the union is demanding increases of 33% until 2025, something "unfeasible" and that would cause the loss of competitiveness of the company and put its future viability at risk.
On this issue, Romero has denied that they have raised this 33% wage increase until 2025.
"We are talking about matching this year, more or less, the life increase. And at the end of the agreement, around a 20% increase, but obviously something staggered and totally acceptable for a company that has just had a Guinness record quarter," said the head of the union section, referring to the 259 million euros of profit that Vueling recorded in the third quarter of this year.
"What we are asking for would mean less than 2.5% of what they have earned in just three months," she added.