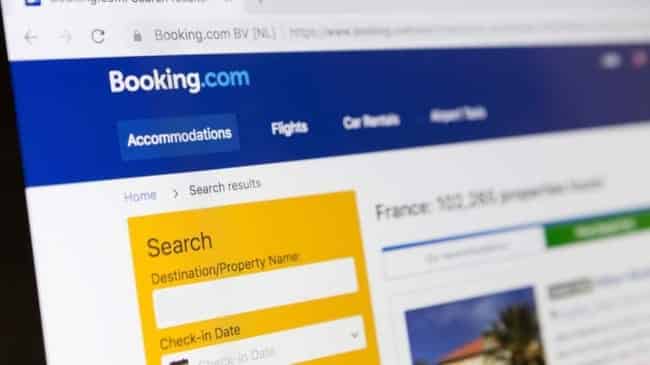 These are the Travel websites that have triumphed this summer in Spain
NEWSROOM
The Travel sector has recovered strongly this 2022 in Spain after two very complicated years due to COVID.
Not in vain, Spain received 9 million international air passengers last August, which represents 87% of the occupancy recorded in the same month of 2019.
Most of these tourists booked their trips through one of the many online portals specialising in the Travel sector, which have experienced an upturn this summer. In Spain alone, the growth in online travel booking has risen 23 percentage points this year since the pandemic, according to Adevinta.
Of all the existing portals, by far the most successful in Spain is Booking, which had 13.9 million unique users in our country last August, according to data provided by GfK DAM, which gives it a coverage of 35% in Spain. In that month it reached an average of 1.5 million visitors per day.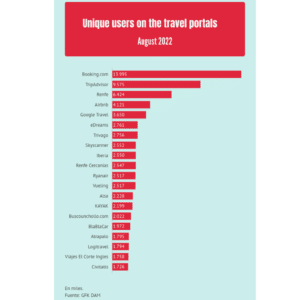 To give you an idea, Booking registered practically the same data as the most read generalist media in Spain in August, which has been 20Minutos for several months.
This company is a true Internet giant, with other highly successful portals such as Kayak and RentalCar. Listed on the stock exchange, Booking had a turnover of more than 10 billion dollars last year.
Away from Booking, the second most trafficked travel portal in Spain in August was Tripadvisor, with 9.5 million unique users and an average daily audience of 630,000 visitors per day.
Renfe, first Spanish website
To get to the first Spanish website, we have to go down to the third position, where we find the Renfe portal. According to GfK, it had 6.4 million unique users in August and 521,000 on average per day. To this data we could add those of Renfe Cercanías, which, in its case, had 2.5 million unique users, which places it in tenth position in the ranking of the approved digital audience meter in Spain.
Outside the podium are four international portals (Google Travel, eDreams, Trivago and SkyScanner). Next is Iberia's website, which had 2.55 million unique users in August. It was the leading airline by digital audience in Spain, ahead of RyanAir (2.51 million) and Vueling (also 2.51 million).
In the bus travel sector, Alsa stands out above the other companies, with 2.2 million unique users last month and an average daily audience of 154,000 visitors.
Among the top 20 travel websites, BlaBlaCar is in the last positions, but it has the highest number of sessions per user per month: 5.73 in August this year. Booking and Airbnb also stand out in this loyalty indicator.