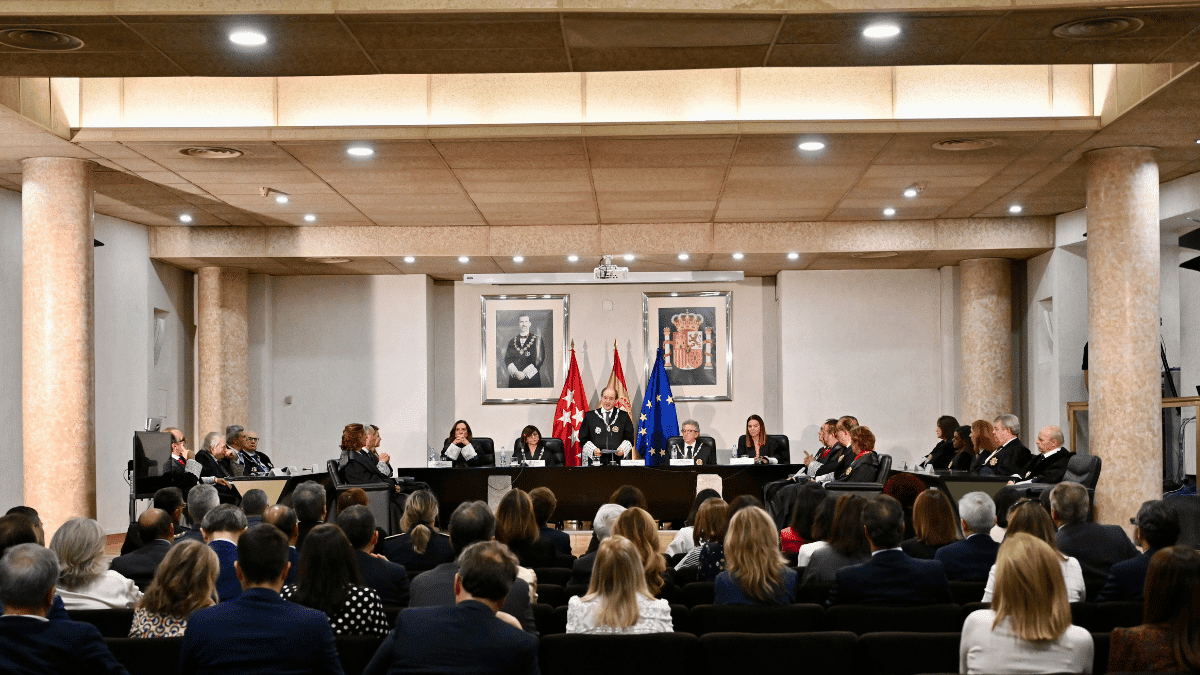 The blockade of the General Council of the Judiciary also affects Spain's higher courts of justice
NEWSROOM
For two years, the discussions between judges, prosecutors and journalists had to be cancelled due to the pandemic. But this year, thanks to the good evolution of the coronavirus, these colloquiums have recovered.
This Thursday, after the Opening Ceremony of the Judicial Year 2022-2023 of the High Court of Justice of Madrid (TSJM), which lasted an hour, both communication professionals and jurists were able to meet again at this traditional cocktail party.
The room in which the journalists were following the speeches of the president of the TSJM, Celso Rodríguez Padrón, and the senior prosecutor of the Community of Madrid, Almudena Lastra de Inés, became a "small restaurant" with snacks, refreshments, kisses, greetings and friendly gestures.
Although there were some personalities who did not stay for the snack, such as, for example, the President of the Community of Madrid, Isabel Díaz Ayuso and the Minister of the Presidency, Justice and Interior, Enrique López, others, such as the Mayor José Luis Martínez Almeida, did take part. What's more, he spent a long time chatting with Celso Rodríguez.
Between canapé and refreshments, the president of the TSJM explained to Confilegal that the blockade of the General Council of the Judiciary also affects all the Courts of Justice in Spain "in all senses".
TWO PRESIDENTS OF THE TSJM ARE IN OFFICE DUE TO THE CGPJ'S BLOCKAGE
And speaking of the Madrid court, he pointed out that currently both the president of the Administrative Chamber and the president of the Social Chamber "have been in office for some time". Because "the posts cannot be called as they are discretionary appointments".
On the other hand, Almudena Lastra was also very friendly with the media, who congratulated her on her intervention and her speech on the deaths in old people's homes during the pandemic.
The journalists present in the corridor wanted to ask her about the famous video in which young people from the Colegio Mayor Elías Ahuja appear insulting and making sexist and obscene comments to the students of the Colegio Mayor de Santa Mónica.
And although he acknowledged that he had not yet seen the recording, he made it clear that the facts will be studied and it will be determined and analysed whether any type of crime has been committed.
Lastra also made reference to the modernisation of the Public Prosecutor's Office of the Community of Madrid. And the fact is that, as of just two days ago, they now have an official Twitter account. And he has not ruled out the possibility of entering other social networks.
On this Twitter account, @Fiscalia_CM, the community manager has been broadcasting some fragments of the ceremony for the Opening of the Judicial Year. He summarised the celebration in eight tweets.