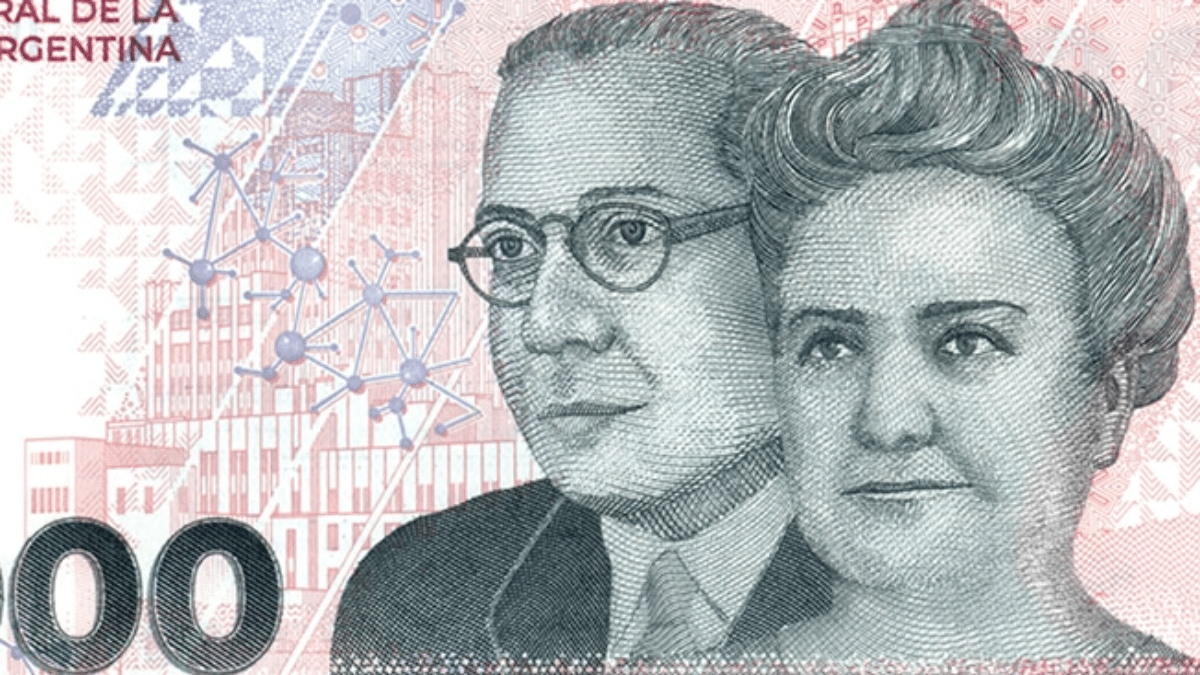 Argentina, victim of galloping inflation: new 2,000 peso note vs. 8.25 dollars
COUNTRIES
|
MAY 23, 2023
|
LAST UPDATE: MAY 23, 2023 13:39
NEWSROOM
The Central Bank of Argentina (BCRA) on Monday put into circulation the new 2,000 peso banknote (8.2 dollars/7.5 euros) as legal tender in response to the need for higher denomination paper money due to accelerating inflation, above 100 % annually.
According to the BCRA in a statement, the banknote will be distributed progressively through the network of bank branches throughout the country.
"While the process of digitalisation of payments progresses, this higher denomination banknote will improve the operation of ATMs and at the same time optimise the transfer of cash," explained the BCRA.
This banknote is distinguished by the portraits of Dr Cecilia Grierson and Dr Ramón Carrillo, pioneers in the development of Argentine medicine, on the obverse, and the Dr Carlos G. Malbrán National Institute of Microbiology on the reverse, as a tribute to science and public health in the country.
The security features of the new banknote -designed in collaboration with the Casa de Moneda Argentina- include a watermark that reproduces the images of Carrillo and Grierson and the colour-changing optical variability ink, as well as microprints, latent image, front-back complementation motif, and magnetic, infrared and luminescent inks.
Since November 2017, when Mauricio Macri (2015-2019) was still in office, the largest denomination banknote was the 1,000 peso note, which at that time, even without any restrictions on the purchase of US currency, was equivalent to just over 57 dollars.
But today that banknote is only 4.1 dollars/3.7 euros at the official exchange rate and 2 dollars at the parallel exchange rate.
Argentina's inflation rate is 100 per cent
The exchange rate fluctuations and monetary issuance to finance the treasury mean that Argentina's inflation rate rises every year: in 2017, the consumer price index was 24.8 %; in 2018, 47.6 %; in 2019, 53.8 %; in 2020, 36.1 %; in 2021, 50.9 %; and in 2022, 94.8 %.
Argentina's legal tender began to circulate on 1 January 1992 as a 'convertible peso', following the law which, during the government of Carlos Menem (1989-1999) fixed parity with the dollar, as part of the measures taken to put an end to the hyperinflation of 1989-1990.
The '1 peso, 1 dollar' equivalence was in force until 2002, when the severe 'corralito' crisis that exploded the previous year forced the end of this convertibility. Since then, recurrent crises have steadily devalued Argentina's currency.
Already during Macri's term in office, the depreciation of the peso forced the Central Bank to introduce higher banknotes than the 100 pesos, which for years were the most valuable.