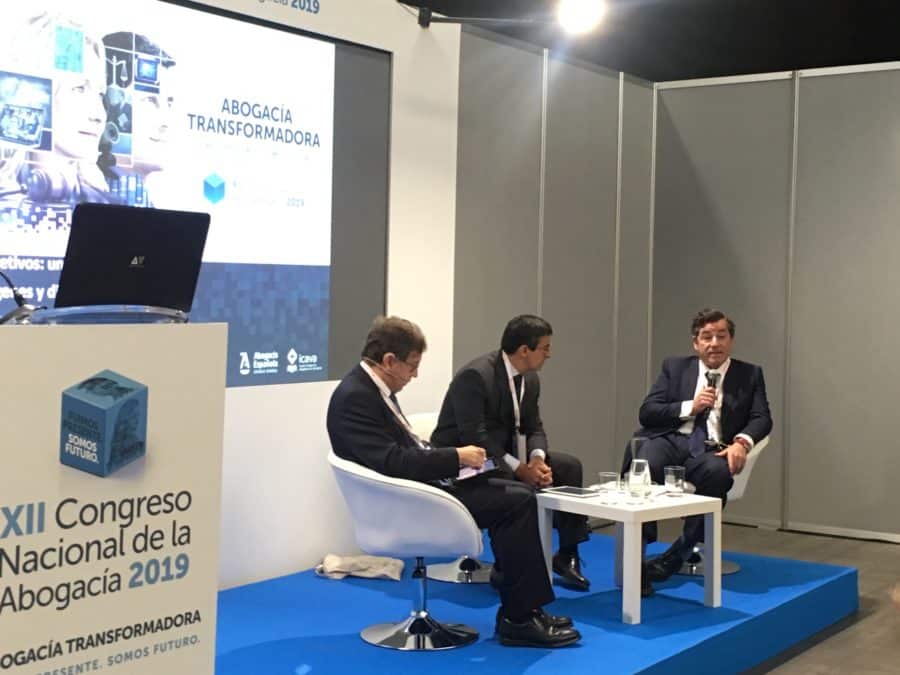 Law firms are searching for formulas to make profitability sustainable over time
LAW
|
MAY 14, 2019
|
LAST UPDATE: MAY 14, 2019 16:52
pnicolas
The main goal of any law firm is to be profitable. This requires defining a clear business strategy to take on issues that really offer profitability.
Miguel Riaño, managing partner at Herbert Smith Freehills, a firm celebrating its 10th anniversary in Spain, and Ricardo Gómez, senior partner at Garrigues, addressed this issue at one of the debates of the 12th Law Congress in Valladolid, which concluded this weekend.
Moderated by Luis Fernando Guerra, managing partner at Deloitte Legal, the speech offered by Riaño focused on the concept of strategy and sustained profitability, as two issues that any law firm must have clear.
These concepts are generally essential for the firm's survival.
"The debate on reputation is complex yet simple. We are in a highly competitive market in which strategy is fundamental."
"This strategy means having productive/profitable lawyers; adjusting which area or areas to concentrate resources on based on business in the market; cost control; and defining the jurisdictions where you want to act," he said.
He also stressed that, "in my experience, a clear strategy and knowing how to say no to certain lawsuits or operations that do not fit into the cost or fee structure of your firm is necessary."
According to Riaño "together with a well-defined strategy, we must be humble, see what others do and see how we can implement what we haven't thought of and that could be a good idea into our firm."
"We must be greatly flexible and modest. The corporate law market is highly competitive, but it is healthy competition."
In his opinion "good professionals at the firm mark the difference in the firm's profitability or profits" and he introduced the concept of sustained profitability: "Profitability must be sustained. What is really complicated is a sustained level of invoicing."
According to the managing partner at Herbert Smith Freehills, the role of technology will be key in the profession of lawyers: "technology is changing society as a whole and, in the same way, our profession is suffering a radical change in many areas, as has occurred for example with due diligence processes which are now automated."
In his view, "we must incorporate technology; it facilitates connectivity, remote working, work-life balance and flexibility."
Regarding the future, he acknowledges that "in the coming years we will see phenomena such as banks or funds financing firms and other varied formulas of financing investment in technology".
In this sense, he hinted at lawsuits ("funding litigation") "which we will see in the technological field. Firms will have to address this investment and, those that cannot assume it, will have to resort to external funding".
He believes that cost control is fundamental in any business.
However, "dedicating more time to generating income is preferable to reducing costs. With smart income costs are profitable."