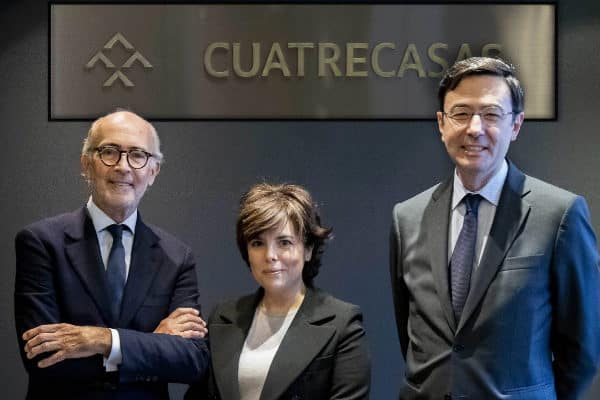 Sáenz de Santamaría joins Cuatrecasas as a partner in the mercantile department
LAW
|
MARCH 11, 2019
|
LAST UPDATE: MARCH 11, 2019 13:00
NEWSROOM
The ex-Deputy Prime Minister Soraya Sáenz de Santamaría (PP) is joining the legal firm Cuatrecasas as a partner in the mercantile department and will form part of the Board of Directors.
Sáenz de Santamaría is a Law graduate, State's attorney and member of the Council of State.
According to a communiqué from the law firm, starting today the former Deputy Prime Minister will lead and develop the firm's Corporate Governance and Compliance practice.
It goes on to explain that Sáenz de Santamaría will coordinate a transversal multidisciplinary team of experts in business consultancy providing every possible legal approach to regulatory compliance and risk management.
The team includes specialists in company, civil, penal, labour and tax law, among other practices.
The firm comments that the new partner at Cuatrecasas is returning to her legal career after complying with all the procedures required of senior government figures.
Sáenz de Santamaría stated that she is "delighted to return to practising law with the magnificent team of professionals at Cuatrecasas, whose experience I hope to learn from in the coming years".
"We who are lawyers by vocation have the great good fortune of being able to serve society and the state of law in various fields," she noted.
For his part, Rafael Fontana, Executive Chairman of Cuatrecasas, has stated that Sáenz de Santamaría is "an exceptional lawyer who has demonstrated her worth and her considerable management skills throughout her career".
He remarked that the firm's partners are "very happy that she has decided to renew her commitment to law with Cuatrecasas".
"We are sure that her enormous talent will be much appreciated by clients looking for comprehensive advice on matters of corporate regulatory compliance", Fontana said, noting that the former Deputy Prime Minister is joining a growing practice, which is key to the sustainability of any company.
Soraya Sáenz de Santamaría is a Bachelor of Law from the University of Valladolid. She became a State's Attorney in 1999. She has been the Deputy Prime Minister and Minister of the Office of the Presidency and for the Territorial Administrations, as well as the Government spokesperson.
She was a member of Parliament and spokesperson for the Grupo Popular in the 9th Congress.
At present, she is an Elective State Councillor.
Cuatrecasas is a leading legal firm with a strong presence in Spain, Portugal and Latin America. With a diverse multidisciplinary team of over 1,500 professionals of 24 nationalities, it covers every business law discipline, applying expertise and experience acquired across many industries and focusing on each type of business.
It has 27 offices in 12 countries and partners closely with leading firms in other countries in order to offer a team which can meet the needs of any client and situation.
Last July the magistrate, Joaquín Huelin, also joined the firm.