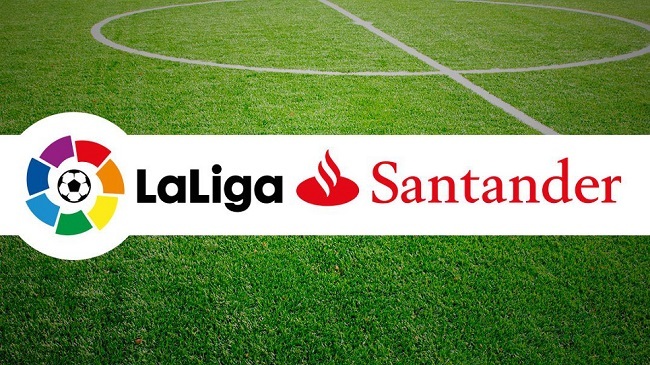 Banco Santander will stop sponsoring LaLiga at the end of next season
MEDIA
|
JULY 12, 2022
|
LAST UPDATE: OCTOBER 20, 2022 16:32
NEWSROOM
LaLiga and Banco Santander have announced by mutual agreement to end the current sponsorship contract that the bank had with the competition since the 2016/2017 season. At that time, it replaced BBVA for just under €20 million per year.
Both entities renewed their sponsorship agreement last year for two more seasons. There was an option for a further one, but it has not been executed.
Thus, the departure of Santander will be effective in the 2023/2024 season and is due to the joint decision of both entities to explore new forms of collaboration, both jointly and with third parties. In this sense, LaLiga will announce in the coming weeks the new features that will affect the competition from the 2023/24 season onwards.
According to a statement, both entities have developed a "close and beneficial" relationship during the six seasons in which they have collaborated together "achieving great achievements" that go beyond advertising presence and have involved strategic projects for national and international development, in digital environments and at an experiential level for football fans.
They refer for example to the LaLiga Global Network, which allowed the competition, in collaboration with Banco Santander and Universia, to take the definitive step in its internationalisation with the creation of the network of LaLiga Global Network delegates, which today has a total of 44 professionals present in 41 international markets.
Education has been another of the pillars of the relationship between LaLiga and Banco Santander, which joined forces with LaLiga ProPlayer to promote university education and the creation of sports scholarships in the USA for youth players, as well as the creation in 2021 of the training programme for active professional footballers. Thus, LaLiga Business School's Global Players Program was the first of its kind among the major European leagues, with the presence of 30 players in its first edition.
In terms of entertainment and digital development, Banco Santander supported eLaLiga, LaLiga's eSports competition, as well as Santander Football Quiz, the application developed jointly to entertain, test and reward LaLiga Santander fans week after week. These projects enable the bank and LaLiga to connect with a wider community and a younger audience, which are key to their business objectives.
In this way, LaLiga loses its main sponsor, which provided just under 20 million euros per season. In total, the competition received 104 million euros in sponsorship in the 2020/21 season.