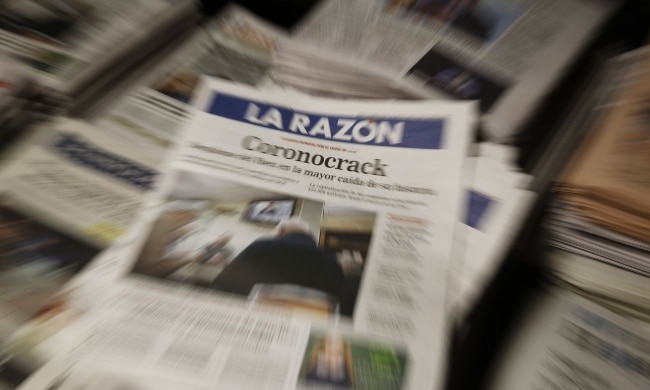 "Biggest blow in years": La Razón outsources its pre-press department and lays off five people
MEDIA
|
JULY 12, 2022
|
LAST UPDATE: JULY 12, 2022 12:01
NEWSROOM
In this news item we talk about: La Razón
La Razón has outsourced the pre-press-closing department, which was in charge of the technical processing of the newspaper's images. As a result, five workers have been made redundant.
The works council asked the publication to consider relocating these five workers to other sections or to subrogate them to the external company that will now carry out this work. However, the publisher refused and finally opted to lay them off.
These five departures are in addition to the drip-drip of redundancies that have taken place in the newspaper in the last two years, which has left the newsroom in "a more precarious situation", according to the Madrid Union of Journalists (SPM). The works council denounces that the staff "has suffered many blows in recent years, but none as hard as this one: the extermination of an entire section to outsource the service".
According to the unions, the publishing company has claimed that the decision to close this department is "logical", as it can dispense with the technical functions they have been performing. But the committee has rejected this argument and has argued that these tasks are not being dispensed with but outsourced, which is "another step towards the casualisation of work that we have been suffering in recent times", to which is added the dismissal of two people with temporary contracts in layout.
Chairman of the Board of Directors leaves his post
These five dismissals are joined by the departure of Francisco Hiraldo, who has been the Chairman of the Board of Directors of La Razón for the last two years, as ECD reported. Hiraldo took up the post in 2020, along with Andrés Navarro, who was then CEO, and Bárbara Espinosa, secretary of the Board of Directors.
This renewal of the newspaper's top management was intended to begin a new phase aimed at "reinforcing the digital strategy while also maintaining the development and consolidation of the paper edition as a differentiating element compared to digital-only portals".
However, two years later, La Razón is still outside the top ten of the generalist digital media with most traffic on the Internet. In print it has 141,000 daily readers according to the latest EGM, 27% less than two years ago.