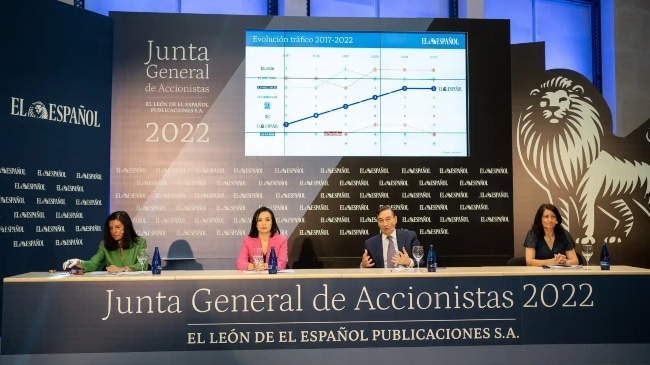 El Español earned €1.5m in 2021 and turnover soars 37% so far this year
MEDIA
|
JULY 1, 2022
|
LAST UPDATE: JULY 11, 2022 13:03
NEWSROOM
El Español completed its third consecutive profitable year in 2021. Last year's profit was €1.5 million, a year-on-year growth of 73%. EBITDA was also €3.1 million, 32% higher than in 2020 and above the initial target of €2.5 million. By 2022, it is expected to reach 3.4 million euros, according to the budgets approved by the publisher.
This large increase in profit has been largely due to the growth in turnover, which reached 14.2 million euros last year, 27% more than in the previous year. This is a much higher percentage increase than the evolution of the advertising market, which last year rebounded by 11%, according to Infoadex.
25,000 subscribers
However, the publisher of El Español – which is now in its seventh year – has other sources of income in addition to advertising. One is the subscription model, which recorded 21,500 subscribers at the end of the year (+26% vs. 2020), although at this point in the year it already exceeded 25,000. And another is the organisation of events, a line in which El Español is very active, with major events organised, including Wake Up, Spain!, the Regional Economic Forums and the sectoral observatories.
Its investee companies have also contributed to the improvement of the business. In this area, Vándal stands out, which recorded an EBITDA of almost 350,000 euros last year, a portal in which El Español already owns 75% of its shares. In its case, Crónica Global has achieved an EBITDA of 332,000 euros, with a turnover of 2.9 million euros (here Pedro J. Ramírez's media outlet has a 10% stake). In total, El Español received dividends of 144,000 euros from its subsidiaries.
In parallel to this business growth, the digital newspaper's staff was increased by 25 new professionals last year and now totals 154 employees. As a result, staff costs rose to 6.9 million euros last year, an increase of 21%.
Despite the current economic uncertainty, between January and May this year the publication has already exceeded 6.4 million euros in turnover, a year-on-year increase of 37%. This represents a year-on-year increase of 37% and a 4% increase compared to this year's approved budgets. EBITDA in this period has tripled to 1.3 million euros.
For the moment, El Español has not distributed dividends to its shareholders. It will be able to do so when the company covers the losses it suffered in its first four years of life.
Criticism of GfK
All these figures were made public at the El Español shareholders' meeting, held on Wednesday. At this event, the publisher and director of El Español, Pedro J. Ramírez, celebrated having exceeded the financial targets set and also took the opportunity to criticise GfK, the approved digital audience measurement company since January this year, replacing Comscore.
The editor complained about the "technical limitations" that "prevent the tool from measuring a large part of the media's audience, especially digital natives". According to Pedro J. Ramírez, media audiences have fallen by between 30% and 60% since GfK became the new measurement tool, which could have "adverse consequences in terms of reduced advertising investment".
In this respect, the veteran journalist commented that "we will keep a close eye on the evolution of the new meter, trying to contribute, like the rest of the media, through the channels open to it, to the correction of these defects, without ceasing to inform public opinion about the evolution of these imbalances".
Pedro J. Ramírez asks Google to articulate a joint platform to accelerate the digital subscription market in Spain.
In addition to this, Pedro J. Ramírez also applauded the return of Google News to Spain and welcomed the arrival of Google Showcase next September, which will bring extra income to the media, according to the journalist.
Regarding this new service from the search engine, the owner of El Español called for a joint subscription system for digital media with a paywall, as is already the case in other areas such as music or series. "Only a joint platform will accelerate the subscription market, until it becomes a more significant source of income". In this respect, he described the current situation of aggressive offers to attract subscribers as a "dumping", which "will neutralise any relevant impact on the bottom line".