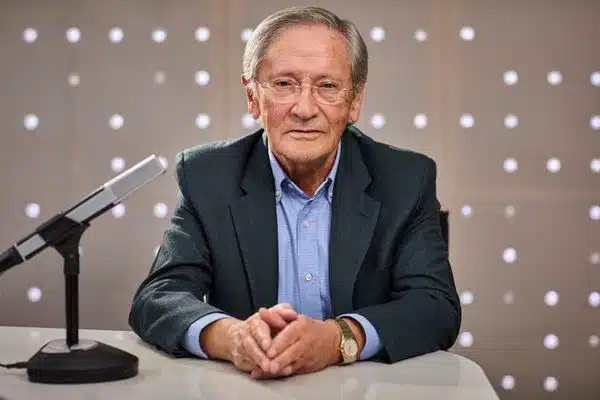 Fernando Ónega says goodbye to the radio "but not to journalism".
MEDIA
|
SEPTEMBER 5, 2022
|
LAST UPDATE: SEPTEMBER 5, 2022 10:18
NEWSROOM
The prestigious journalist Fernando Ónega is bidding farewell to radio. A decision he announced last Thursday on Onda Cero's Más de Uno, the radio station where he has spent the last 30 years analysing current affairs.
Ónega told DIRCOMFIDENCIAL that "I am leaving radio but not journalism. I've been in the profession for many years, but I don't want to retire". He tells DIRCOMFIDENCIAL exclusively that he will continue to write an opinion column for La Vanguardia and reduce his daily contribution to La Voz de Galicia to a weekly column.
In addition, he will continue to chair the Editorial Committee of 65ymas.com, a digital newspaper aimed at senior citizens, which addresses the challenges posed by the ageing of society. "A subject", he admits, "which I find exciting", and which is, in his opinion, along with geopolitics and climate change, one of the biggest global revolutions.
The veteran galician journalist, author of books on the Spanish Transition, a period in which he was head of press for former Prime Minister Adolfo Suárez, admits that although "I have thousands of book projects, some of which have been dragging on since I was 15 years old [laughs], I don't have any in hand".
At 75 years of age and after four decades of professional career, Ónega has decided to put an end to the microphones because "it requires dedication and slavery". "I haven't enjoyed a single long weekend in my entire life, nor have I been able to extend a weekend until Monday afternoon," he admits with a laugh.
In recent years, Ónega has offered three commentaries a day from Monday to Friday on Onda Cero: in the 7 and 8 a.m. and 11 p.m. slots, which he has combined with numerous other appearances in the press and on television.
"We have a credibility problem that either we overcome or we're going to go to hell".
The journalist, a key figure in the history of the news programmes of TVE, Telecinco, Antena 3, Cadena SER, COPE and Onda Cero, considers that journalism is going through "a very delicate moment. The media today are not what they used to be. Social networks have won the information battle. We have to examine why. We don't know what will become of the media, it is true that there is an economic crisis in the making, nor how many, if any, will die along the way. I hope not.
Ónega considers that "we have a credibility problem that either we overcome or we're going to go to hell". He concludes with a message for future generations of journalists: "that they should follow the saying of Cervantes: 'I never put my foot where lies, deceit and fraud pass'.