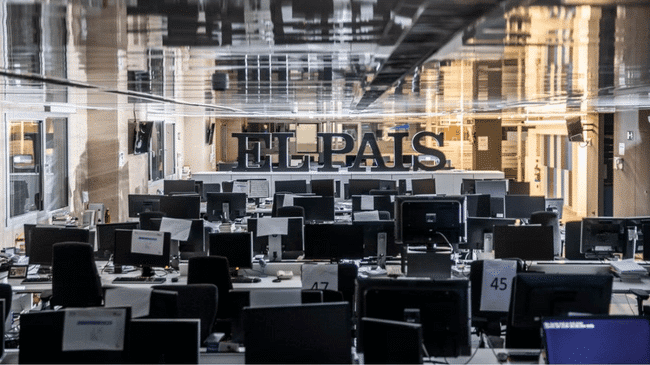 Prisa employees go on strike tomorrow over working conditions and the end of teleworking
MEDIA
|
JANUARY 30, 2023
|
LAST UPDATE: JANUARY 30, 2023 12:41
NEWSROOM
While Prisa's management is looking for a solvent way out of a capital increase in order to face its debt, the employees in the newsrooms have put their fists on the table.
The works council of Prisa Media, a transversal company made up of more than 350 employees from the group's various newspapers, has called a strike for this week – from tomorrow until Thursday – and another in a month's time – on 28 February and 1 March. They are doing so because they are against the working conditions.
The staff of this unit currently has no labour agreement. Most of its employees joined by subrogation and, since then, they have maintained the working conditions of the Prisa head offices from which they came.
For this reason, they are demanding the approval of an agreement that includes 36 hours a week, meal cheques for all employees, compensation for overtime "in a fair proportion", intensive working days in summer, Easter and Christmas, and an increase in the number of salary groups "with the option of a career plan", among other demands.
On the other hand, the workers -represented by Comisiones Obreras- are demanding the maintenance of teleworking, after the management announced in December that from today they are putting an end to this type of work which, in the opinion of the employees, "has shown its efficiency in the personal, family and work conciliation without reducing quality and without supposing an extra cost for the company, although its suppression will cause an economic cost for an important part of the workers".
Prisa Media staff say they have been requesting this measure, which was introduced in the wake of the pandemic, for two years.
El País, AS and Cinco Días, also in favour of maintaining teleworking
This point is precisely the one that has caused a deep mobilisation in other works councils of the group, such as those of El País, As and Cinco Días.
The journalists of the economic newspaper, for example, warn that if the management does not revoke its decision, they will opt to leave their laptops in the newsroom to ensure that they carry out their work "only when they are present in the workplace and during the hours of their working day".
AS journalists also complain that they have not received any response to the protests made to the management by email.
For their part, union sources at El País tell this newspaper that this is "a measure of pressure for the staff" and, for this reason, today they are going to call a workers' assembly to evaluate new measures.
Some of the employees of Prisa's media also denounce the salary conditions. In many cases, they criticise, the management does not contemplate salary increases for years of seniority.