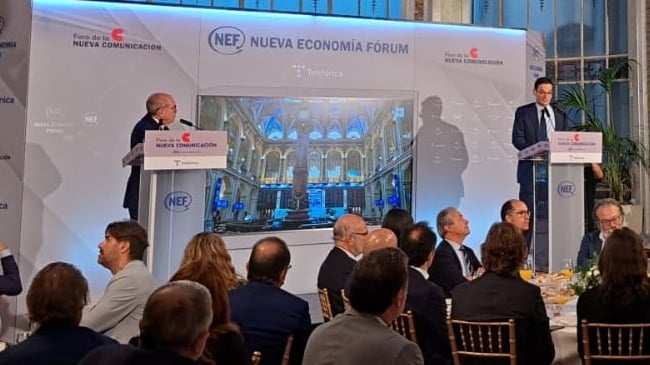 Prisa rules out changing its editorial line as "only" left-wing group
MEDIA
|
SEPTEMBER 28, 2022
NEWSROOM
In this news item we talk about: Prisa
The president of Prisa, Joseph Oughourlian, on Wednesday at the New Communication Forum, dismissed the possibility of the group's media changing its editorial line because it is the "only" left-leaning media conglomerate in Spain and because when it did so in the past "we lost listeners and readers".
He said this when asked about the advisability of changing Prisa's editorial line, in order to reach a wider audience, due to its closeness to the theses of the coalition government led by Pedro Sánchez.
Joseph Oughourlian, chairman of Prisa, believes that "the entire media market in Spain is right-wing".
In his reply, Joseph Oughourlian made it clear that "I don't get involved in Spanish politics", thus distancing himself from "some of my predecessors" who were tempted to "bet" on political actors on the Spanish scene. "I am a businessman, apolitical," he said.
Despite this, he acknowledged that he knows what has historically been the editorial line of Prisa's newspapers, which "I like", especially when "the entire media market in Spain is right-wing". From this premise, he said he was proud of "having the only left-wing media. Why change?
Oughourlian wanted to answer himself by recalling that in the past, when the group changed its editorial line, "we lost listeners and readers".
After praising the professional skills of his staff, whom he presented as not being tempted to write content designed for single users and for social networks, he said he is "perfectly aware" that their job is not to dictate the content of the information they publish.
He commented that the group's radio stations, especially the SER channel in Spain, are a "spectacular asset" and he was pleased with its "overwhelming presence" in Latin America. However, he hinted at what will be the trend in this area in the future: "moving from linear to non-linear". In other words, betting on the 'podcast', which poses a "very interesting future" for radio.
Debt
Prisa's chairman did not shy away from the group's financial situation, after it reached an agreement with its creditors last February to refinance its debt, which will allow it to focus on developing its businesses, achieve medium-term financial stability, lengthen debt maturity, improve flexibility and establish margin improvements linked to ESG criteria.
In this regard, he said that the refinancing agreement has been "very important", as the group has been carrying "excessive debt" for 15 years, which "was not refinanced, but restructured", forcing it to sell assets. "It sent a bad signal to the markets," he confessed.
He therefore welcomed the fact that, after a year of "hard and long" negotiations, a refinancing agreement was reached, which was signed on 24 February, the same day as the Russian invasion of Ukraine, leading him to say that if the talks had lasted beyond that day, the entente would have been impossible.
Despite the agreement, Ouhourlain noted that Prisa's debt remains "excessive" and stressed that, "if we did not have spectacular brands, exceptional workers, other companies would not have survived".
Leap to the USA
Regarding the group's future expansion into the US market, he explained that this is "complex", especially in terms of the Latino community, since Mexicans in Texas, Cubans living in Florida and Colombians living in New York have different concerns and worries.
With the exception of the ecumenical nature of football, thanks to the sporting successes of Real Madrid, Fútbol Club Barcelona and Atlético de Madrid, which has allowed the consolidation of the newspaper 'As' in those places, a "radical change" is needed in the American edition of 'El País'.
This revolution would involve refraining from offering a "too Spanish product", since "the Mexican is not interested in the polls in Andalusia or the scandals" in Spain, but rather observes what is happening in Washington. For this reason, he suggested that "we have to give him content that interests him", which involves "changes, investment and synergies with the local".
As for Prisa's return to television after the sale of Canal Plus and Cuatro, he ruled out this possibility, being very graphic: "Sogecable was a cancer" for the group, for having a large debt, "burning cash" and few subscribers, to which was added the high cost of football rights.
Despite this, he advanced that the group should bet on video, convinced that "I see a newspaper without video or 'podcast' as very complicated", and concluded by stating that "we have to be on TikTok" to reach a young audience.