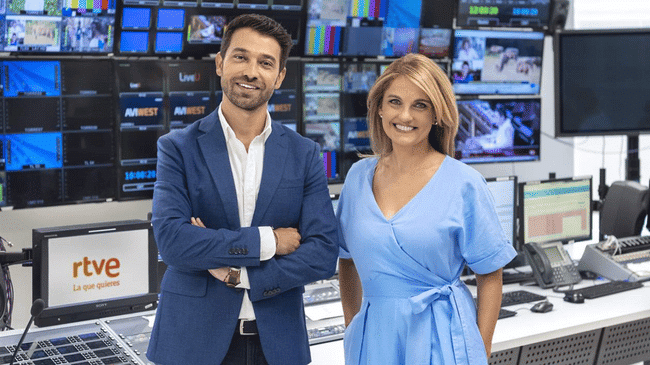 RTVE employees denounce Cuarzo's production of "a news programme"
MEDIA
|
SEPTEMBER 13, 2022
|
LAST UPDATE: SEPTEMBER 13, 2022 11:20
NEWSROOM
In this news item we talk about: tve
TVE's new programme Hablando Claro, presented by the public corporation as one of the season's big new features, premiered last weekend with a bittersweet feeling.
The current affairs programme presented by journalists Lourdes Maldonado and Marc Calderó, which from now on will be broadcast from Monday to Friday, attracted an average of 353,000 viewers on its debut last Saturday, equivalent to an 11.1% audience share, practically at the same level as Telecinco, leader in that slot with the rerun of Got Talent (11.51%).
A reception by viewers that, however, contrasts with the disapproval expressed by employees of the public broadcaster. The group of workers without political or trade union ties RTVE Sin Personal requests "the immediate withdrawal" of the programme produced by Cuarzo Producciones, considering that by contracting a production company for a programme of these characteristics, the regulation approved by Congress and the Senate, which determines that "100% of internal production in news programmes, programmes of an institutional nature and self-promotional content" is not being complied with, is being breached.
In the promotion of the programme, RTVE presented it as "a current affairs programme, with analysis, reports, interviews, scoops, reports… with a public service vocation". This description is criticised by the staff, who believe that the Corporation "avoids describing this new programme as a news programme in order to justify its outsourcing of content through, in this case, the production company Cuarzo Producciones".
Maldonado and Calderó debuted with a special programme from London on the occasion of the death of Queen Elizabeth II. In the opinion of the employees' collective, this coverage is "clear proof that a large part of the news coverage of the events surrounding the death has been carried out by this programme with the professionals and the editorial co-direction of Cuarzo, instead of being done entirely by RTVE, as should legally be the case".
Hablando claro is RTVE's new venture produced by Banijay, the multinational group to which Cuarzo Producciones and other TVE entertainment programme producers belong.
They also complained that the programme offered coverage in similar spaces to those covered by Ana Blanco, Anna Bosch or the London correspondent Diego Arizpeleta in the Telediario.
Hablando claro is RTVE's new venture produced by Banijay, the multinational group to which Cuarzo Producciones and other producers of TVE entertainment programmes such as Masterchef, Maestros de la Costura (Shine Iberia) and Operación Triunfo (Gestmusic) belong.