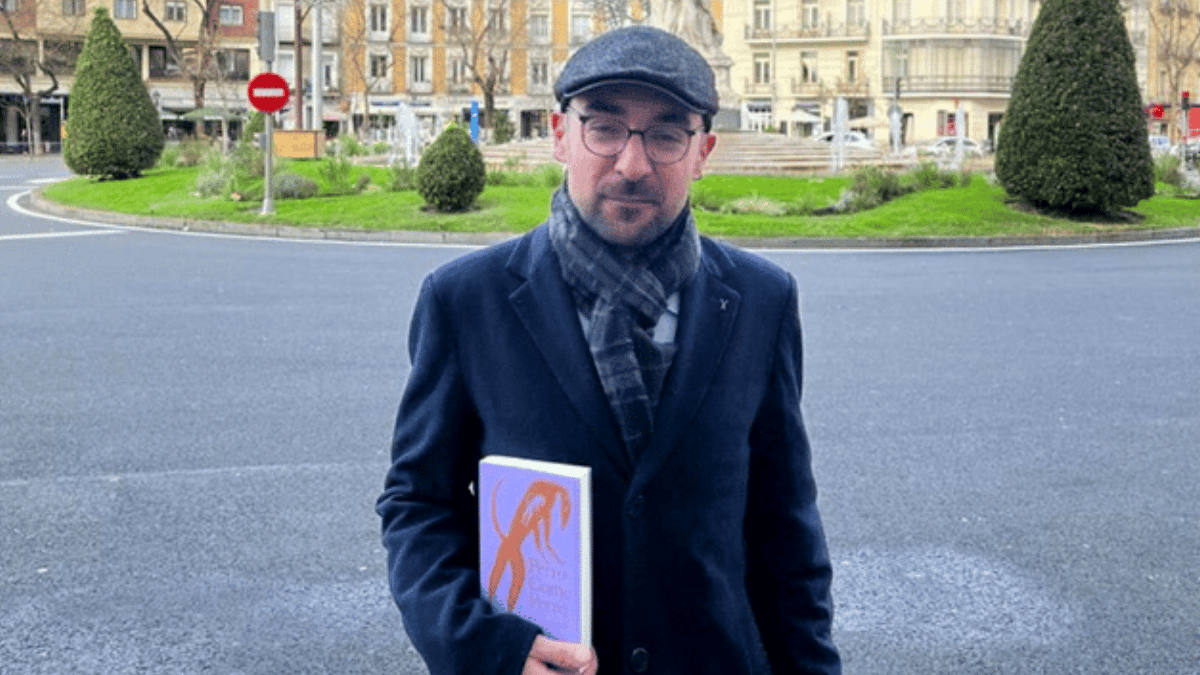 Rubén Arranz: "Journalists have an ego with exclusives that readers don't really care about"
MEDIA
|
JANUARY 9, 2023
|
LAST UPDATE: JANUARY 9, 2023 10:14
NEWSROOM
Sensationalism, job insecurity and political and business pressures are some of the main threats to the reputation of journalism, which Voz Pópuli journalist Rubén Arranz (Valladolid, 1985) focuses on in his book Perro come perro (Dog Eat Dog) (Círculo de Tiza). It is his first fictional novel with essay overtones, in which criticism of reprehensible practices in the profession predominates.
The protagonist of the plot, Alfredo, is a disenchanted journalist who receives the news of the suicide of his mentor and influential figure in the profession. An event full of unknowns that the character will try to clear up by approaching dark circles of power, in a scenario marked by corruption and a game of interests.
The author of the novel explains to DIRCOMFIDENCIAL that "the laws of silence or guild corporatism, which always exist in this profession, do not help at a time when we are not doing things well. You hear people in the street say that they no longer trust us and I think that this is largely justified. We are very discredited and discredited for a number of reasons.
The thunderous media noise is one of the issues Arranz denounces. He exemplifies this with the coverage of the process for the renewal of the General Council of the Judiciary. "I put myself in the shoes of the citizen who has seen the whole battle, the headlines, editorials, which have spoken of a coup d'état,… and there comes a time when there is an agreement to appoint the members in one afternoon, and it is given much less relevance," he says.
Self-criticism is, for the author, one of the unfinished business of journalists. He believes that "we criticise each other more than we seem to, for reasons of competition and that we have an ego with exclusives that readers don't care about. We act more out of egos or misunderstood competitiveness than to fulfil a social task".
"How much would Kapuściński have been paid for a report these days? He probably could not have survived outside the newsroom"
The messages contained in the book clash head-on with the romantic conception of the profession propagated by historical journalists. Regarding Gabriel García Márquez's statement that "journalism is the best profession in the world", he says that "I have always thought it was nonsense". As for the vision of Ryszard Kapuściński, a staunch defender of journalistic principles, he wonders "How much would Kapuściński have been paid for a chronicle nowadays? He would probably not have been able to survive outside the newsroom. Either you have a vocation that is well paid and aristocratic or this romanticism makes no sense. What romanticism is there in journalists who go to cover the war in Ukraine and have to pay for their own waistcoats? I don't see the point.
In the book, Arranz coined the term "casquería informativa" to refer to the climate generated by programmes, generally live, with a high level of intensity and speed in the format, with talk shows and which offer several broadcasts on the same screen. He considers that this type of programme "exaggerates absolutely everything. It is a step beyond sensationalism. When Ferreras refers to a news item with a wide scope, breaking news, impact, it is something that I have already seen hours before on Televisión Española's Telediario or on Radio 5".
Although "news rubbish" has always existed, the author considers that it has increased as information channels have proliferated. "We have an over-abundance of rubbish. Older people are perhaps more afraid of the real world, of going out into the street, because they are afraid that something might happen to them. I think it's sad.
"We continue to generate states of opinion"
The author argues in the book that "the powerful never lose, and if they do, it is not as a result of the shrewdness of a journalist". In the conversation, he specifies that "when a powerful person loses, it is because someone else wants them to lose, unless there is a journalist who is tremendously shrewd or has a stroke of luck". Cases such as Watergate or the Bárcenas papers, he points out, would not have come to light "if a part of power had not leaked information to journalists".
Just as the evolution of public credibility in the media is often questioned, the sector wonders whether it has lost influence to the point of shaking its position as the "fourth estate". In Arranz's opinion, "we have more importance and weight than it seems. What happens is that we now coexist with other social network currents, which are also important. But we continue to generate states of opinion. An example of the power we have is that even the most deteriorated Spanish Radiotelevisión Española in history, politicians are killing each other to control it".
Believing oneself to be a vigilante is, as the book shows, the most common failing of journalists with a certain reputation. The author explains that many reporters boast that "I brought down a certain minister or caused a certain president to appear to explain something, when in reality we are not the police and we do not have the absolute truth".
Self-censorship
In addition to political and business pressures, Arranz refers to the media's own self-censorship "mainly provoked by advertisers. The media sometimes withhold information because they need to balance the books. It's sad, I don't like it, it generates frustration, but that's the way it is.
Despite the natural or circumstantial adversities of the profession, the author defends that journalism "is a beautiful profession, because you meet interesting and intelligent people, who teach you and you learn. There is a certain enjoyment in being a chronicler and telling what happens".
Arranz recommends that future journalists "have good information and analytical skills and set up a YouTube or Twitch channel", because in his opinion, "there is a lot of future in these platforms".