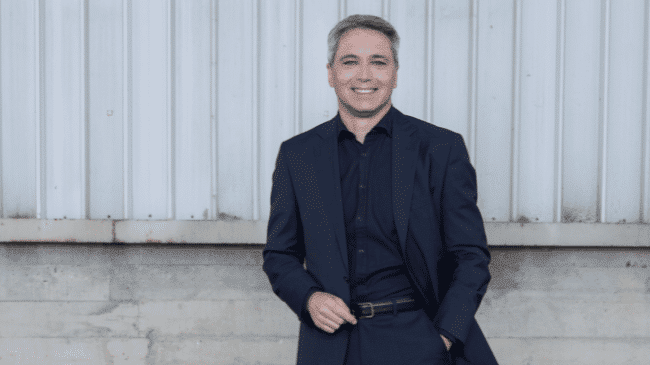 Vicente Vallés: "We have succeeded in making viewers appreciate the work and quality of Antena 3's news programs"
MEDIA
|
JULY 26, 2022
|
LAST UPDATE: JULY 26, 2022 14:20
NEWSROOM
Antena 3 closes its television season as leader, both in general and in news programs. Of the 25 broadcasts with the highest audience share last month, 17 belong to Antena 3 Noticias, with more than 2 million viewers, being the only news programs present in this ranking.
A large part of this leadership is attributed to its presenters, Sandra Golpe and Vicente Vallés. DIRCOMFIDENCIAL interviewed the latter (Madrid, 1963) to analyze the success and evolution of his news programs and journalistic challenges in television.
What distinctive components would you say Antena 3 Noticias has that are so convincing to the audience?
It is the result of a very intense work of the entire editorial staff. We have managed to combine a great journalistic quality among our colleagues in the newsroom. On the other hand, the technological contribution on our screens, augmented reality, I think we are making the most of it in the news. The continuous work over the years has meant that viewers have been coming to Antena 3 little by little. The difficult thing is not that people come, but that they stay with you once they get to know you. I think that in recent years we have managed to make viewers appreciate the work and quality of Antena 3's news programs.
How would you describe this news season?
Very, very intense. When it seemed that we were coming out of the pandemic -which has not come to an end- the war in Ukraine appeared, with consequences of all kinds, for its population and the collateral effects in the energy and economic fields that affect us very directly. We have also had electoral processes, such as the Andalusian one; therefore, in terms of information, it has been very intense and I believe it is the preamble of another very intense season as well. When we return from vacations we will immediately have a new government in the United Kingdom and Italy, the war in Ukraine will unfortunately not be over and we will be involved in the economic battle to solve the energy problems and bring down inflation.
"The newsroom, and our technological capabilities to display information, have been progressively improving."
With the war in Ukraine, the traditional journalistic debate has resurfaced about what images television stations should broadcast in order to provide informative details but without being morbid. What do you think?
The first thing is information. From that point on, it is very difficult to establish a standard that applies to all images. We have to analyze each case on a case-by-case basis, and we do it every day. We cannot prevent people from seeing images of the war that are purely informative; then, there are other types of images that are dispensable, that do not contribute anything to the information we want to offer and we try to avoid them.
In general, we are receiving fewer images than we would probably like to have, because it is not easy to access war zones for colleagues who are displaced there. It is very difficult to cover this war and we receive more images offered by the sides in the conflict than from independent journalists on the ground.
You have been with Antena 3 for 11 years. How would you say the news programs have evolved in this period and, in particular, the link between presenter and viewer?
In general, we continue to work with the same criteria as always. To offer the best possible information, with the highest possible quality and to present it clearly to the viewers. That is the basis of everything. In recent years, the newsroom, which has been growing, and our technological capabilities to display the information, have been improving progressively. All of this means that we have a much more direct connection with the viewer, to the point where he or she becomes a strong viewer of your channel and wants to watch the news every day.
Are television news programs called to redouble their commitment to entertainment, or does that imply going beyond a deontological limit?
Everyone will know what they prefer to do. We do information, not entertainment, which is destined to many other hours of generalist television. In Antena 3 we have many hours of programming dedicated to entertainment, but we have a series of time slots dedicated to information. We do information and in general we are doing quite well doing it.
"We like to make progressive changes that allow the news to offer important news but on an ongoing basis."
It seems that television news is seeking to offer an increasingly dynamic and agile format, is it possible to understand complex news in pieces of less than a minute?
When it is important information that has its complexity, it is possible that what you do is not a six-minute piece to explain it, but maybe you do five one-minute pieces. When the war started in Ukraine, in the first two or three weeks, we did monographic news programs, we did not just do a fifty-second piece to explain what was happening in Ukraine and then we moved on to something else. We did a succession of information that together could occupy the whole newscast, with all the points of view. Yesterday [last Thursday], with the news of the interest rate hike, we did several things, a live connection, interviews, several videos… different journalistic genres.
What's new for the next news season?
We are preparing things as usual. We don't usually organize a big party of changes to start a season that will turn the news around. What we like best is to make changes as the season progresses. If we suddenly come up with something new, we try it out and if we like it, we incorporate it. Better that than announcing drastic changes, from top to bottom, in season premieres, which you may not like. I don't think that makes much sense. We like to make progressive changes that allow the news to offer important novelties but in a permanent way.
"The priority is for the news to work well and for us to have the support of the people."
This year you have also launched Operation Kazan, a novel about espionage that is a bestseller. How are you living this whole process?
I like the process of writing very much and I have had a great time. Both Operation Kazan and the two previous books involve a lot of work and it is not easy to combine it with the normal work of the news, which is why it takes me so long to write a book. It is very enriching. Besides, writing literature has been very new for me and an experience that has been very intense and pleasant.
I've had three very intense promotions and I've had a great time. I am taking plane trips in the morning and I return to Madrid at noon to prepare the news. Although they are short trips, they allow me to open my mind a little and get out of the capital to meet other realities. I had a great time writing the book and I am having a great time promoting it. I hope the reader will be entertained, which is the main objective.
News director, author of a novel, collaborations in the media… any other project in which you are immersed?
(laughs) I don't have much time left. My project is to make Antena 3's evening news work well. I was going to tell you the priority, but, rather, the only one. Everything else is collateral stuff that I love to do, such as writing articles in the press or writing books. I have a good time, but the priority is that the news program is good, that it continues to work, that we have the support of the people and that is the main thing.