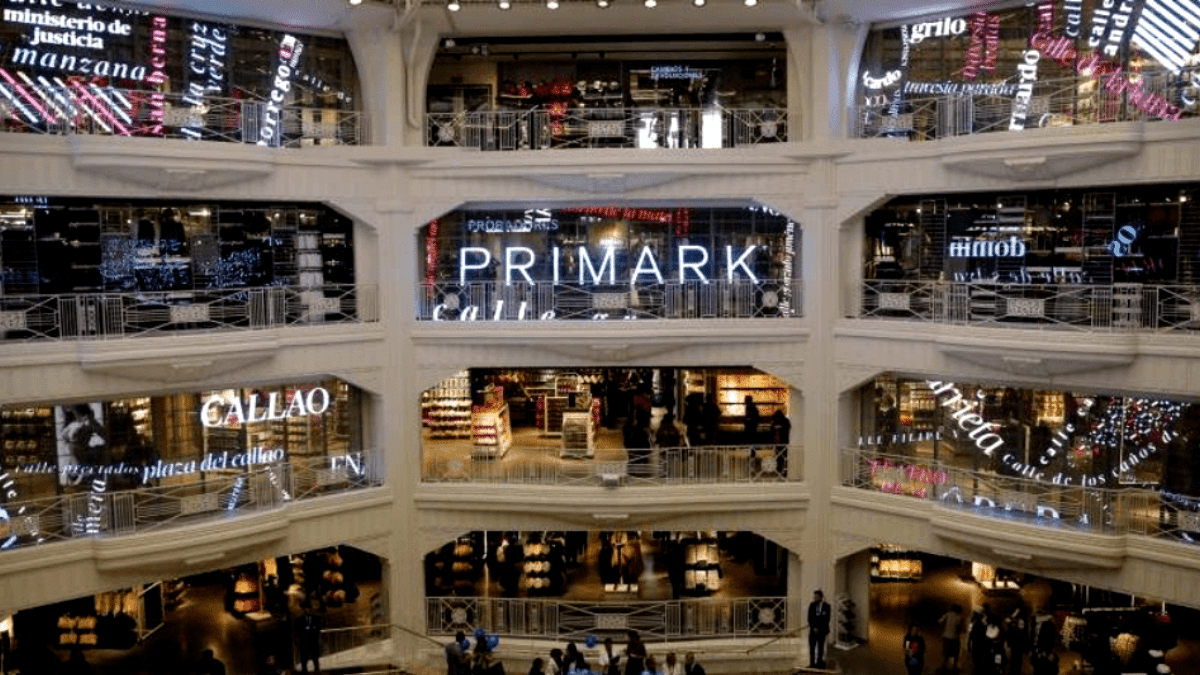 Primark to invest 100 million euros and create 1,000 new jobs in Spain
FINANCE
|
NOVEMBER 29, 2022
|
LAST UPDATE: NOVEMBER 29, 2022 13:42
NEWSROOM
In this news item we talk about: Primark
Primark will invest 100 million euros in the Spanish market, 80 million euros to open eight new shops and the expansion of another, and 20 million euros to improve and renovate stores. 20 million will be invested in the improvement and renovation of shops. With this investment, according to the international fashion retailer, more than 1,000 new jobs will be created over the next two years as part of the company's growth plans in Spain.
Primark, which opened its first shop in Spain 16 years ago, in May 2006, in Plenilunio (Madrid), currently has 56 shops throughout the country. Over the next 12 months, Primark plans to expand that number of shops with three new locations, including its first shops in Lanzarote, Melilla and Toledo.
Over the next two years, the international retail company will also open shops in Jaén and Lorca, as well as three new shops in the Madrid region, where it already has eight shops, including the flagship shop of more than 12,500 square metres located in one of the most emblematic buildings on Gran Vía, next to Primark's headquarters in Spain. With the three new shops, Primark will now have 11 shops in the Madrid region. The three new shops will be located in the La Vaguada Shopping Centre, the Alcalá Magna Shopping Centre in Alcalá de Henares and in Calle del Conde de Peñalver. Primark currently has eight shops in the region: Plenilunio Shopping Centre; Xanadú Shopping Centre; Islazul Shopping Centre; Parque Corredor Shopping Centre; La Gavia Shopping Centre; Westfield Parquesur Shopping Centre; Gran Plaza and its flagship shop on Gran Vía Street in Madrid.
The Primark shop in Diagonal Mar (Barcelona) will be refurbished and expanded, creating a better shopping experience for customers.
New jobs
Primark Spain continues to invest in its team and will increase its total workforce by more than 11% over the next two years with these new stores.
11% over the next two years with these new shops. The expansion will create more than 1,000 new jobs, bringing the total workforce to 10,000. The new jobs include a mix of full-time and part-time opportunities for retail assistants, trainee managers and department managers.
Granada and Palma have a seasonal Llaollao in-store offer during the summer months.
the summer months.
Carlos Inacio, Primark's director for Spain, said: "Spain is Primark's second largest market, with 56 shops across the country. Today we are proud to announce a major investment in our shop portfolio and Primark's long-term growth in Spain. This exciting expansion plan will create jobs, have a positive impact on the local communities in which we are opening and bring our shops closer to our customers across Spain. We are very grateful to our loyal customers who have supported us since we opened our first shop 16 years ago. We know they love our best value fashion, beauty and homeware offerings, coupled with an incredible in-store experience, and we look forward to offering them more opportunities to shop with us in the years to come".
Raquel Montabes, Leasing Director for Unibail-Rodamco-Westfield in Spain, said: "Primark's arrival at La Vaguada Shopping Centre demonstrates the ability of our assets to attract relevant and attractive concepts for today's consumer. Through major additions such as Primark, we aim to continue to lead the retail segment by creating meeting places that contain the best retail mix to respond to the needs and interests of our communities.