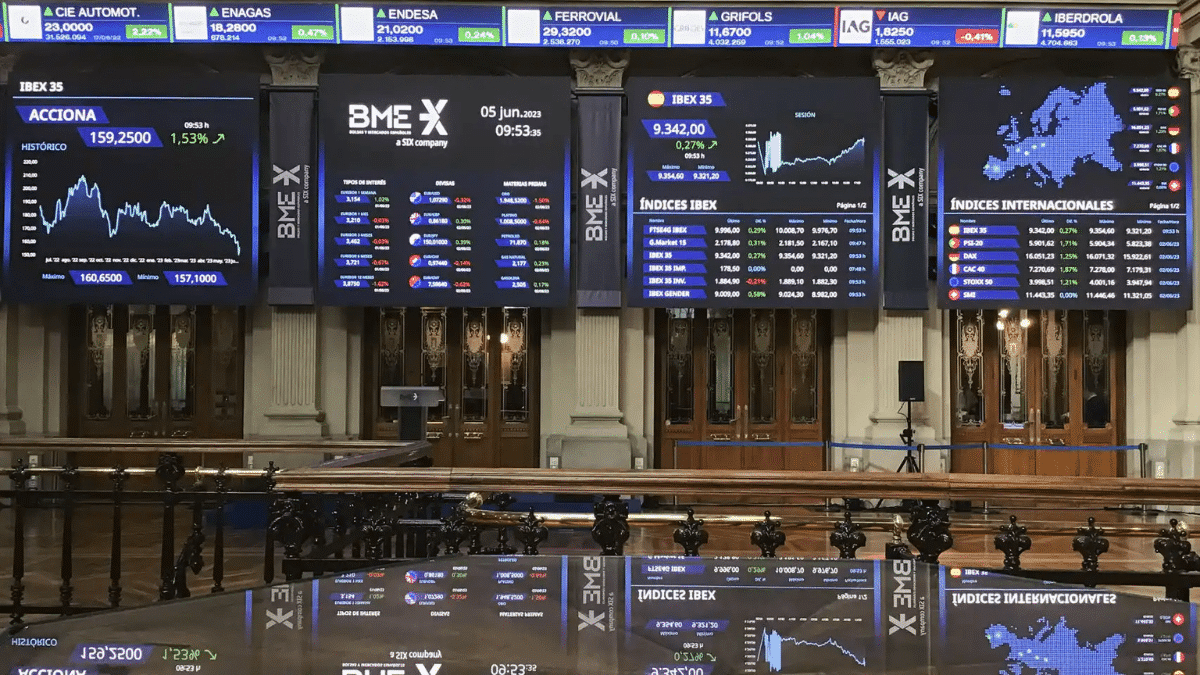 The Spanish stock market is down 0.24% as it awaits the Federal Reserve and the ECB
FINANCE
|
JULY 25, 2023
|
LAST UPDATE: JULY 25, 2023 11:45
NEWSROOM
The Spanish stock market opens the day with a slight decline of 0.24%, affected by expectations about the decisions to be taken by the Federal Reserve (Fed) and the European Central Bank (ECB) at their meetings tomorrow and Thursday, respectively. In addition, investors will be watching the release of the German Ifo index and the Conference Board's consumer confidence in the US.
Spain's main index, the IBEX 35, fell 23.1 points in the first minutes of trading to 9,520.4 points. Despite this fall, the IBEX 35 accumulates a positive return of 15.59 % so far this year.
In Europe, only the Frankfurt Stock Exchange joined the negative trend, registering losses of 0.14%, while Paris advanced by 0.15%, London by 0.12% and Milan by 0.07%. The Euro Stoxx50, the index comprising the largest-capitalisation European companies, remained up 0.05%.
Internationally, the Tokyo Stock Exchange closed with a mixed result, with its main index, the Nikkei, down 0.06%, due to uncertainty over the monetary policy decisions of the US and Japanese central banks.
On Wall Street, the Dow Jones Industrials remains on a positive streak, gaining 0.52% in the last session and maintaining a positive tone for this week in which quarterly results from key companies are expected and a possible new decision from the Federal Reserve that could imply an increase in interest rates.
The market remains attentive to the outcome of the general elections held in Spain last Sunday and the difficulties to form a government, which generates uncertainty in the Spanish economy.
At the open, the biggest faller on the IBEX 35 was Naturgy, down 2.18%, after announcing a major investment in renewables and other strategic areas. On the other hand, ArcelorMittal leads the gains with 2.70 %.
In the continuous market, Naturgy also recorded the biggest fall, while Berkeley was the company that gained the most, with 5.18%.
In debt, the interest rate on long-term German bonds rose to 2.419%, while Spanish bonds rose to 3.468%.
The price of oil is also changing, with Brent down 3.48 % to 82.93 dollars a barrel, and West Texas Intermediate (WTI) down 0.28 % to 78.96 dollars before the official opening of the market.
On the foreign exchange market, the euro is up 0.12 % against the dollar at 1.108 dollars.
Investors will remain attentive to upcoming economic and political events that may influence market behaviour in the coming sessions.