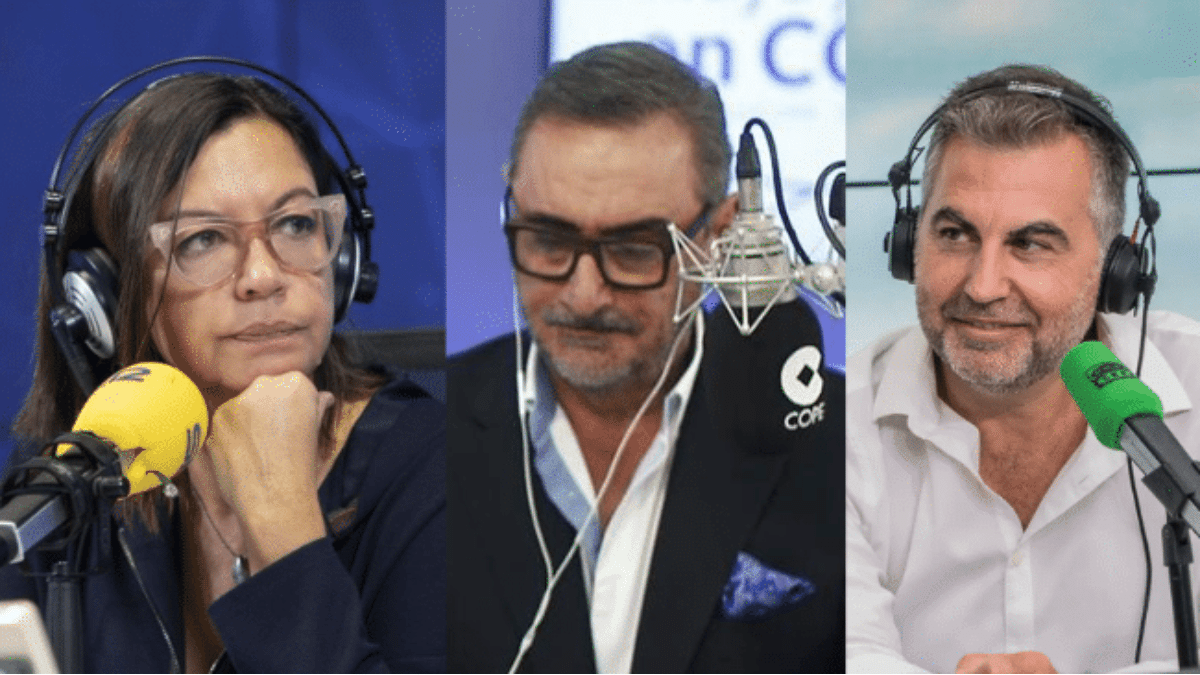 SER, COPE and Onda Cero to offer a joint broadcast on Radio Day
MEDIA
|
FEBRUARY 7, 2023
|
LAST UPDATE: FEBRUARY 7, 2023 11:13
NEWSROOM
The most recognised radio alarm clock brands in Spain –Ángels Barceló on La SER, Carlos Herrera on COPE and Carlos Alsina on Onda Cero– are joining forces for the first time in history to offer a simultaneous live broadcast next Monday, World Radio Day, an event proclaimed in 2012 by the United Nations General Assembly.
At 12:05 pm, after the midday news bulletin, the three most listened morning programmes, Hoy por hoy, Herrera en COPE and Más de Uno will merge for a few minutes to talk about radio, at the headquarters of Fundación Telefónica in Madrid.
The radio meeting, which they have been coordinating for weeks, will be the central event of a day organised by the Asociación Española de Radiodifusión Comercial, which will include sessions with experts to analyse issues such as EGM measurement, radio on an international level and the future of the medium, among others.
Although this is the first time that the three most recognised voices of the main Spanish radio brands have joined forces to broadcast live, simulcasting between competing stations is a formula that has been experimented with recently.
Joint broadcasts on competing stations
Three weeks ago, on the day of the premiere on TVE of the programme Días de Tele produced by José Miguel Contreras' Lacoproductora (Prisa) and presented by Julia Otero, this journalist chatted on her radio programme -Julia en la Onda on Onda Cero- with Carles Francino, who asked her questions from La Ventana on La SER. Three years ago -also on World Radio Day- Carlos Alsina from Onda Cero joined Las Mañanas de Radio Nacional de España, presented by Pepa Fernández, to talk about radio in a joint broadcast.
But the most outstanding radio experimentation in this line was the one carried out in 2021 by COPE and Onda Cero with their sports programmes. Juanma Castaño's El Partidazo de COPE and José Ramón de la Morena's El Transistor co-hosted a special live programme – El Partidazo en El Transistor – in which they interviewed renowned sports figures such as Rafa Nadal, Pau Gasol and Fernando Alonso. In addition, MARCA also offered the signal.
The radio brotherhood was even shown in the musical part, as the tune of this special programme mixed the tunes of the respective programmes; a fusion of Benito Moreno's traditional Ra, ra, ra, ra and Huecco's rock rhythm.
These alliances show the consolidation of a peaceful and respectful relationship between competing channels, which contrasts notably with the strong tensions that in the past have led other radio personalities to insult rival presenters.