LLYC and Atrevia, among the 100 top consultancy firms according to revenue
PR
|
APRIL 30, 2019
|
LAST UPDATE: APRIL 30, 2019 17:33
pnicolas
Only two Spanish communication consultancy firms remain among the 100 most important worldwide in terms of revenue, according to the annual classification compiled by specialist publication The Holmes Report.
The highest ranking Spanish firm is LLYC (formerly Llorente & Cuenca), which stands at 49, exactly the same position as last year. It had revenue last year of 45.3 million dollars (€40.6M); 5.5% more than in 2017.
Up seven places is Atrevia, rising to 79 thanks to its revenue increasing by 11% after reaching 26.4 million dollars (€23.6M).
Outside the top 100 we can find Marco de Comunicación, with a turnover last year of 11.4 million dollars (€10M). This is 14.7% more (a constant change of +20%), moving the company up to 146, 13 places higher than last year.
The other Spanish consultancy firm included in The Holmes Report ranking (which analyses the world's 250 largest companies) is Evercom, which remains at 211. The firm increased revenue last year by 2% (a constant change of +7.3%), to 6.8 million dollars (€6M).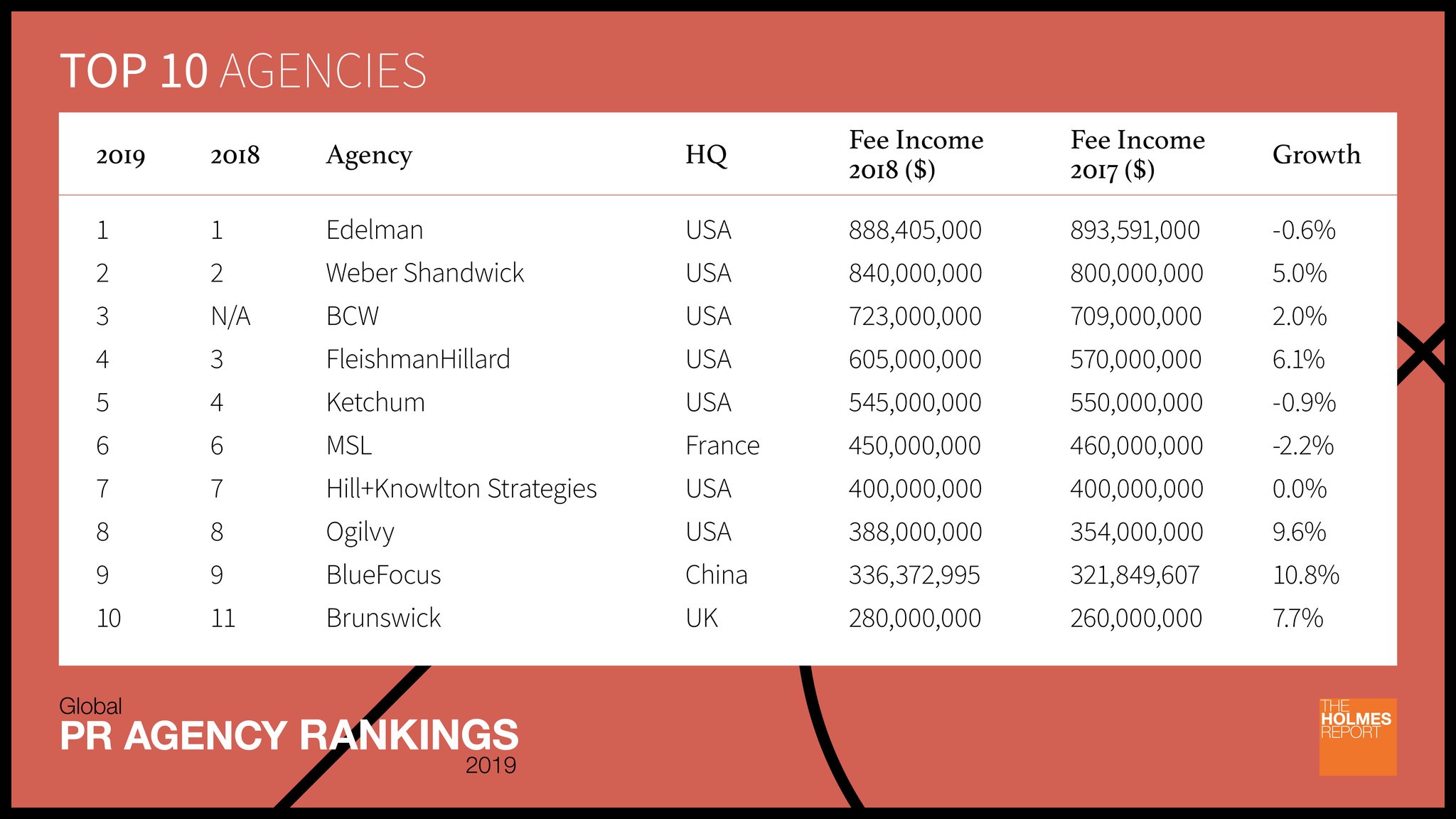 This world ranking is once again led by independent US consultancy firm Edelman, with revenue in 2018 of 888 million dollars; 0.6% less than the previous year.
This negative trend means that second-placed –Weber Shandwick– can reduce the distance. Last year, IPG accumulated revenue of 840 million dollars, a 5% rise.
Breaking into third place is agency Burson Cohn & Wolfe, a new company created last year after the merger between Burson Marsteller and Cohn & Wolfe. The integration of these two WPP consultancy firms has led to a revenue of 723 million dollars.
FleishmanHillard has been knocked off third place and is now ranked fourth after a 6% growth to stand at 605 million dollars. This company merged two years ago with Ketchum, which is the fifth company in the sector with the highest revenue worldwide, with 545 million dollars, a drop of 0.9%. The Holmes Report does not integrate the profit and loss accounts of these two companies into a single account, so they continue to report their income separately. If these two figures were to be added, it would be the top communication consultancy firm in the world with a difference, with revenue of over 1 billion.
The top European public relations company is French firm MSL, with revenue last year of 450 million dollars; a drop of 2.2%.
WPP leads the ranking of major holdings
In terms of communication holdings, WPP has a slight lead; its agencies (BC&W, H+K or Ogilvy) accumulated joint revenue of 1.45 billion dollars, 3.4% down.
Ranking closely behind is Omnicom (FleishmanHillard, Ketchum or Porter Novelli), which has dropped another 4% to 1.44 billion. The third group is IPG (Weber Shandwick or Golin), which is down 13% to stand at 1.3 billion.
Overall, the joint revenue of the 250 most relevant public relations industry firms had a year-on-year growth of 5.5% (+5% in 2018), up to 12.3 billion dollars. Independent firms contributed most to this growth as they saw their revenue increase by 6.9%, compared to the 3.3% of major holdings.