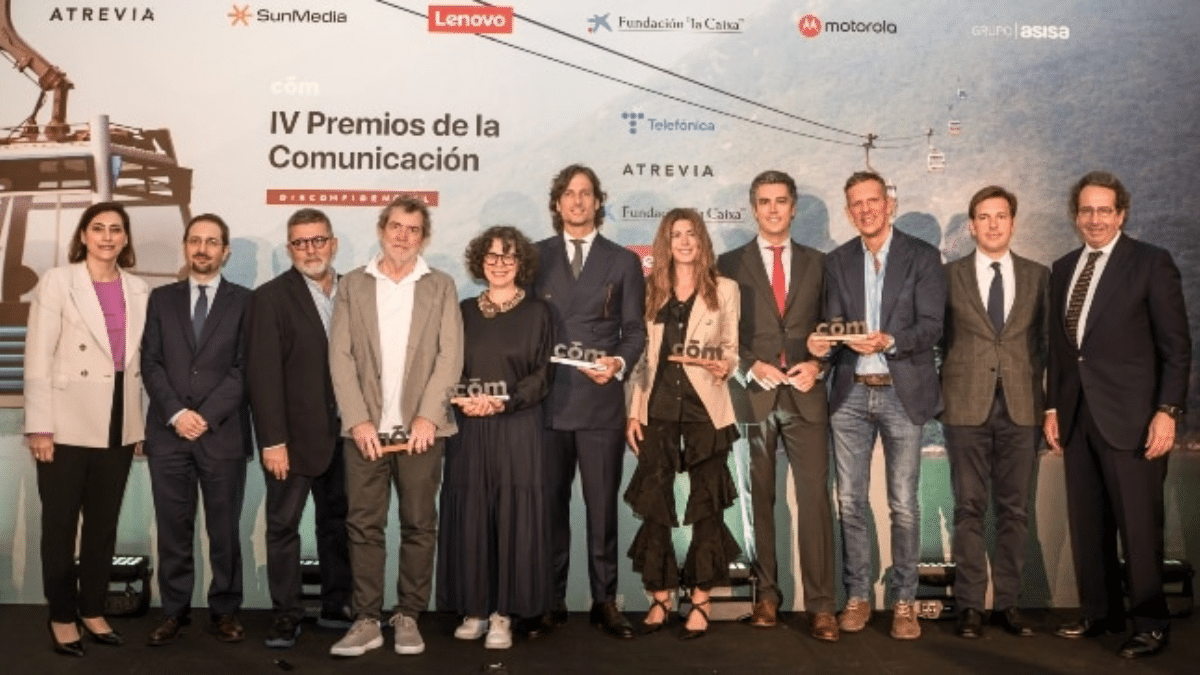 DIRCOMFIDENCIAL recognises an increasingly strategic profession at the Communication Awards
NEWSROOM
DIRCOMFIDENCIAL celebrated yesterday the Communication Awards, which since its inception recognise an increasingly strategic profession in our country.
In this year's edition -the fourth-, this media wanted to highlight the transversality of a Communication sector that is taking on more and more disciplines. Values such as creativity, sustainability, transparency, innovation and commitment are increasingly internalised in companies and in most cases are the responsibility of those in charge of communication.
This year's award winners respond precisely to the lack of frontiers that characterises communication today. A leading company in sustainability such as Ecoalf, a journalist committed to her profession such as Ana Rosa Quintana, a creative professional with an extraordinary career such as José María Piera, a competition that allows brands to project their values such as Mutua Madrid Open and a brave editor who has launched an influential media such as Paula Quinteros with The Objective were recognised yesterday at the Mandarin Oriental Ritz in Madrid.
Guests arrived at the hotel yesterday at 7pm and passed through the photocall before taking their seats. More than 200 executives from the world of corporate communications, advertising and marketing, executives from major agencies, renowned journalists and influential media editors attended.
The event – hosted by Antena 3 presenter Gonzalo Bans – began with a brief speech by the editor and director of DIRCOMFIDENCIAL, Julen Ariza. In his speech, he highlighted the "capacity for adaptation" that characterises the communication industry today and emphasised that "if we want to survive in a world of change, we need solid foundations, if we want to lead the change, we need references that inspire us, which is why we are organising these awards".
Commitment
The first prize of the evening was awarded to Ecoalf in the Commitment category and was collected by Carol Blázquez, the company's Director of Innovation and Sustainability. She emphasised in her speech that her company "is a group of non-conformists" that has been working for 14 years "with a responsible business model that puts the planet at the centre".
The award was presented by Mario Tascón, managing partner of Prodigioso Volcán, who emphasised Ecoalf's commitment to people and the environment and said that "communication is nothing if there is nothing behind it and if there is nothing to support it".
Special Jury Prize
This was followed by the Jury's Special Award, which this year went to journalist Ana Rosa Quintana. The journalist was initially nominated in the Commitment category, but the Jury decided that – after recently overcoming her illness – she should have special recognition.
The Telecinco presenter was unable to attend the event due to the sudden news load caused by the early general elections. The attendees were able to watch a thank you video starring Ana Rosa Quintana herself.
In her place was her Mediaset colleague Joaquín Prat, who will present the award to Ana Rosa Quintana today live on her programme. The presenter of Ya es Mediodía thanked Ana Rosa for the award on her behalf, as "recognition of the work, effort, sacrifice and perseverance" of the journalist, who has been the leader of the mornings for 19 seasons. Joaquín Prat then linked communication to the values of "honesty" and "transparency".
He was presented with the award by María Luisa Martínez Gistau, Director of Communication and Institutional Relations at CaixaBank, who admitted that she had never imagined that she would be presenting an award to Ana Rosa Quintana, whom she described as "not only one of the greatest references in communication, but part of the memory of information on television". "She is an example for our profession, for journalists, including the new generations," she said. His journalistic rigour," she continued, "is what makes him maintain large audiences.
Talent
The third prize – for Talent – went to José María Piera, Chief Client Officer at Wunderman Thompson. With a successful career in large agencies -some of them founded by himself-, the publicist first acknowledged that "it is difficult for shy people to collect awards", but then commented that what he really has is the "talent to live surrounded by co-workers and many talented friends". He cited among them great professionals such as Fernando Martorell – "who inoculated me with the poison of the profession and trusted me to send me to Madrid at the age of 27 to open an agency" -, Luis Casadevall – "with whom we set up an agency that was a small miracle"; Julio Wallovits – with whom he won a Goya for 'Smoking Room'; and Toni Segarra, – "with whom I have experienced many things and this week the misfortune of Espanyol's relegation". Piera also wanted to acknowledge the brands he has worked with: "I've had great clients. The awards are really won by the clients".
He was presented with the award by Alfonso Rodés, president of Grupo Havas, a member of the Jury for these awards. He said of José María Piera that "he is a friend who, although we don't see much of each other, you know where he is". He said that "every Friday at 8am he sends us an email to several friends with 10 clues that have happened, which is a pleasure to read". So much so that "every Friday, I spend the first hour looking at that email". She also recalled that yesterday was her birthday, a day that Piera also uses to send a song to her friends.
Influence
Paula Quinteros, media editor, won the Influence award, after managing -together with her team- to put a newly launched medium such as The Objective in a position of reference among digital native media. He argued in his speech that editors "are not usually at the forefront" and told a short story about a French editor who had achieved great fame in his country. He said of him that he "did not want power but influence". "The subtlety of influence contrasts with the crudeness of power," he said. Another idea he wanted to share was that "without values there is no influence. You have to be far removed from possibilism for influence to crystallise".
The award was presented to her by Manuel Llamas, Vice-Minister of Economy of the Community of Madrid, who praised the "courage and talent" that characterises Quinteros as a businesswoman. "She has never ceased to be an entrepreneur in the field of the media, and this is always worthy of recognition," he said. He called "the entrepreneur a hero for his or her contribution to wealth. "Spain needs brave entrepreneurs for freedom to triumph," she concluded.
Excellence
To round off, the Communication Awards wanted to recognise a competition that has become a great showcase for brands due to its association with values intrinsic to sport: the Mutua Madrid Open. Its director, Feliciano López, thanked the "small family that works tirelessly to make the event better every year" for the recognition. "I have experienced the growth of the event first-hand and much of the credit goes to the sponsors", said the sportsman.
María Luisa Correas, Director of Institutional Communication and Event Organisation at Mutua Madrileña, presented him with the Excellence Award. She pointed out that this sponsorship since 2005 has decisively helped her company to become known throughout Spain and with a growing international business. "It has allowed us to take the image of Madrid and the rest of Spain all over the world". The professional considered that the Mutua "is the best possible event, they really are excellent, they have a great team, nobody else could have done what they have done". "We are very proud of them," she said.
These five award winners were selected by a prestigious Jury made up of the following:
Alfonso Rodés, President of Havas Group in Spain.
Eva Pavo, Director of Communication and Marketing at Correos.
Fernando García, CEO of SunMedia.
Gerardo Mariñas, CEO of House of Communications.
José Luis González-Besada, Director of Communication and Institutional Relations of El Corte Inglés.
Julen Ariza, editor and director of Dircomfidencial.
Luisa Alli, vice-president of Dircom.
María Luisa Martínez Gistau, Director of Communication and Institutional Relations of CaixaBank.
María Solano, Dean of the Faculty of Humanities at CEU San Pablo University.
Toni Segarra, founder of Alegre Roca.
Once the event, which lasted less than an hour, was over, the attendees were able to spend some time together at the cocktail party, which lasted until after 10 pm.
These Communication Awards were also made possible thanks to the sponsors: Telefónica, Atrevia, Fundación "la Caixa", Lenovo, SunMedia, Motorola and ASISA.