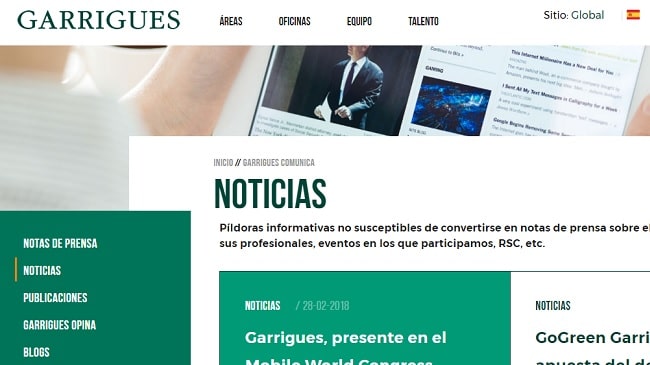 Garrigues joins the business trend of creating its own medium
NEWSROOM
The expansion of the digital universe has led to the proliferation of all manners of media. From the most conventional web extensions, such as elpais.com and elmundo.es, to technological platforms of the Facebook and Google type. Just as striking is this last label, the subject of an eternal debate, as the fact that many companies have taken advantage of the disruption to boost their own publications.
Initially, the low costs of entry barriers led to the appearance of company and organisation blogs. But as a result of the galloping digital transformation, brand media have become increasingly common. Thanks to these supports, companies are able to generate their own content and distribute it directly among the public, without having to resort to the media.
Perhaps the best-known example worldwide is that of General Motors, which for years has cultivated a portal with information on the automotive industry. In Spain, BBVA and Orange stand out, both offering specialised digital media within the scope of their activity. A strategy which Garrigues has recently adopted.
"Garrigues is launching a new corporate website with the three-pronged objective of offering more added value to users, being easier to use and adapting to the latest technologies", the law firm announced a few days ago. To do this, it has changed the skin and transformed its website into an information portal, "as the most avant-garde multinationals are doing", it stated.
Journalist from Prisa is hired
A change that will involve adapting the content and legal language so characteristic of the firm to a more journalistic style, as well as providing the website with greater dynamism and usability. To facilitate this process, Garrigues has added journalist Almudena Vigil to its communication team.
A journalist specialised in legal information, Vigil has covered this section in five different media over the last thirteen years. In this time, she has written for El País, Cinco Días, Expansión, El Economista and La Gaceta. The office specialising in corporate law explains that she will play a key role in developing the website.
The new Garrigues website is described as a "scalable and dynamic" project, in which new sections and utilities related to the activity and the reality of the sector will be incorporated.