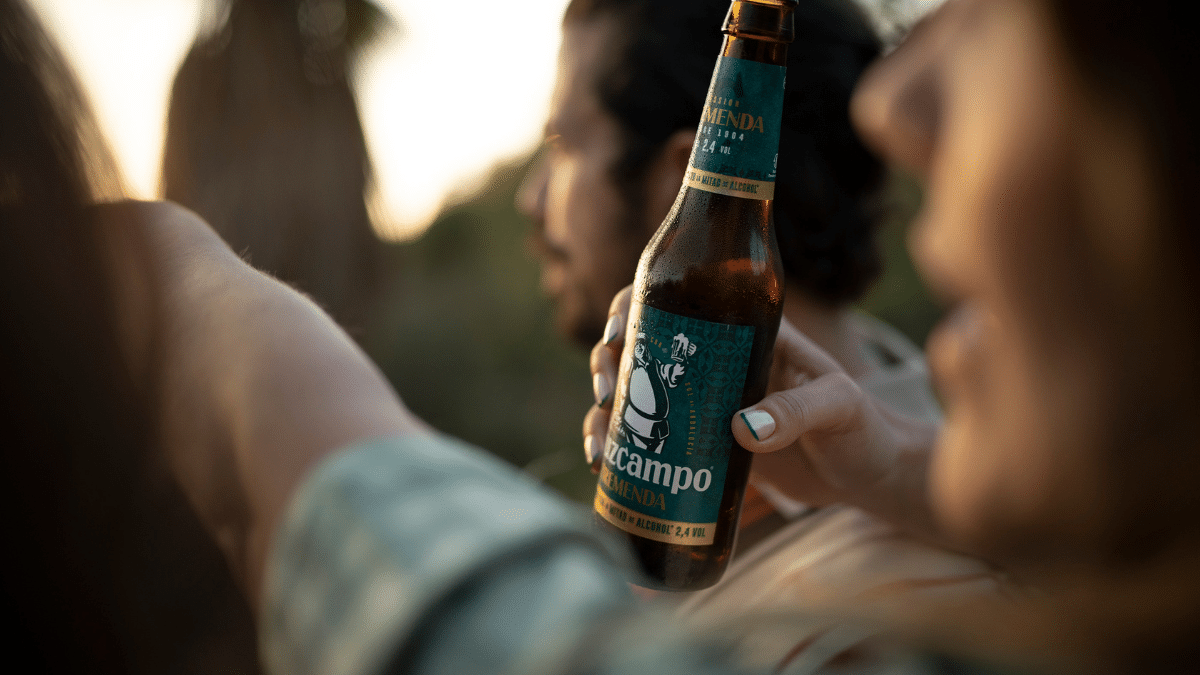 Cruzcampo takes the low alcohol initiative with Tremenda
GASTRONOMIC
|
MAY 18, 2023
|
LAST UPDATE: MAY 18, 2023 13:32
NEWSROOM
Cruzcampo takes a step forward in the low-alcohol beer segment. Following the example of other spirits, the company has launched its latest innovation on the market: 'Tremenda', a new beer with a surprising, intense and full-bodied flavour, and with half the alcohol of the usual Cruzcampo, which makes it possible to extend the time spent drinking beer.
This is the most important launch of the year for Heineken Spain, as it places the company once again at the forefront of innovation in new beer trends. Cruzcampo Tremenda arrives in a returnable bottle format for the Horeca channel and in cans for retail.
The secret of Cruzcampo Tremenda lies in the yeast, which produces less alcohol and adds aroma and body. "We tried up to 12 different malts before achieving this flavour," explains Irene Pascual, master brewer at Factoría Cruzcampo.
At only 2.4º, it is a beer with an intense flavour thanks to the sweetness of the pilsen malt and the bitterness of the hops, which goes perfectly with cold appetizers, salads, fish and white meats. The recipe was born as a small batch in Factoría Cruzcampo, a micro-brewery with a social purpose and headquarters of the Cruzcampo Foundation, where Cruzcampo's master brewers brew craft beers and where all the proceeds are reinvested in training and scholarships for young people, through the Cruzcampo Talento programme, which aims to promote the employability of this group in the hospitality sector. The response from consumers was very positive.
According to Pascual, "the idea of a beer created to have half alcohol was clearly surpassed by an unexpected drinking experience, a tremendous taste". "Cruzcampo Tremenda is pure innovation, a beer with half the alcohol and that tastes like beer, perfect for when your body asks for a lot of lirili and half the lerele," he adds.
In the last ten years, Heineken Spain has launched more than 40 innovations, including categories that have transformed the beer and drinks market: such as Radler and Cider, whose introduction and development it pioneered in our country and is still the leader today. In the last three years, the company has allocated 25% of its brands' investment to innovation and "our ambition is to double our innovation ratio (the percentage of revenue that comes from innovations) in the next three years", explains Elena Morales, Innovation Director of Heineken Spain. Now it is the turn of the 'session' beers, beers with a lower alcohol content than its reference style (in the case of Cruzcampo Tremenda -2.4ª-, it has half the alcohol content of Cruzcampo Pilsen – 4.8º-).
A booming segment
This trend, which arrives in Spain thanks to Cruzcampo Tremenda, is already well established in countries with such a brewing tradition as Germany or Austria, where it represents 6% of the market, something like our alcohol-free market. In countries such as Sweden, it represents more than 25% of the market.
A phenomenon that, according to Morales, has a place in our country because "Spaniards have a great way of consuming beer, as what we are mainly looking for is flavour, enjoyment or certain properties, not alcohol content", he explains. In fact, the most recent data confirms how the evolution of society is leading us to a more conscious consumption of alcohol. The intention to moderate alcohol consumption is a growing trend in recent years, curiously pushed by the younger generations*, interested in making it compatible with other activities or motivated by the control of self-image in social networks, among others.
Cruzcampo Tremenda is an innovation that responds to this trend and also to the growing interest in beer culture. "Consumers are open to new options that allow us to diversify or extend our time with beer, without losing the flavour of a good beer, such as Cruzcampo Tremenda, a beer with an accent from its very name", explains María Ruiz Sanguino, head of the Cruzcampo brand.
Something that Cruzcampo's master brewers can confirm from the Factoría Cruzcampo and La Fábrica de Cruzcampo microbreweries in Malaga, where they brew beers in direct contact with customers. "There is an interest in knowing more, trying new recipes, varieties, with different ingredients, different alcohol content… the search for new brewing experiences encourages us to continue to explore our roots to make different, better things that will surprise them", explains Juan Jiménez, master brewer, one of the creators of Cruzcampo Tremenda.