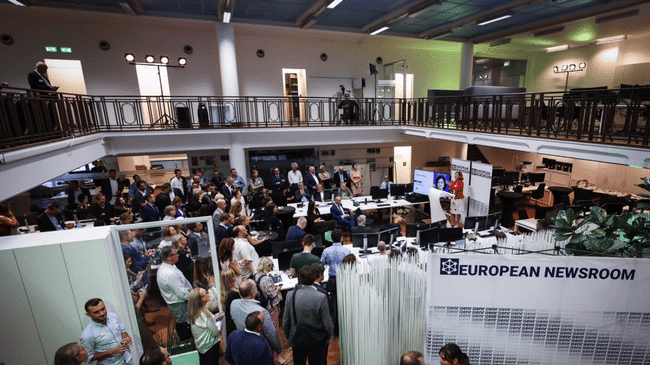 EFE and Europa Press join 'Redacción Europea', the new consortium of agencies in Brussels
MEDIA
|
SEPTEMBER 9, 2022
|
LAST UPDATE: SEPTEMBER 9, 2022 7:52
NEWSROOM
EFE and Europa Press have joined the more than 16 agencies from European Union countries that have created 'Redacción Europea', an initiative to improve news coverage of EU institutions and achieve points of collaboration between journalists and greater access to official information.
The newsroom, which opened this week, is coordinated by the German news agency DPA and is expected to be funded by the European Commission to the tune of €1.76 million to cover its running costs until the end of 2023.
EFE's delegate in Brussels, Catalina Guerrero, explains to DIRCOMFIDENCIAL that the launch of this newsroom is "very good news because we are going to share the same space with other journalists, where ideas with different visions are going to emerge".
The press agencies, says Guerrero, have been waiting for such an initiative for many years. "Sometimes, in Brussels," he argues, "we were helpless when we saw associations of European newspapers that had a competitive advantage when it came to getting interviews with politicians or commissioners. There are many media in Brussels and the authorities cannot support all of us. It is more comfortable for them to choose an alliance where a single interview is guaranteed to reach all the newspapers in Europe".
The coalition between European agency journalists will now facilitate the possibilities of "leaking documents", according to the EFE delegate. She hopes that the alliance "will also help us to get to the information that privileged media always get to because they pass it on".
The EFE delegation in Brussels was founded in 1970 and has nine journalists, a cameraman, an administrative assistant and between one and six interns. "We can boast that we are by far the Spanish media with the largest number of staff in the country," Guerrero defends.
Europa Press also applauds the founding of a community newsroom. The inauguration ceremony last Tuesday was attended by Candela Martín, the agency's Business Development Director, who assures that "we value it very positively because the agencies are coming together, the institution is going to be strengthened and it is a common space in which to share experiences and perspectives on what is happening in Europe". "We believe that working in a network brings a lot of informative value to Europe," he says. Three journalists work in the agency's delegation.
The journalists will be trained by France Press in the fight against fake news.
The journalists who make up the newsroom will receive training from Agence France-Presse on the fight against disinformation. EFE's delegate, who is positive about the training, says that "we see a clear battle of the narrative in which Europe is under attack by Russian or Chinese disinformation. These tools will help us to inform our subscribers even better, if possible.
The newsroom has two offices: the Belgian agency (Belgium) and Residence Palace, the complex of buildings where journalists usually meet. The Business Director of Europa Press explains that the former "is more useful, like an events space", while the latter "is much more for work, in a co-working environment. It is very interesting.
In addition to the aforementioned agencies, the following have joined the project: ANSA (Italy), AGERPRES (Romania), APA (Austria), ATA (Albania), HINA (Croatia), MIA (North Macedonia), PAP (Poland), BTA (Bulgaria), FENA (Bosnia and Herzegovina), STA (Slovenia), TANJUG (Serbia), TASR (Slovakia) and UKRINFORM (Ukraine).
At the opening, European Commission Vice-President Vera Jourová, responsible for rule of law, said she was "proud" that the European Union is supporting the joint editorial office of agencies in Brussels, "a flagship project that shows our approach to supporting media cooperation across borders".