Eleven renowned chefs will prepare the menu for the Repsol gastronomy gala
MOBILITY
|
FEBRUARY 23, 2023
|
LAST UPDATE: FEBRUARY 23, 2023 13:03
NEWSROOM
This year, the Repsol Guide 2023 Soles award ceremony in Alicante has a very special end to the party. The Valencia Region is the region in Spain with the most women chefs with Soles, something that Guía Repsol wanted to highlight and highlight by commissioning them to prepare the menu for the event.
This is the first time that a gala of these characteristics has only women at the helm of the kitchen. An initiative in line with Repsol's strategy of promoting diversity and inclusion. In its commitment to gender equality, it wants to incorporate talent in all areas, including gastronomy.
Eleven female chefs from all over the region will form part of this team, which will be inspired by the Valencian territory for its gastronomic proposals. Begoña Rodrigo from 'La Salita' (2 Soles Repsol Guide, Valencia) will be the coordinator of the event and has assured that the "essential thing is that it is a choral experience, in which to reflect what we do in our homes, and a great opportunity to demonstrate the potential of the Valencian Community. It is the first time that we are all going to be cooking together".
Along with Rodrigo, ten other women complete the line-up: Susi Díaz from 'La Finca' and Mª José San Román from 'Monastrell', María José Martínez from 'Lienzo', Vicky Sevilla from 'Arrels', Rakel Cernicharo from 'Karak', Emmanuelle Baron from 'Casa Pepa', Alejandra Herrador from 'Atalaya', Sonia Box from 'La Perla de Jávea', and Mari Carmen Vélez from 'La Sirena' and Cristina Filgueira from 'El Xato'.
In the words of Susi Díaz "this country is full of good women chefs, but it just so happens that this is the area where there are more women with awards. Twenty-five years ago this would have been unthinkable, everything has changed a lot and women are taking their rightful place, women cook very well and Guía Repsol has realised this and I am delighted".
Repsol Guide 2023 Suns Gala Menu
The menu for the Repsol Guide 2023 Suns Gala will be made up of 22 mouthfuls, with two dishes prepared by each of the chefs. A high quality menu for a Gala full of Soles that are a reflection of the sparkling cuisine that is made in every corner of this country. The city of Alicante will experience the biggest gastronomic festival of Guía Repsol for three days.
Over the course of a whole weekend, the streets of the capital will host different activities that have been organised as a preamble to the awarding of the Guía Repsol 2023 Suns and which will culminate with the celebration of the Suns Gala on 27 February in the Auditorio de la Diputación de Alicante (ADDA).
María José Martínez from 'Lienzo' (1 Sun Repsol Guide, Valencia) has opted for the Valencian oyster 'Les Perles' in cauliflower pickle with honey vinegars, and for the alkalised organic pumpkin with eel from Catarroja and arropyaki. Both include seasonal products and the famous honey derivatives that the chef has been working on for some time. "We have put together a great menu, with a lot of freedom for everyone to express themselves and in which all types of cuisine are represented", says the chef.
The local produce that characterises this land and the reinterpretation of recipes with an emotional touch define many of the dishes. María José San Román from 'Monastrell' (2 Soles Repsol Guide, Alicante), uses the beetroots from her farm in Mutxamiel, "with an exquisite flavour and intense colour, made possible by hard work in agro-ecological practices", to prepare a dessert with Gulius pistachios, cocoa beans and apricot. His savoury snack, a lamb tartar with smoked green wheat and olive oil with prebella (thyme endemic to the area).
The local produce that characterises this land and the reinterpretation of recipes with an emotional touch define many of the dishes.
Another of the desserts, Soplete de piñones y fresas ahumadas con cúrcuma (pine nuts and smoked strawberries with turmeric), is by Rakel Cernicharo from 'Karak' (1 Sol Repsol Guide, Valencia) who has made a minisol for this occasion. Her most iconic dish could not be missed, the fermented black salmon and venere rice. "It is very tasty, very attractive and has represented me since I started", explains the chef.
Sonia Box's semi-roasted tomatoes with Jumilla olive cream, spring onions and semi-cured tuna from 'La Perla de Jávea' (1 Sol Repsol Guide, Jávea) are a tribute to her father, "who liked country recipes. Every summer he planted a vegetable garden at home, especially tomatoes, and I remember going to pick them with my mother and sister". Citrus fruits, so typical of Valencia, are the protagonists of his lemon sponge cake, with lemon curd, meringue and cinnamon streusel.
Local produce also shines in the Benicarló artichoke confit, creamy Tot de Poble cheese, sobrasada oil and black truffle served by Alejandra Ferrador from 'Atalaya' (1 Sol Repsol Guide, Alcocéber): "It's a sample of the territory to the maximum because all the ingredients are from small producers with ecological and sustainable projects in Castellón that we like to give a voice to". Alejandra is proud to "appear together in front of all the gastronomy of Spain at the Gala, because it is an image of strength".
The delicacy of the stews prepared by Emmanuelle Baron at 'Casa Pepa' (2 Soles Repsol Guide, Ondara) is displayed in her dish Alubia de músico, big game a la Royal. "It's a hare royal with beans stewed with the juice of the hare and a steamed beetroot to give it that earthy touch. The stews are very characteristic of Casa Pepa and tell our philosophy very well". His proposal of wood-fired roast peppers, marinated red mullet, red praline "is one of our star dishes, we roast peppers from a local organic vegetable garden in a wood-fired oven and combine it with the red mullet, which is a great Mediterranean product".
Mari Carmen Vélez from 'La Sirena' (1 Sol Repsol Guide, Petrer), displays her research into aioli, of which she has more than a hundred varieties, with her Gambitas y espárragos con alioli de yema ahumada (prawns and asparagus with smoked yolk aioli). Vélez considers that "there are women chefs in the shadows, who have not shown off their work so much and go unnoticed, when talent has no gender and we are in professional kitchens with the same strength, intelligence and passion. That is why this initiative is so appropriate".
Cristina Filgueira from 'El Xato' (1 Sol Repsol Guide, La Nuncia) recalls her mother-in-law's cooking in the 70s in the same restaurant where she now cooks with her Tapas de domingo y fiestas de guardar. "In this tapa there is a bit of two generations of cooks, wanting to fuse the traditional with the avant-garde".
Vicky Sevilla from 'Arrels' (1 Sol Repsol Guide, Sagunto), says that "one of the ingredients that she likes the most because it represents the Valencian Community very well is eel and I wanted to make it in a fingerfood concept: eel mollete, blanquet and tartar. And the celery flan, meat juice and cheese because it is one of the last dishes on the menu with vegetables from the garden that I use so much".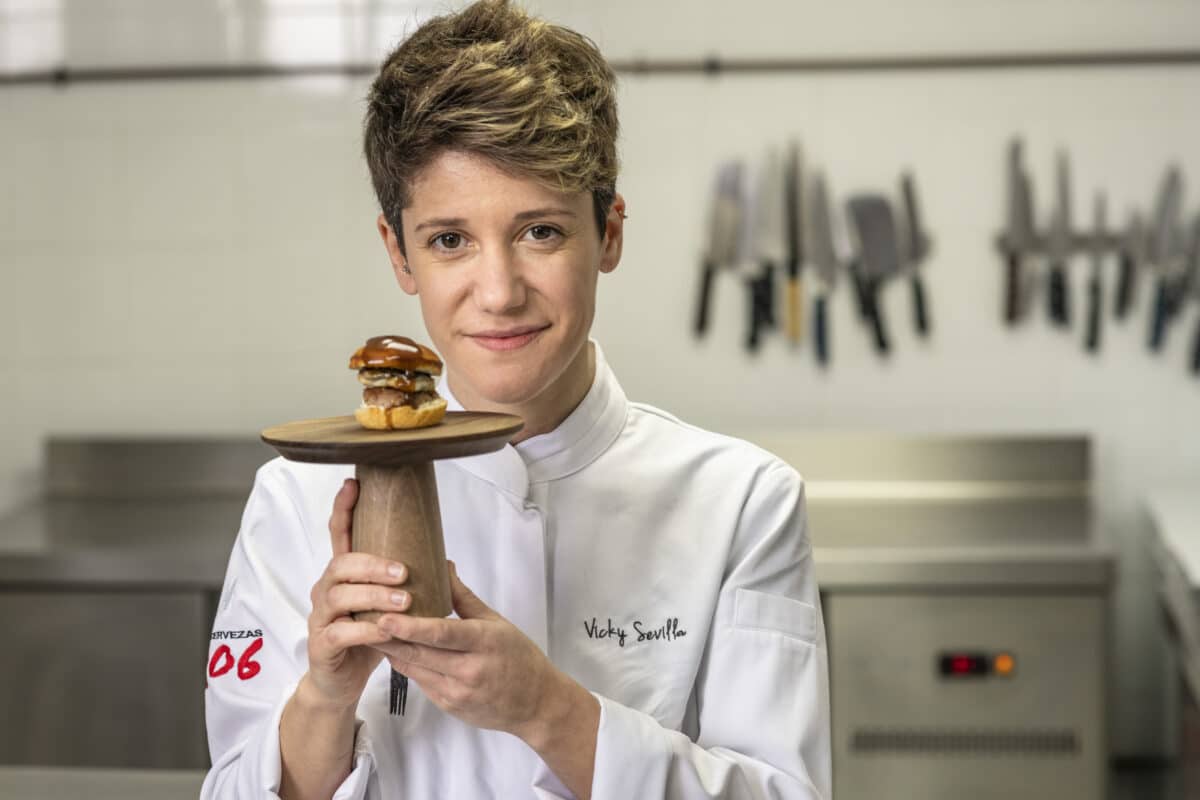 Vicky Sevilla (Arrels).
For her part, Begoña Rodrigo brings Cebolla, a single-ingredient vegetarian dish, a fetish for the Valencian chef who plays with textures, gelatine, glass and crunchy biscuit. Sarandonga, one of her first dishes, is as surprising as Begoña herself. "I felt like taking a risk with rice for so many people. It has pickles, salted lemon, a seaweed base and hake foam".
Meanwhile, Susi Díaz opts for a classic on her menu, the potato and truffle cream "which never fails, it is a purée with a lot of love and truffle inside, now that we are in the middle of the season and in the north of Valencia there is a lot of truffle". The Cremoso de chocolate contains the essence of the citrus fruits that surround 'La Finca' in Elche, which gives it freshness.
This year's Soles 2023 award ceremony has the slogan "Cuisine fills us up", with which Guía Repsol and the Generalitat Valenciana, Alicante City Council and Alicante Provincial Council want to highlight the importance of gastronomy in people's lives. In recent years, the Valencian Community has shown itself to be one of the areas with the greatest gastronomic interest in Spain.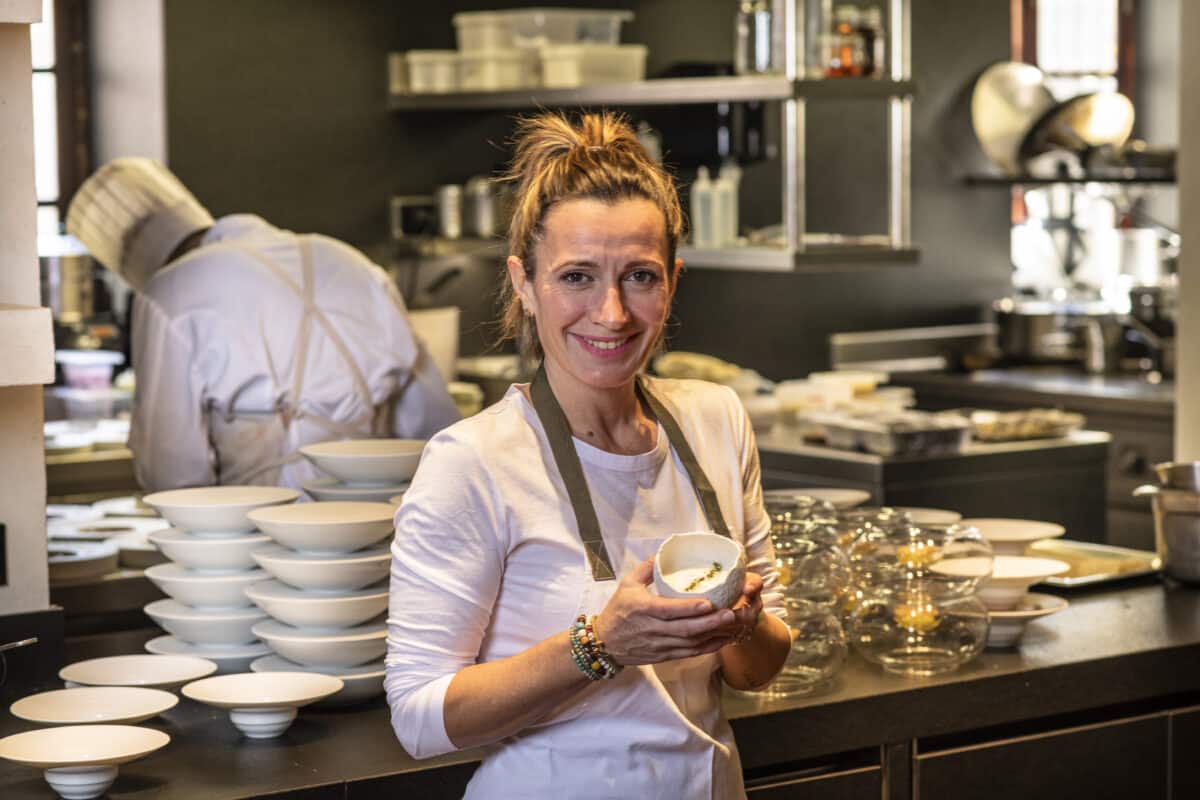 Begoña Rodrigo (La Salita).