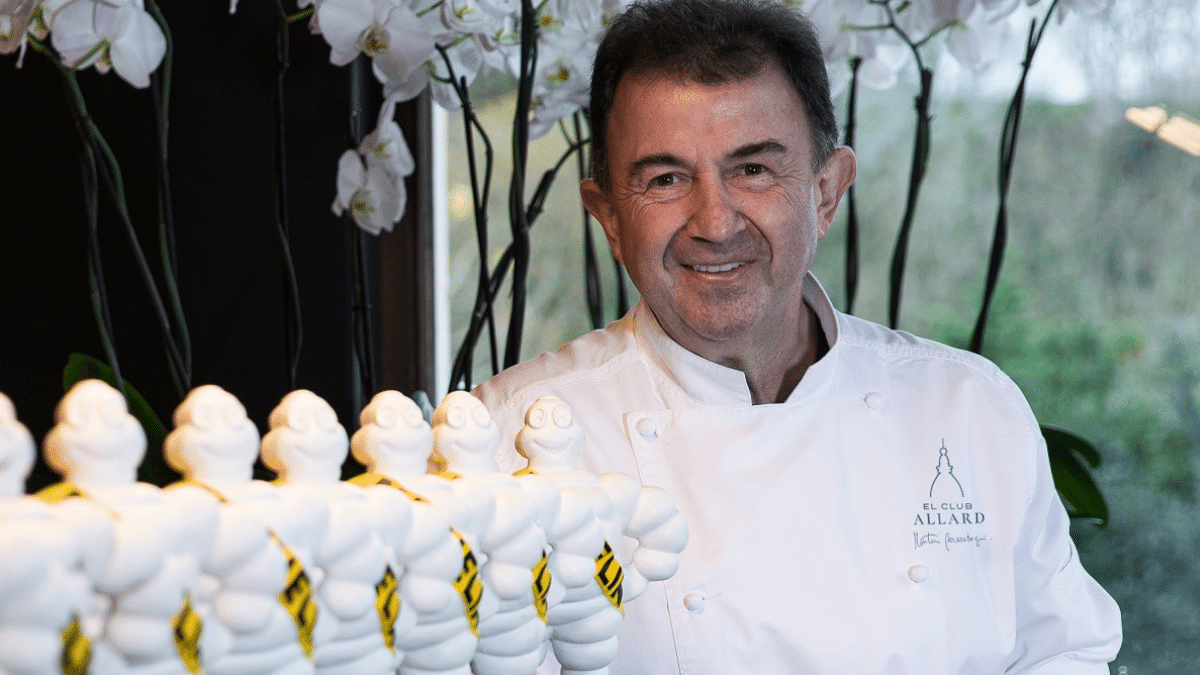 Martín Berasategui greases up the machinery to open El Club Allard on 28th March
MOBILITY
|
MARCH 17, 2023
|
LAST UPDATE: MARCH 17, 2023 14:09
NEWSROOM
The long-awaited return of El Club Allard under the leadership of Martín Berasategui already has a date. The Madrid restaurant will open its doors on 28 March with the Spanish chef as its new gastronomic advisor and Cristina Rubina as its day-to-day manager.
The restaurant arrives with the intention of conveying the essence of Berasategui's cuisine through his most significant dishes, a reflection of the chef's vast and sensorial culinary universe. With this reopening, the city of Madrid has the opportunity to have a restaurant to immerse itself in the personal and creative style of the chef from San Sebastian, linked to the Basque recipe book, and in which the best raw materials are the protagonist of a technical and highly perfectionist cuisine.
Club Allard will initially have two tasting menus, a long one, with thirteen courses, and a short one, with ten. Approximately one month after its opening, the à la carte menu will also be available. Among the recipes, mainly from his restaurants in Lasarte and Barcelona, there will be well-known dishes such as his lobster salad, with more than seventeen vegetables, or sirloin steak with chard and foie gras.
However, there will also be dishes prepared exclusively by Berasategui for his new home in Madrid, such as tear peas in caramelised cutlet fat with sea urchin and clarified broth consommé based on pig's trotter ramen.
For Martín Berasategui, "we are landing in Madrid with great desire and ambition, but with humility and respect for a city which, both gastronomically and personally, has always been an example for me and has my total admiration. We arrive with the best arsenal, with our own dishes, the best suppliers in Spain and with a young and highly trained team".
"We want El Club Allard to regain what, by right and trajectory, is its own: a place of weight in the culinary history of our country". For his part, José María Goñi (Donosti, 1990), disciple of Martín and with a solid career in Spain and Asia, arrives at El Club Allard as a standard-bearer "of the cuisine of refined bases and perfect execution that Martín champions in one of the most demanding gastronomic capitals, and which requires a very high level".
Located at the beginning of Ferraz street, El Club Allard is a landmark in the culinary history of the capital. It is housed in a historic and majestic 1914 building, Casa Gallardo, next to the recently renovated Plaza de España, an area that has become the new centre of Madrid. Club Allard was inaugurated in 1998, initially for members only, but opened its doors to the public in 2003 and became an essential address for the best gastronomy.
Berasategui will try to give back to the restaurant the recognition lost years ago due to the successive changes in the kitchen that led to his departure from the Michelin Guide.