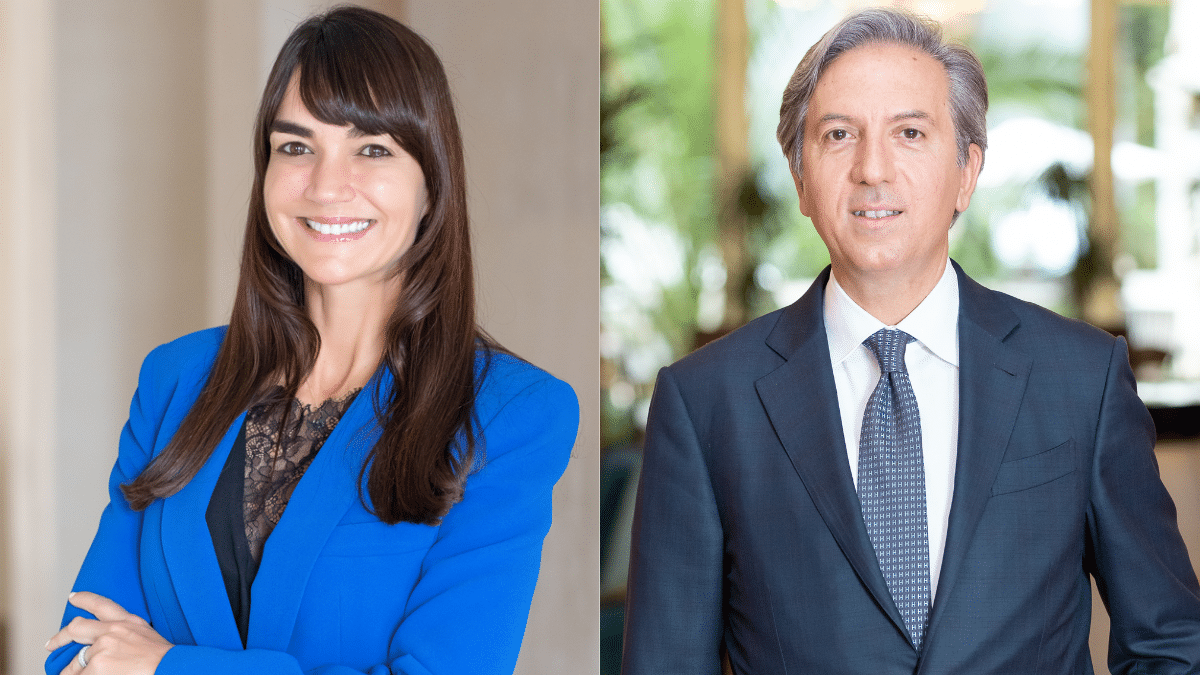 InterContinental Madrid reinforces its staff with the incorporation of these two professionals
NEWSROOM
InterContinental Madrid reinforces its staff with the incorporation of these two professionals, whose extensive experience and knowledge of the sector will consolidate the management team.
Guiseppe Vincelli has more than 30 years of experience, 20 of them in IHG where he started in 2004, period in which he has managed hotels of the company in Rome, Malta, Lisbon or Estoril; the last six years he has been in charge of the iconic Carlton Cannes, a Regent Hotel.
Silvana García Schreck is an executive with an important career in the development of sales and business development plans in highly competitive environments for top international brands such as Hyatt, Radisson or Accor.
InterContinental Madrid has renewed its staff with two executive appointments: Guiseppe Vincelli, as General Manager, and Silvana García, as Sales and Marketing Director. In this way, the emblematic hotel establishment welcomes two profiles that come to mark the new future steps of the company. InterContinental Madrid (Paseo de la Castellana, 49), which opened its doors in 1953, was the first major international hotel to open in Spain and, since then, has been one of the capital's landmark accommodations.
With 30 years in the industry, 20 of them linked to IHG (InterContinental Hotels Group), Giuseppe Vincelli is a born leader and is excited to lead InterContinental Madrid, the first international hotel in the country, to continue writing chapters of its fascinating history. His perfect knowledge of hotel operations combined with his solid experience in sales and marketing are his strengths in managing teams. Giuseppe joined InterContinental Hotels Group in June 2004. He started his career as Commercial Director at InterContinental De La Ville, Rome, the only InterContinental hotel in Italy, where he was promoted to General Manager in 2008.He then moved to Murcia to manage the InterContinental Mar Menor Golf Resort & Spa, where he also successfully contributed to the construction and opening of another new hotel in the area, InterContinental La Torre Golf Resort & Spa.From 2009 to 2014, he was General Manager of InterContinental Malta, the largest five-star hotel on the island, where he led an extensive renovation project. He continued his career within IHG in Portugal from 2014 to 2017 as area general manager, where he oversaw and positioned the luxury boutique hotels InterContinental Cascais-Estoril and InterContinental Lisbon. Since 2017 and until his incorporation in Madrid, Giuseppe has been General Manager of the iconic Carlton Cannes, a Regent Hotel, belonging until a year ago to the InterContinental brand and now Regent. He has been involved in an ambitious renovation project, with the aim of reopening the Grande Dame as one of the most beautiful hotels in the world and continuing to write its legend on the French Riviera.
Silvana García Schreck, with more than 15 years of experience in the sector, is an executive with an important track record in leading commercial areas in highly competitive environments, which has led her to work for renowned global brands.
She has an international and multilingual profile, being proficient in English, French, Portuguese and Spanish.Silvana has extensive knowledge in brand positioning strategies, penetration of new markets and optimisation of customer portfolios, seeking to increase business growth and profitability, as well as to improve customer satisfaction.He stands out for his focus on managing high-performance teams, focusing on service excellence and customer loyalty.After specialising in hospitality at the University of Piura (Lima), Silvana has obtained various degrees related to tourism and hotel services management at renowned Spanish universities, such as the Complutense University of Madrid and the International University of La Rioja.Her professional career began in 2006 at the Delfines Hotel & Convention Center in Lima, a prestigious hotel and convention centre in the Peruvian capital, where she was in charge of institutional relations and sales, building, managing and maintaining a positive image of the company.Subsequently, she held Sales & Marketing Management positions in hotels of renowned hotel chains such as Hyatt, Radisson, Accor and Decameron.In 2019, in Madrid, Silvana García Schreck assumed the position of International Sales Director at HotelAtelier, which encompasses the Petit Palace Hotels and ICON Hotels brands.Prior to joining InterContinental Madrid, she held the position of Sales Director for Spain and Portugal at Livensa Living, a company owned by Temprano Capital Partners and Brookfield Asset Management, one of the leading operators of premium student residences in the Iberian Peninsula.
According to García Schreck, "as a passionate hotelier, being part of the team of such an emblematic hotel as InterContinental Madrid is a source of pride. My main objective will be to contribute to strengthening InterContinental's reputation as a hotel benchmark in the capital.