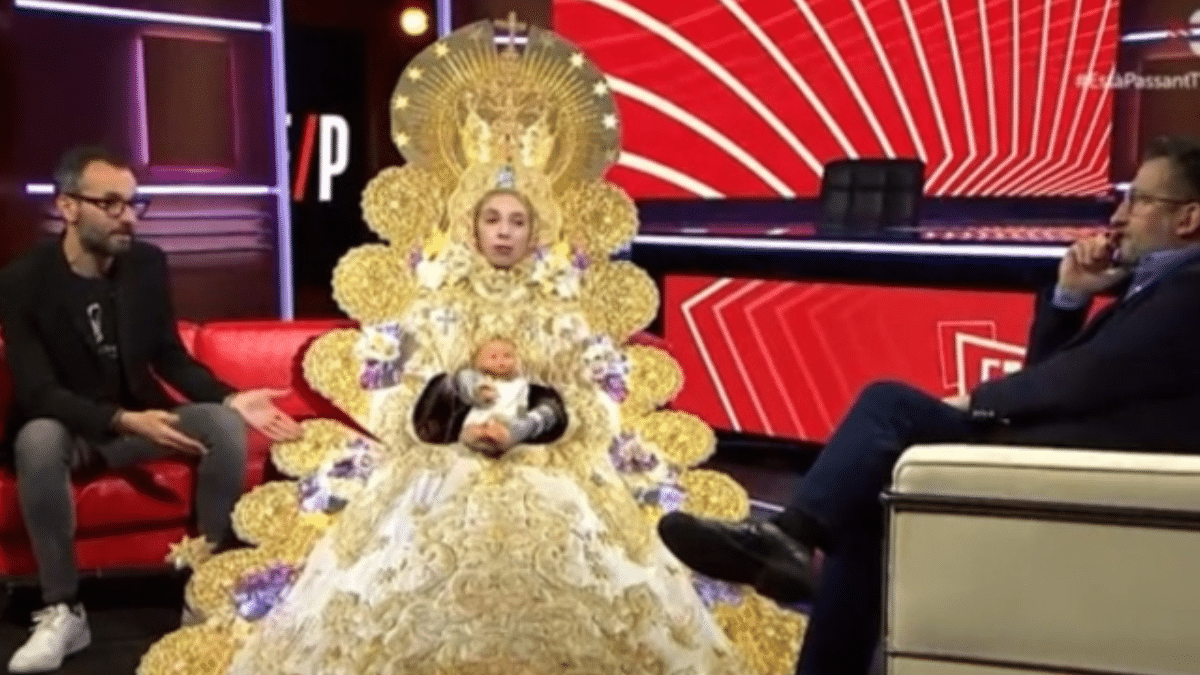 Minoría Absoluta: this is Toni Soler's production company behind the controversial parody of the Virgen del Rocío
COMMUNICATION
|
APRIL 17, 2023
|
LAST UPDATE: APRIL 17, 2023 13:46
NEWSROOM
The appearance of a supposed Virgen del Rocío on TV3's programme Està Passant has generated a great deal of controversy, and her additional 'procession' to Polònia has only increased it. Not only because of the mockery by the Catalan regional channel's team, but also because of everything surrounding the production company of the show's presenter, Toni Soler, who has been in the spotlight of those most offended by the parody.
We are talking about Minoría Absoluta, one of the most classic production companies in Catalonia, originally called CanCuca, which has accompanied the journalist and historian for most of his career.
The Catalan producer was initially linked to Andreu Buenafuente and the radio station RAC1, before making the leap to TV3.
To go back to his origins, we have to go back to the early 1990s, when he took to the airwaves thanks to El Terrat, the programme that Andreu Buenafuente presented on Ràdio Barcelona. Soler was the star of this programme, which led him to take a break from his work as a newspaper editor. Since then, his professional career has been more focused on audiovisuals, but to what extent?
The truth is that his recognition in the media meant that with the birth of Rac1 in 2000, Toni Soler made the leap to this radio station owned by Grupo Godó to launch a programme that would be called Minoría Absoluta, becoming the germ of what would later become one of the strongest production companies in the community.
And not only that. This format also brought him an Ondas award in 2006, which, by the way, he was already familiar with thanks to his work on the television format Malalts de tele, which in 1998 won the award for the most innovative programme. Its identity: a parody and current affairs television programme.
This has been the tone he has maintained in practically all his formats. He did so during his time with Buenafuente and with his big leap as a producer, Polònia, the satirical format that has delved into Catalan politics since 2006 on TV3. The success of this show led to the arrival of its sporting sibling, Crakòvia, two years later. And so, in this way, it did not take long to turn the former production company into Minoría Absoluta.
This would close a circle that has continued to the present day and has accumulated formats such as La escobilla nacional (Antena 3) or Està Passant (TV3), the programme that has aroused great controversy as a result of the aforementioned parody of the Virgen del Rocío.
So much so that the Christian Lawyers Foundation filed a complaint on 11 April against the two presenters of the programme, Toni Soler and Jair Domínguez, as well as against the actress who played the role of the nun, Judit Martín, for an alleged offence of mockery of religious feelings.
Public contracts
A complaint that has put in the spotlight everything related to this production company, which curiously has received several major contracts from public bodies. Specifically, between 2020 and 2021, three agreements with RTVE for a value of 2.2 million euros, as published by El Mundo. And it did so for two films and a documentary: El maestro que prometió el mar, Regreso a EGB and España el siglo XX en colour.
Precisely for the latter, the production company obtained an agreement with the Instituto de la Cinematografía y de las Artes Audiovisuales (ICAA), whose tasks, although no spending commitment was established by the institution, amount to almost 500,000 euros. This was reached in 2020, a key period of great uncertainty for the world's audiovisual sector, which led many production companies to close the year in the red.
This was not the case for Minoría Absoluta, which ended the year with a positive result of 336,000 euros and a net turnover of 6.6 million euros. A year later, the conclusion was similar: 227,142.32 euros in the profit and loss account, as well as a turnover of 6.5 million euros. In short, a stable and solvent production company that has not only made its satirical programmes a mark of identity on TV3, but also a source of controversial controversy that has not prevented national bodies such as RTVE from supporting its funding.