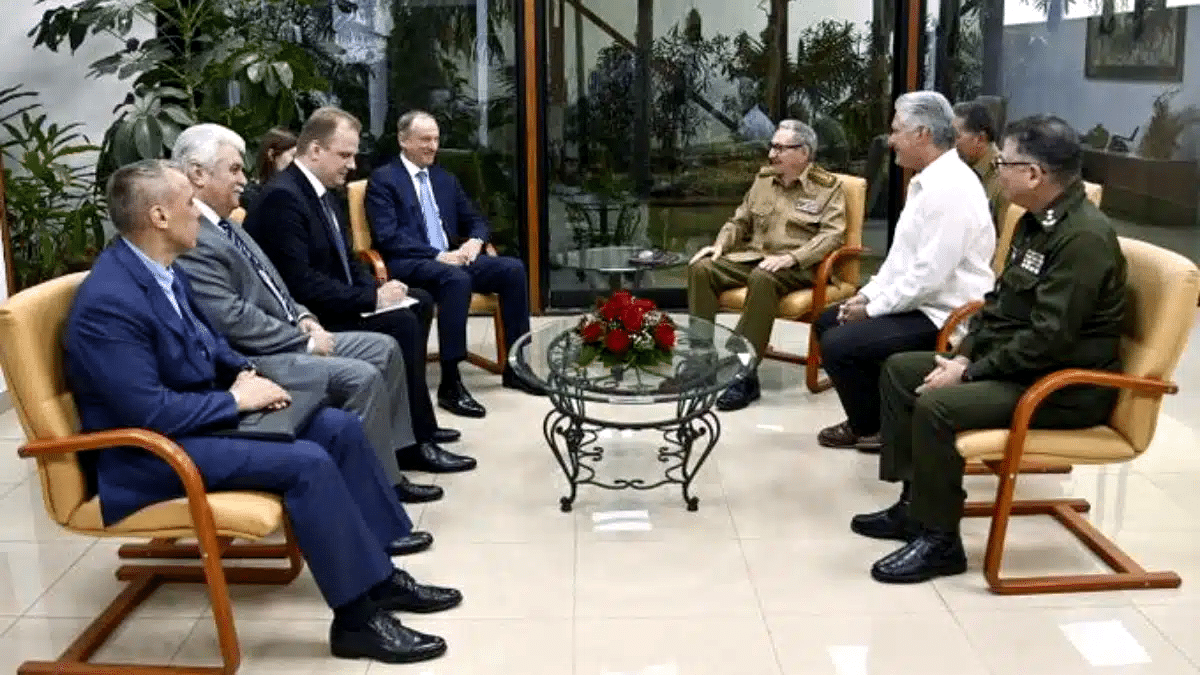 Dictator Díaz-Canel meets with Russian Security Council Secretary in Cuba
COUNTRIES
|
MARCH 3, 2023
|
LAST UPDATE: MARCH 3, 2023 14:21
NEWSROOM
Cuba's dictator, Miguel Díaz-Canel, recently met with the Secretary of the Security Council of Russia, Nikolai Patrushev, on the island. This meeting took place in the context of the tightening of ties between the Castro regime and Vladimir Putin's government. The Cuban dictatorship has openly supported Putin's military incursion in Ukraine, which has recently marked its first anniversary.
Raúl Castro, the predecessor of Díaz-Canel and brother of the late dictator Fidel Castro, also participated in the meeting with Patrushev. Raúl Castro has been seen very little in public since he left the front line of the regime's leadership in 2018.
According to the official Cuban media outlet Cubadebate, "the dignitaries discussed the excellent state of relations between both nations and their future development" during the meeting held in Cuba on Thursday.
In November of last year, Díaz-Canel visited Putin in Russia as part of the re-launching of their relations with the European nation. In recent years, Cuba has received Russian aid to prop up its deteriorating electrical system, as well as oil shipments to supplement its continuous fuel deficiencies.
The strengthening of ties between the Cuban dictatorship and Russia is a cause for concern. Russia's aggressive foreign policy has been demonstrated in Ukraine and in other parts of the world. The Cuban dictatorship's open support of Putin's military incursion in Ukraine is a clear indication of its alignment with Russia's geopolitical goals.
The Cuban regime's political and economic situation is precarious, and the aid it receives from Russia is crucial for its survival. The country has been in a deep economic crisis for years, and its infrastructure is deteriorating. Cuba's human rights record is also among the worst in the world, with arbitrary arrests, repression of dissidents, and lack of freedoms.
The strengthening of ties with Russia could further isolate Cuba from the international community and prolong the suffering of its people. The Cuban dictatorship needs to prioritize the well-being of its citizens and respect human rights, rather than aligning with an aggressive foreign power.
It is crucial for the international community to monitor the developments of the Cuban regime's ties with Russia and to hold both accountable for any violations of international law or human rights. Cuba must pursue a path of reform and openness, rather than isolation and repression, to ensure a better future for its citizens.