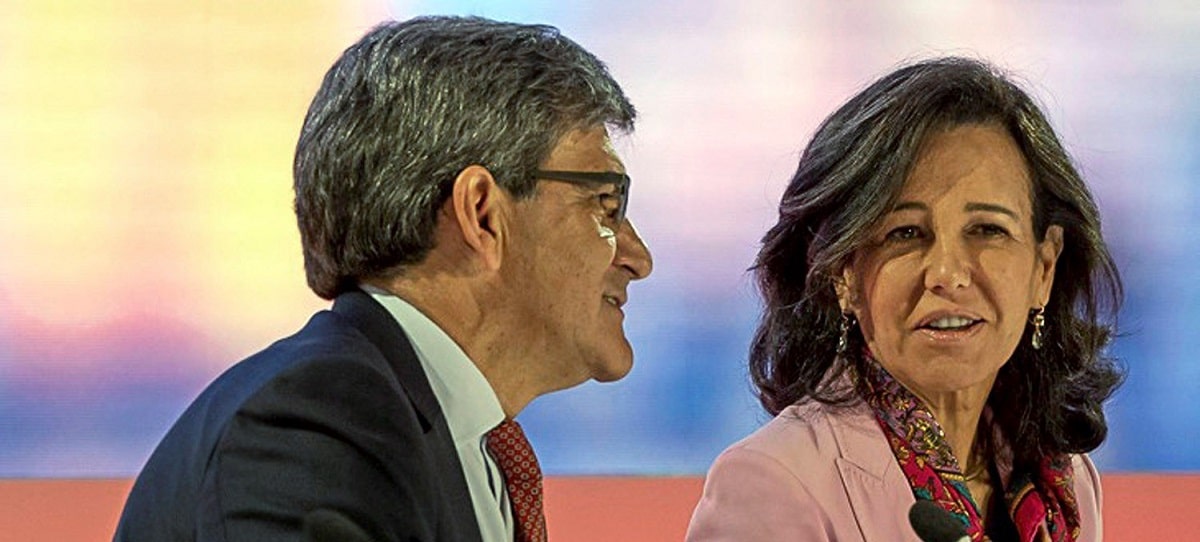 Banco Santander opts for digitalisation to improve profitability
FINANCE
|
APRIL 3, 2019
|
LAST UPDATE: APRIL 3, 2019 17:00
NEWSROOM
This Wednesday, Banco Santander presented its new strategic plan for the coming years, which focuses on streamlining the digitalisation of its economic might and improving its goals of profitability, cost savings and dividends, among other issues.
Today at Investors Day, which is celebrated every year in London, Chairwoman Ana Botín, CEO José Antonio Álvarez and the rest of the bank's main executives recapped the group's major objectives for the coming years.
During her speech, Ana Botín announced that, among other measures, Santander will invest 20 billion euros in accelerating digital and technological transformation over the next four years to improve its customer experience, increase their trust and links to the entity, and reduce costs.
In the medium-term, the bank expects to increase its number of digital customers to 50 million and linked customers to 26 million.
It has also increased its pay-out goal, or the percentage of profit allocated to shareholder remuneration, to a range of between 40 and 50%.
Additionally, she explained the new strategic plan, whose objectives include increasing profitability, obtaining an efficiency ratio of under 45% and achieving a progressive annual cost saving of 1.2 billion euros, 10% of which would come from Europe.
To implement this strategy, the bank announced today a simpler executive structure for Europe, South America and North America, as well as a smaller executive committee—from 24 to 12 members—with a greater focus on business, affording better and faster execution throughout the Group.
Santander has also announced that it plans to launch Openbank, the group's 100% digital bank, in ten new markets in the "medium-term", reaching a total of two million customers.
As part of its digital offer, Santander will launch an open financial services platform focusing on payments; a sector with an expected growth in revenue of 9%.
Furthermore, the entity detailed its business goals country by country. In terms of Spain, Santander CEO, José Antonio Álvarez, ensured that the integration of Banco Popular is turning out to be much quicker than planned and an additional saving of 250 million euros is expected, in addition to the 500 million already forecast.
Santander can "see opportunities financing consumption, payments, insurance and asset management" in Spain, with an expected ordinary return on tangible equity (ROTE) of 14-16%, compared to 11% in 2018.
In Mexico, the main driving force behind Santander accounts, the bank aspires to continue increasing its private customers, and maintain its leadership in small and medium-sized enterprises (SMEs) and large enterprises.
The ordinary ROTE for this market has been set at 19% to 21%, while in Brazil, a country with a "high percentage of growth" for Santander, the entity expects to exceed the ordinary ROTE of 20% achieved in 2018.
As for Europe, Santander calculates cost savings of over 700 million, 500 million of which would come from digital transformation as it aims to increase its linked and digital customer base, and increase its share in all the main markets where it operates.
It also aims to achieve ordinary ROTE between 12% and 14%, compared to 11% in 2018, a percentage that rises to 20-22% in Latin American, where Santander wants to increase "high and sustainable" revenue.
Regarding the United Kingdom, forecast ROTE would reach 10-12%, while in Latin America, Santander also expects to increase revenue and improve the region's ordinary ROTE to 20-22%, from 19% in 2018.