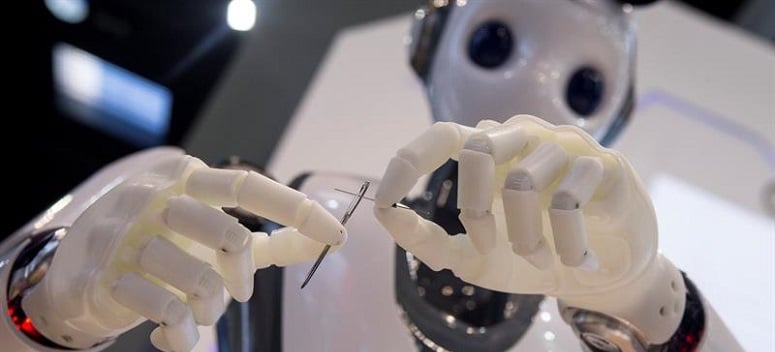 The five most innovative health wearables at the Mobile World Congress in Barcelona
HEALTH
|
FEBRUARY 27, 2019
|
LAST UPDATE: FEBRUARY 27, 2019 17:40
NEWSROOM
Clothing that will help you maintain your posture or jewellery that can save your life, the Mobile World Congress is coming to an end as a showcase for wearable smart devices, with a sharp rise in the health sector. These are the five most curious devices seen at the event.
1. Smart jewellery. The Sierra ring might seem like just another design, but it contains a hidden button that you can press when you are at risk or being attacked.
The device calls the emergency services so that they can call the user and, if nobody answers, send a team to their location. The ring includes a virtual card with the user's medical history and location.
2. Smart clothing that tells you when you are sitting incorrectly. Wearlumb is a smart T-shirt that combines different sensors to prevent the risk of lumbar fatigue and offer users tips for correcting their posture. The device was developed by the companies SGS Tecnos and Worldline, in collaboration with the Eurecat technology centre.
3. Nubia smart watch-mobile. This strange device looks as if a mobile has melted onto the user's wrist. It's a watch, a mobile and a bracelet that records the user's heartbeat, tells them what exercise they have done, and if they've slept well. Currently available in China only, it will soon be coming to Europe and the rest of the world.
4. Nuguna vibrates if you're in danger. A Korean company has developed a smart device worn around the neck that warns people who are deaf or hard of hearing of possible dangers.
Its sensors analyse sounds around the user and, when a noise is too loud—a car horn, fire alarm or scream—, it vibrates in the same direction as the noise so that the user can react quickly.
5. An earphone that tells you when you're about to have an epileptic fit: MJN-Seras is a smart earphone that records brain activity in people with epilepsy and warns them in advance if they're going to have a fit so they can get in a safe position or alert someone.
The device is a small earphone connected to a mobile by Bluetooth that sends alert messages. The device will be approved by European authorities for marketing this year.