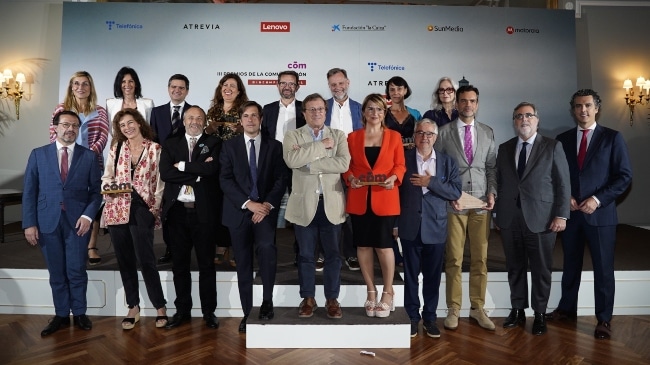 Recognition for the profession at the 3rd DIRCOMFIDENCIAL Communication Awards
NEWSROOM
The Mandarin Oriental Ritz Hotel in Madrid hosted yesterday the third edition of the Communication Awards, organised by DIRCOMFIDENCIAL.
The event was attended by more than 200 communication professionals, among them dircoms, marketing directors, agency managers, journalists and business people.
The winners of this third edition of the Awards were the Corresponsales de Guerra (in the Commitment category), Grupo Godó (Influence), Campofrío (Excellence), the Sioux and Cyranos agency (Talent) and the presenter Ángel Martín (Innovation). In addition, at the awards ceremony there was also special recognition for Justo Villafañe, one of Spain's leading figures in the field of reputation, who recently passed away.
All these winning entries were selected by a prestigious Jury, which met on 21 April and this year was made up of Alfonso Rodés, President of Havas Group in Spain; Fernando García, CEO of SunMedia; Gerardo Mariñas, CEO of House of Communication; José Luis González-Besada, Director of Communication and Institutional Relations of El Corte Inglés; Julen Ariza, editor and director of Dircomfidencial; Luisa Alli, Executive President of Kreab España; María Luisa Martínez Gistau, Director of Communication and Institutional Relations of CaixaBank; and Toni Segarra, founder of Alegre Roca.
The event began with a welcome speech by Julen Ariza, director and editor and DIRCOMFIDENCIAL, who highlighted in his speech the importance of the rigour and professionalism of the specialised media in the fight against disinformation. He also mentioned the digital revolution that is affecting the media in a very particular way and the growing competition that is being generated in the sector.
Corresponsales de Guerra
Corresponsales de Guerra's nomination was chosen as the winner in the category of Commitment. The Jury of the Awards highlighted the relevance of this type of journalist in the Ukrainian conflict.
The award was received by the representatives of Reporters Without Borders (RSF) Alfonso Armada (honorary president), Carlos Sánchez (secretary general) and Pilar Bernal (first vice-president), who highlighted in her speech how journalists risk their lives in armed conflicts to inform society with rigour. He also highlighted RSF's work in offering better material resources to journalists – from major newspapers and freelancers – so that they can do their work in greater safety.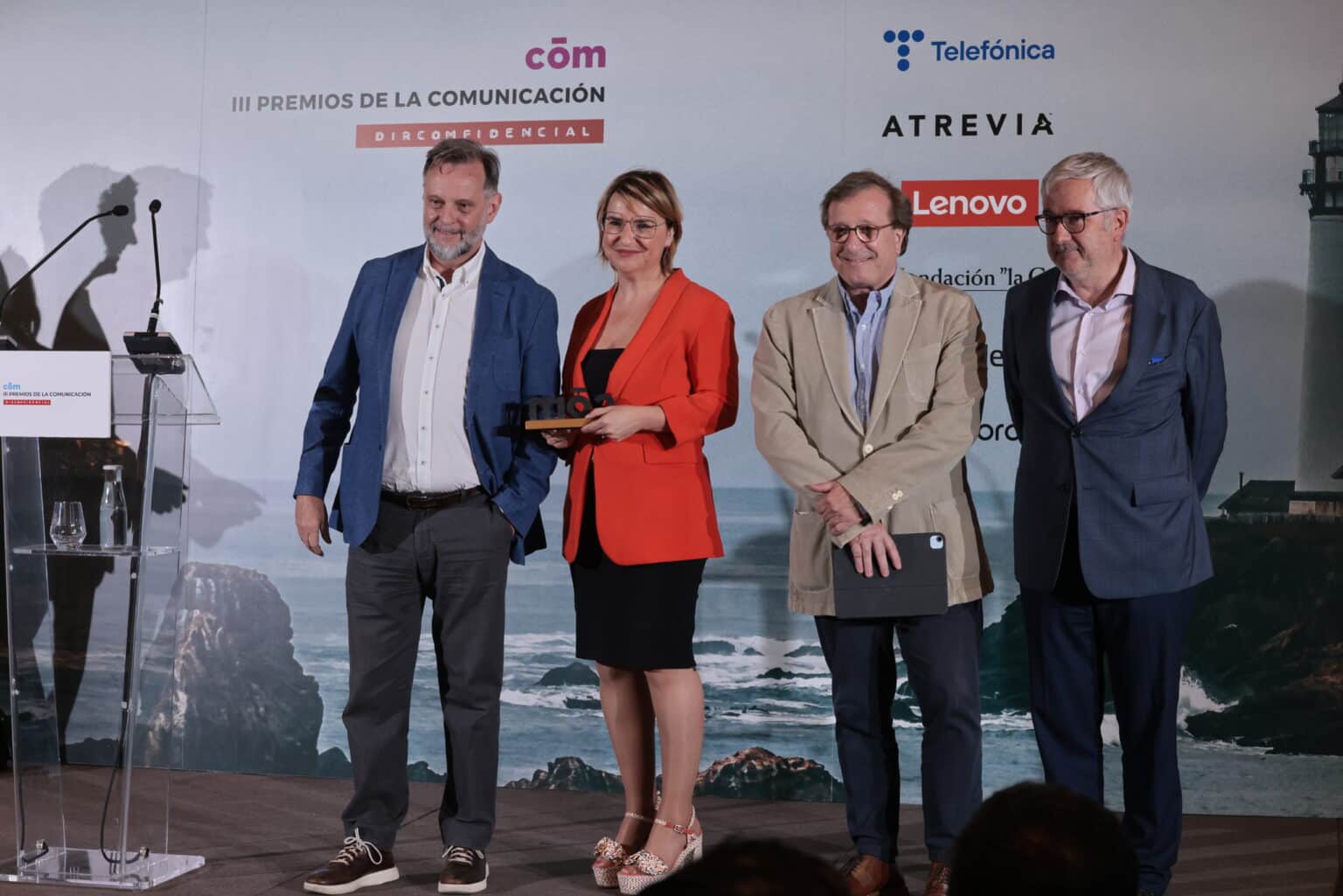 The award was presented by Juan Cierco, the current corporate director of Iberia, who as a journalist has been a special envoy in numerous conflicts. Cierco pointed out that during his time as a war journalist he always felt supported by RSF and described the work of this association as "essential".
Godó Group
The Godó Group has been recognised for its influence, both in Catalonia and in the rest of Spain. With a presence in the press, radio, Internet and book publishing, this family holding company has set audience records in 2021, both on RAC1 and on the Internet with La Vanguardia.
Celeste López, editor-in-chief of La Vanguardia in the Madrid delegation, was in charge of collecting the award and commented in her speech that influencing society has always been one of La Vanguardia's objectives since its foundation at the end of the 19th century.
Núria Vilanova, president of Atrevia, said after receiving the award that "we need groups like Godó because of the values they fight for every day". She emphasised that it is a family company – as is Atrevia – and highlighted the national character of the Catalan group, since "national media should not only be done from Madrid", as this "gives us a more global vision".
Campofrío
Campofrío was this year's winner in the Excellence category for its iconic Christmas campaigns, which have become consolidated as a television tradition at this time of year and which also transmit constructive values for society.
The event was attended by Javier Dueñas, CEO of Campofrío España; Javier Portillo, Marketing Director; and Mónica Moro, creative director of the Christmas campaigns. Portillo highlighted the company's "courage" in offering a "different angle" in the campaigns it has been running for more than ten years, whose positioning is to defend the way we enjoy ourselves in Spain. He also underlined the feeling of "pride" that these advertising actions have aroused in the company's staff, with the campaigns having an impact beyond the purely commercial.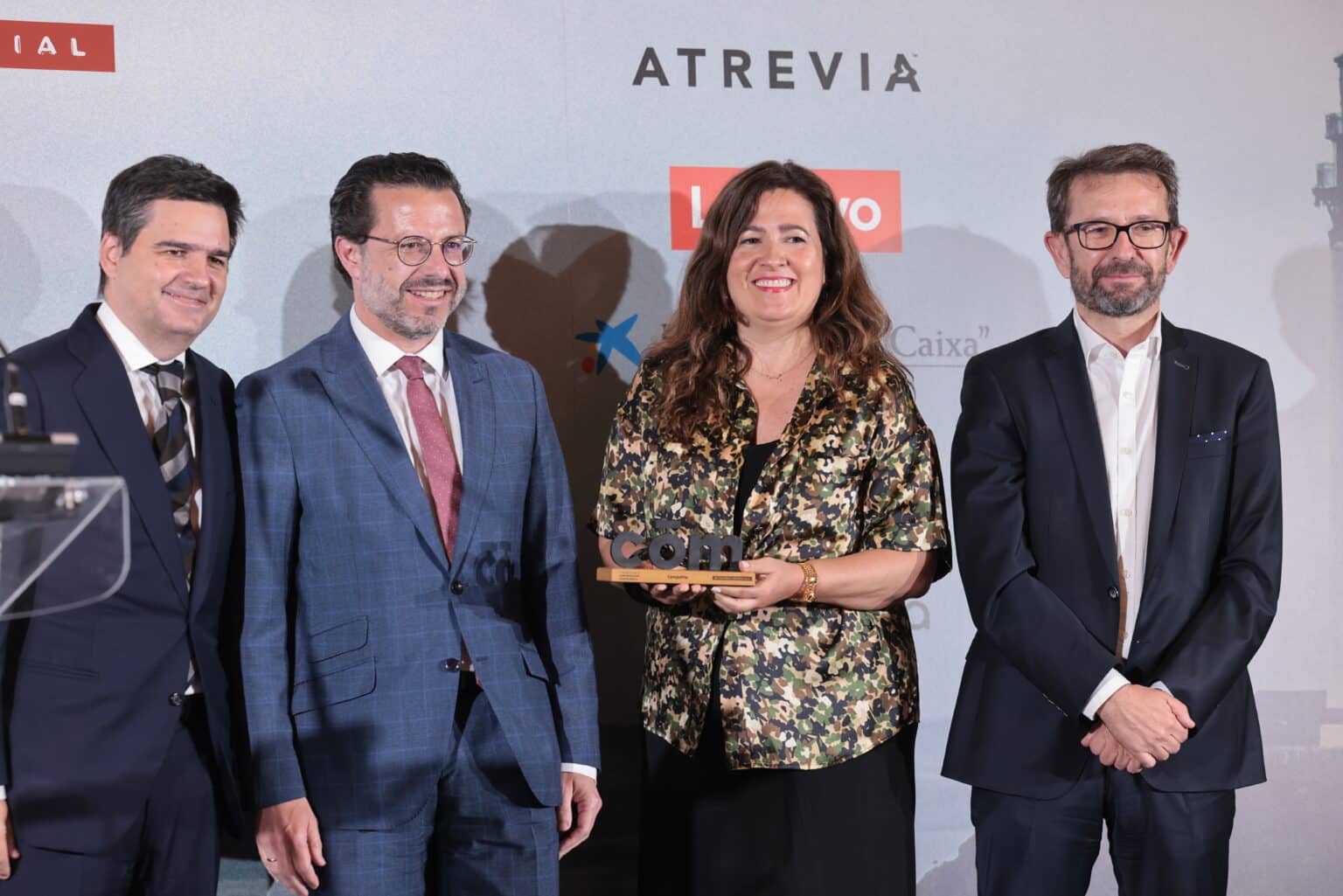 They received the award from Javier Fernández-Lasquetty, Minister of Economy, Finance and Employment of the Community of Madrid, who praised the consistency of Campofrío's campaigns in recent years.
Sioux and Cyranos
This creative agency, very recently created, has shaken up the Spanish advertising scene, winning very important clients in a short period of time and creating campaigns that have had a great impact on the audience. One of the most notable of these is "El banco que ve el dinero como lo ves tú" for Bankinter, which was the most successful campaign during the pandemic. They also work for major brands such as Línea Directa, Aquarius, RuaVieja, Evo and Movistar+. All this has earned them this year's Talent Award.
The award was collected by Roberto Lara and María López Chicheri, two of the agency's founding partners. Lara said in his speech that talent is "overrated" because "it is given to you" and highlighted other values such as "kindness and generosity". He maintained that "excellence is at odds with volume", which is why his agency works with very few clients, and recalled his other partner – Leandro Raposo – whom he described as a "creative genius". He closed his speech by acknowledging senior talent and used himself as an example, as he founded Sioux at the age of 60.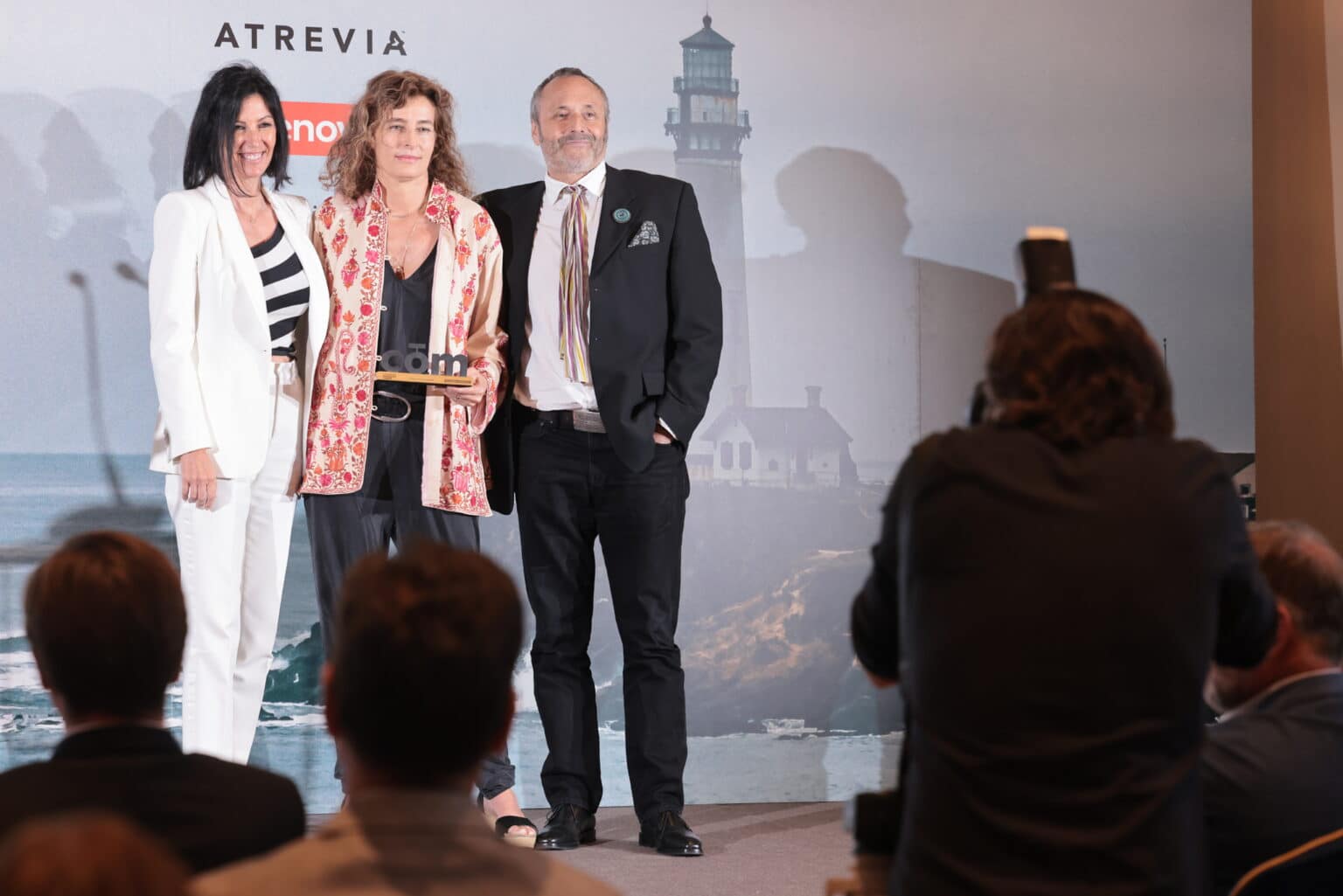 Eva Fernández, Telefónica's Director of Corporate Communication and Media, presented the award. The executive defined talent as a "genetic accident" and praised other virtues such as originality, creativity, effort and dedication.
Ángel Martín
Presenter and broadcaster Ángel Martín has managed to carve out a niche for himself in a scene controlled by the mainstream media. His morning news programme, which lasts less than 5 minutes, has been a great success in terms of impact and audience. His Twitter account is one of the most followed, his podcast is one of the 5 most listened to and his audience practically exceeds that of conventional television. He is also the author of the book Por si las voces vuelven, one of the most widely read books in recent weeks, in which he recounts his personal experience after suffering a psychotic break. All this activity has earned him this year's prize for Innovation, awarded by the DIRCOMFIDENCIAL Jury.
Ángel Martín was unable to attend the awards ceremony, as he was promoting his book in Oviedo. However, those attending the event were able to listen to him through a thank you video that was projected on the screens of the Hotel.
Justo Villafañe
DIRCOMFIDENCIAL – together with the Jury of the Awards – also wished to recognise the career of Justo Villafañe, an absolute reference in the discipline of reputation in Spain and founder of the consultancy firm Villafañe & Asociados.
Following his recent death, this media has presented a posthumous award to Sebastián Cebrián, CEO of Villafañe & Asociados, who described Justo Villafañe as a "genius", but also defined him as curious, impulsive, critical, perfectionist, self-sacrificing, obsessive about results, passionate and vocational.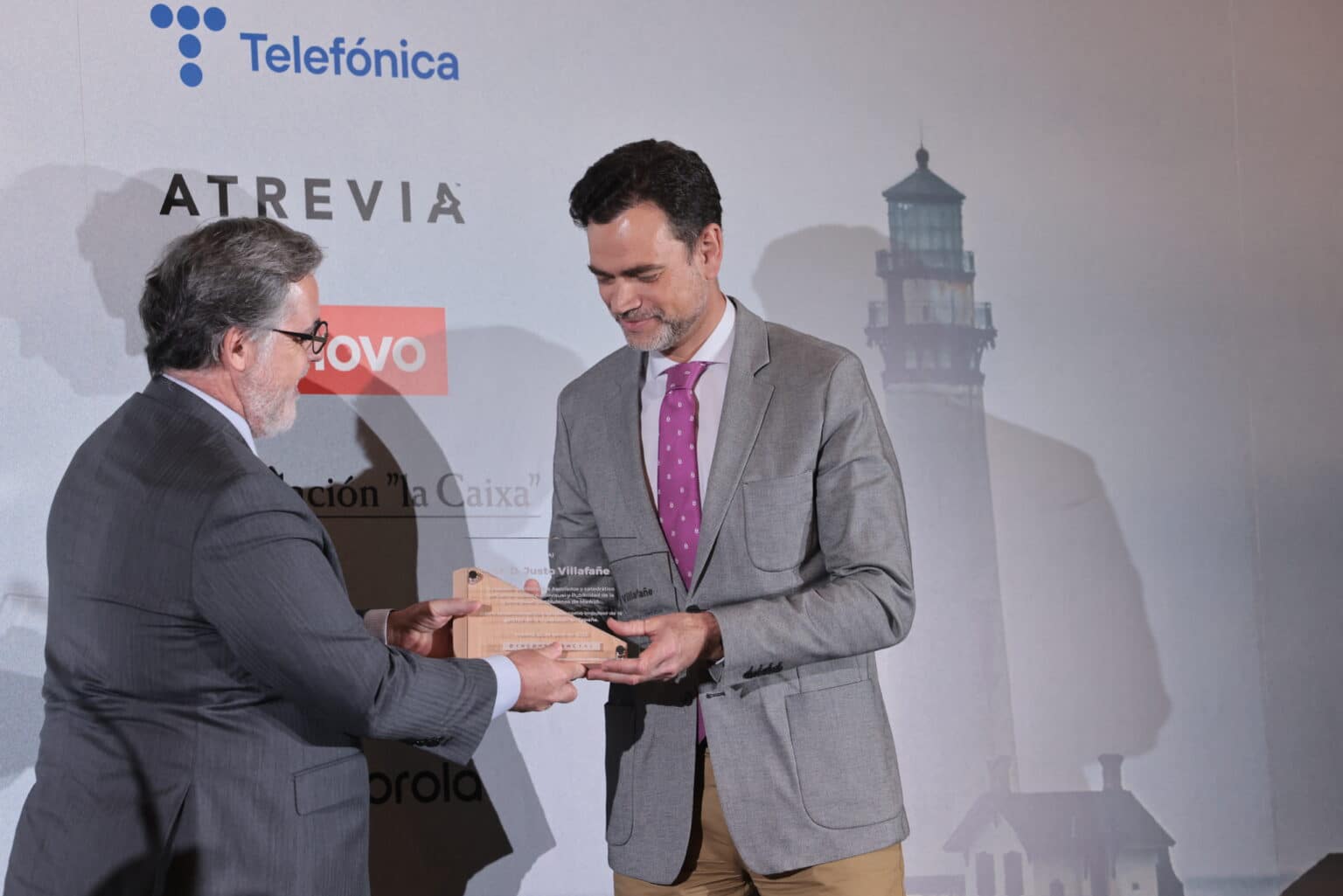 A plaque was presented by Miguel López-Quesada, president of the DIRCOM association, who described the honoree as a "pioneer" in the management of intangibles in Spain and highlighted his ability to turn his extensive academic rigour into a business venture, as well as being a teacher of many of the communication managers who today work in large organisations.
The Regional Minister of Economy, Finance and Employment of the Community of Madrid, Javier Fernández-Lasquetty, closed the event by highlighting communication as an engine of growth for all organisations.
The sponsors of this third edition of the Communication Awards were Telefónica, Fundación La Caixa, Atrevia, Lenovo, SunMedia and Motorola.