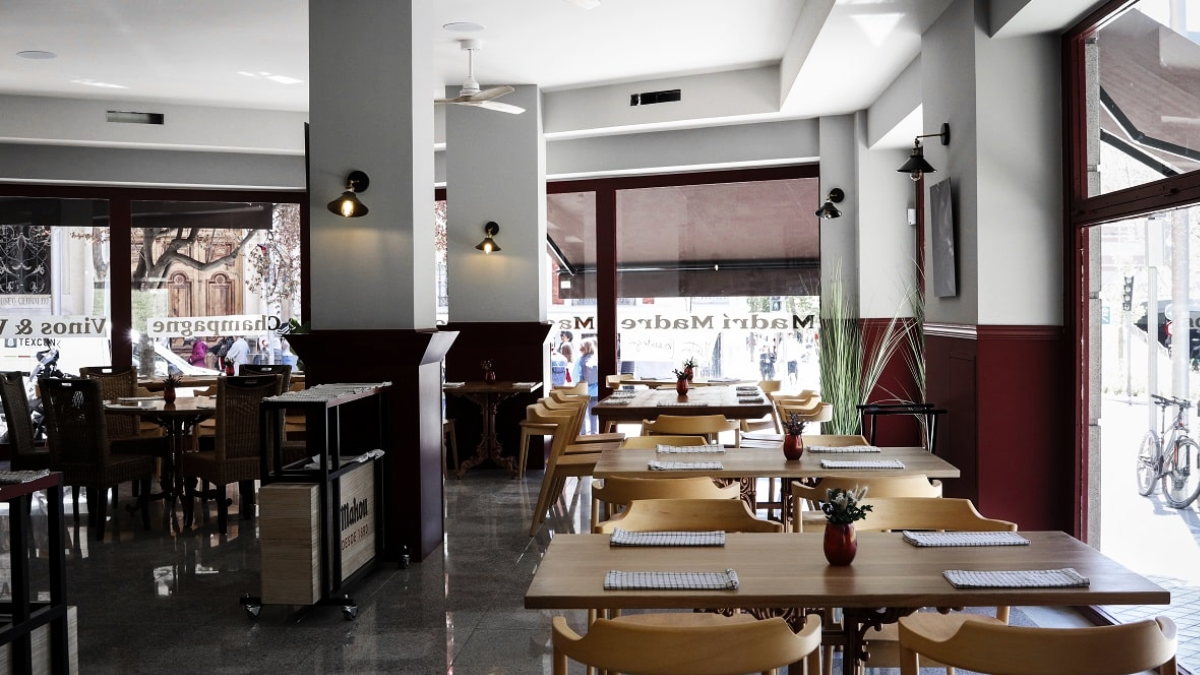 Garrote for everyone at Madrí Madre, the new Berasategui's tavern in Plaza España
GASTRONOMIC
|
APRIL 14, 2023
|
LAST UPDATE: APRIL 14, 2023 9:35
NEWSROOM
Can you enjoy a good meal for 30 or 35 euros, designed by a chef with twelve Michelin stars and Repsol Suns, with an excellent product and right in the centre of Madrid? It seems impossible but it is real, because that is what Madrí Madre offers, the new tavern next to Plaza de España advised by Martín Berasategui, the Spanish chef with the most "garrote".
The charismatic chef from San Sebastian wants to bring his most casual dishes to the capital, but at an affordable price and adapted for sharing. This tavern wants to pay homage to those places so closely linked to the essence of Madrid and to the recipes of all those mothers who, for generations, have cooked with love and affection for the whole family. Alongside him, as head chef and responsible for the day-to-day running of the space, will be his friend Iñaki Rodaballo, a chef from Vitoria with an extensive list of gastronomic awards and recipes that will share the menu with those of Berasategui to create a tasty proposal within the reach of all budgets and based on a high quality product.
In the words of Martín Berasategui, "we are thrilled to bring this Basque-inspired proposal to Madrid, inspired by the taverns of the capital and with dishes from my recipe book and that of Iñaki Rodaballo. We want everyone to be able to enjoy this fun menu, ideal for sharing and very democratic, in a spacious restaurant next to Plaza de España, the most incredible place in the city right now. We have the best suppliers and a team with passion and all the desire to enjoy. And having Iñaki with me is a guarantee that everything will go smoothly.
Iñaki Rodaballo is the head chef and creator of some of the recipes.
Ignacio Rodrigo, better known as Iñaki Rodaballo, is the head chef and creator of some of the recipes on the menu. He is a chef with a great deal of experience and a multitude of awards for his dishes, tapas and pintxos, and who in recent years has worked in Madrid, in projects such as Punk Bach and different consultancies.
"I come to Madrí Madre to have fun, because as the great Sacha says, if only the customers have a good time, it's no good to me. I am delighted to have the confidence of Martín, who is a chef with passion and passion, who respects, cares for and enriches his collaborators. We bring rich, tasty dishes, within everyone's reach. And always, as the name of the restaurant says, with an eye to those mothers who have given us their love through good food. I myself, in the kitchen, am surrounded by women who are mothers, and who are enthusiastic about the project".
The extensive menu starts with a selection of snacks perfect for the centre. Berasategui tempts diners with a red prawn roll with cabbage salad and artisan brioche or a juicy sandwich with a mustard, celery and apple vinegar mayonnaise perfect for the warm days ahead.
Straight from the Basque recipe book, the unmissable gilda a la donostiarra, made with anchovies from the Bay of Biscay, peppers and olives. And to continue with the salted fish, anchovies accompanied by bread with tomato and piquillo peppers candied in the house. One of the most eye-catching proposals are the Candy Crunch Bravas.
Crunch Bravas, a revision of this Madrid classic, created by Rodaballo, in which vegetable slices, like crunchy sweets, are wrapped around a core of mashed potato and sauce. With this eye-catching recipe, the chef won the Palencia Brava championship prize two years ago.
Appetizers, fried food and Martín's favourite steak
In the appetisers section, Berasategui brings infallible artillery to whet the appetite. One of the proposals is his Russian salad, based on potato, carrot, prawn, olive and gherkin and with a unique touch: a changurro mayonnaise that gives it a singular punch. There are two fresher options: a cow's milk burrata with tomato tartar and a potent herb dressing and a salad of roasted peppers, tuna belly and hard-boiled egg, the latter by Rodaballo, who was inspired by the recipe his mother used to make when they went to the swimming pool. If you prefer something hot
hot, at Madrí Madre they will prepare delicious individual potato omelettes, made to order, with or without onion and to the point of the diner's choice.
In a tavern in Madrid, you can't miss the fried food. Berasategui seduces with a winning duo of croquettes: Iberian ham or ricotta with spinach, the latter incorporating a sofrito of garlic to give them character. And of course, it was essential to have a real squid sandwich; here it is offered with John Torres squid ink bread and a touch of lime mayonnaise. To close this chapter, fried eggs with mushroom stew, potatoes and slices of Iberian shoulder.
In addition to a selection of premium cured meats – acorn-fed Iberian shoulder and Black Angus jerky – and a board of artisan cheeses, Martín has come up with two options for the raw section. One is his favourite steak tartar recipe. Its secret dressing contains ingredients such as ketchup and Perrins sauce. The other is a sea bass ceviche, a reflection of his love for Latin America.
Top-quality fish and meat
Lovers of seafood will undoubtedly opt for a classic hake in green sauce – specifically the loins of very fresh, large pieces – and for the fish from the fish market in a three-round dish. This is one of Berasategui's most famous cooking techniques, in which the baked fish is bathed three times in a sauce of oil, garlic and cider vinegar. The funniest side of this chapter is provided by Iñaki with his Chip's & Ron, a version of his winning recipe from the Basque Pintxos Championship in 2011, which consists of a rum jelly topped with
potato foam and grilled baby squid, topped with vegetable chips.
Those who prefer meat have several alternatives at Madrí Madre. From the stew, a veal cheek cooked for 12 hours, accompanied by mashed potato and pieces of Casalba wild boar's head. From the oven and the grill, a juicy txuleta of Galician blonde cow, matured for 60 days and which can be accompanied by different garnishes, such as fried potatoes, candied piquillo peppers or lettuce hearts.
And of course, the Porky Porky, a pork rib and bacon stew with chickpeas that Iñaki Rodaballo serves to eat in one bite. There are also meatballs in Spanish sauce, a sliced chicken milanesa, ideal for going downtown, and a Thai-style burger conceived by Berasategui with different sauces and a very exotic dressing.
Vegans also have alternatives: a cruelty-free version of the burger and a tasty stewed Heüra sandwich with pickled onions and salad. And spoon dish lovers can choose between a very classic gazpacho, but with a modern twist by adding olive spherifications, and the tripe, a Berasategi recipe with lots of tomato.
To top it all off, Madrí Madre's menu offers traditional desserts with a gourmet twist, such as a three-cheese tart, consistent and creamy; an egg flan -la tembladera-; or bread with chocolate, a tribute to those traditional snacks, but with a twist: here, it takes shape as a tender brioche with foam and chocolate ganache with passion fruit and golden chocolate peta zeta chips. And of course, being in a tavern in Madrid, a torrija much loved by Berasategui's admirers. It is bathed in milk, sugar and egg, caramelised and served with toasted almond cream and homemade ice cream toasted almond cream and homemade Baileys ice cream.
To accompany all this tavern festival, there is a wine list that is fundamentally Spanish -except for a champagne-, with a certain prominence of wines from the D.O. of Madrid and others as popular as Ribera del Duero, La Rioja, Toro or Jerez. And of course, beer of various types, fresh and well-drawn.