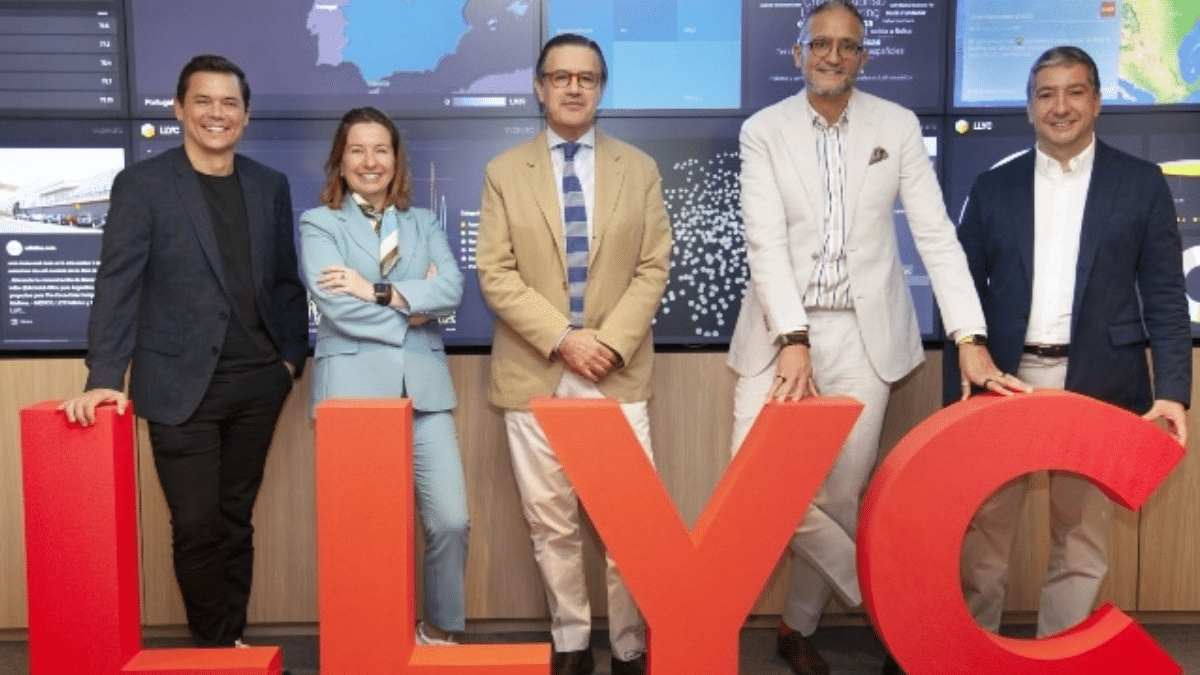 How LLYC aims to double in size over the next three year period
MARKETING
|
APRIL 19, 2023
|
LAST UPDATE: APRIL 19, 2023 11:35
NEWSROOM
LLYC has approved 'Committed to innovation and growth', its strategic plan that will set the company's course for the next three years. During this period, the firm aims to double its size and become a more technological and international firm.
The communications, digital marketing and public affairs consultancy aims to exceed 130 million euros in operating revenue by 2025. This figure would represent an 80% increase in turnover compared to 2022, with an EBITDA of 27 million euros (+68%) and maintaining a margin of 21%.
LLYC's Deep Digital unit – which integrates all service lines and solutions in artificial intelligence, digital transformation and inbound marketing – will be a key pillar. The goal is that by 2025 it will already account for half of the operational revenues, exceeding €60 million, thanks to the boost of paid media and performance services, including programmatic advertising. It is also implementing CommsTech in all areas of expertise, transforming the offering and increasing efficiency for clients.
LLYC's growth in this period will also be supported by acquisitions. To this end, the firm plans to spend around €40 million on new acquisitions. It will invest in companies that allow the firm to continue to increase its access to exponential technologies, those that add to the growth target in the United States and those that reinforce the firm's leadership in public affairs, without ruling out high value-added opportunities that can complement the solutions portfolio.
The firm will allocate €40 million for new acquisitions and is studying options in Canada, Mexico, Brazil and Brussels.
For Alejandro Romero, Partner and Global CEO of LLYC, "the deal we have just closed in the United States, with the acquisition of BAM, is an example of where we want to take the firm in the next three years. We are a communication benchmark in the Latin world and we want to be one in the English-speaking world as well".
Indeed, the recent purchase of BAM allows LLYC to double its size in the United States, where the firm aims to exceed 20 million euros in turnover in three years. The company is also evaluating opportunities to establish itself in Canada, a relevant country for extractive companies, a sector in which LLYC has extensive experience. The Latin American operations with the highest growth expectations will be Mexico and Brazil due to the potential for further development. In the EU, the consultancy firm will continue to focus on the European affairs area and will study the possibility of opening its own office in Brussels.
Client-centric to drive organic growth
LLYC will adapt its business proposal to the needs and challenges of clients in order to remain #clientcentric, according to the company. To this end, it will consolidate its offering in the areas of marketing and corporate affairs (especially ESG, public affairs, corporate and financial communications, and crisis and risk management). In addition, LLYC expects to double its client turnover in two industries: healthcare (with a particular focus on the pharmaceutical sector) and extractive economies, especially in Latin America.
On the other hand, LLYC plans to invest 3 million euros by 2025 (one million per year) in research, development and innovation. These resources will be focused on developing data-driven solutions for anticipation, strategy design and performance measurement in marketing, communications and public affairs. In addition, the company will continue to leverage advances in AI and expects to have automated up to 30% of its processes by the end of 2025.
This investment is complementary to the €5 million endowment to LLYC Venturing, which will continue to identify startups with exponential technology applications to LLYC disciplines in which to invest.
The communication firm's objective is to reach 2,000 employees by 2025, 66% more than at the end of 2022.
LLYC's projected growth in turnover will be accompanied by increased investment in talent. The firm's goal is to reach 2,000 employees by 2025 (+66% compared to year-end 2022) with gender equality (50% of management positions held by women) and recognition across all operations as a best place to work LGTBIQ+.
In addition to the 'LLYC formula', which already promotes hybrid and offshore work models, a new office design adapted to this hybrid model will be added, as well as additional flexibility and work-life balance measures.
José Antonio Llorente, founding partner and chairman of LLYC, said: "We are committed to innovation and growth. The goals we set ourselves are again ambitious but we have always shown that we deliver what we promise. "The firm has solid foundations to successfully tackle this strategic plan we have set ourselves. In three years' time we want to be a bigger and more technological firm, more international and egalitarian thanks to the efforts of our professionals and the trust of our clients", says Luisa García, Partner and Global COO at LLYC.