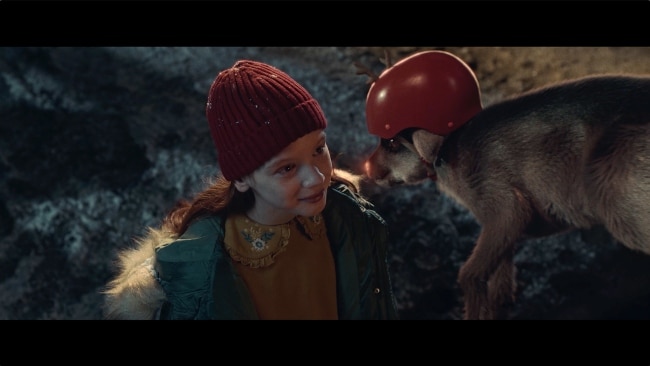 McCann signs for the first time the El Corte Inglés Christmas campaign
MARKETING
|
DECEMBER 9, 2022
|
LAST UPDATE: DECEMBER 9, 2022 13:14
NEWSROOM
Christmas is just around the corner, and that's why El Corte Inglés is launching its eagerly awaited Christmas advert, a classic at this time of year.
"The little reindeer" is the name of its 2022 Christmas campaign, signed this year, and for the first time, by the McCann agency.
El Corte Inglés lives Christmas to the fullest, that's why they always put soul into every request, and above all, to keep the illusion alive. And this year, the Christmas campaign is a good example of this, according to the agency.
A heartwarming magical tale that invites us to experience Christmas through the eyes of a little girl. A story full of tenderness, in which we witness the birth of a very special reindeer because it has the marvellous power to fly. A power as magical as it is difficult to control. For this reason, the little girl does not hesitate to ask for help from El Corte Inglés, who sets to work to find the perfect gift to help her solve the problem. From there, the end of the story… is as magical as Christmas.
Flying reindeer, snowy villages, incredible locations, are just some of the ingredients of this spot directed with the aesthetics and sensitivity of Maxi Blanco as director and featuring the original music from the film "Mr. Magorium and his magic shop", performed by the Bratislava Symphony Orchestra.
The campaign was launched yesterday, 8 December, with a 2'15" TV version of the central spot.
In order to amplify the campaign, a 360º ecosystem has been developed with different creatives and formats adapted to the different media, including television, radio, cinema, digital, rrss, outdoor and point of sale.
TECHNICAL DATA SHEET
CREATIVE AGENCY: McCANN
ADVERTISER: EL CORTE INGLÉS
PRODUCT: CHRISTMAS CAMPAIGN
CAMPAIGN NAME: THE LITTLE REINDEER
CLIENT'S CONTACT: CÉSAR BRANDARIZ, MARIA CORONADO, JAVIER GÓMEZ BLANZACO, INMA RUIZ, ALEJANDRA ARRIAGA
CHIEF CREATIVE OFFICER McCANN: EMILIANO GONZÁLEZ DE PIETRI
EXECUTIVE CREATIVE DIRECTOR McCANN: MIGUEL MADARIAGA
McCANN GROUP CREATIVE DIRECTORS: DAVID VALGAÑÓN, ANDER MENDIVIL
McCANN CREATIVE TEAM: ÁLEX POLO, MARCOS BUELTA
CHIEF STRATEGY OFFICER McCANN: AGUSTÍN SORIANO
STRATEGY DIRECTOR McCANN: MARCELLE SANTOS
McCANN ACCOUNT TEAM: JAVIER PASCUAL, PATRICIA CARAMÉS
CLIENT PRODUCTION: MARYSOL GARCÍA, EVA MORALES, CÉSAR LAMPARERO, DAVID PASCUAL
PRODUCTION AGENCY: MARTÍN BEILIN (LOS PRODUCERS / CRAFT)
PRODUCTION COMPANY: LANDIA FILMS
DIRECTOR: MAXI BLANCO
DIRECTOR OF PHOTOGRAPHY: KIKO DE LA RICA
EP: MARTA MARTÍNEZ / NICO CABUCHE
LINE PRODUCER: ALBERTO SAAVEDRA
PRODUCTION MANAGER: YAGO LÓPEZ
PRODUCTION DESIGN: CÉSAR PAYO
STYLIST: BERTA ABASCAL
POST PRODUCTION COORDINATOR: JULIÁN L. CÓPPOLA
3D ANIMATION: LA POSTA
POSTPRODUCTION: METRO
MUSIC: AUTHORS: ALEXANDRE DESPLAT AND AARON ZIGMAN
THEME: MR. MAGORIUM'S WONDER EMPORIUM-FINALE
EDITOR: MIGUEL SANZ
CAMPAIGN ADAPTATIONS: 135", 60", 30", 20" AND 10".