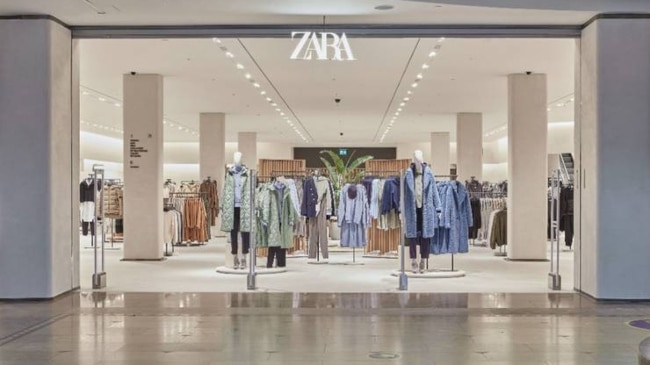 Zara's brand value soars 19% this year after a flat 2021
NEWSROOM
Zara's brand value has shot up 19% this year, reaching 25.4 billion dollars, according to Kantar's annual BrandZ ranking. This represents significant growth after stagnating in 2021. This figure is obtained by multiplying the financial value attributed to the brand by the percentage of brand contribution.
It should be remembered that Inditex – the owner of Zara – has experienced an important milestone this year, with the arrival of Marta Ortega as chairman, replacing Pablo Isla. The executive's responsibilities include the company's communication.
Ortega has also debuted with record financial results, with sales of 6,742 million euros in its first fiscal quarter (February to April), which represents 36% more than in the same period last year and above the figures for 2019 (5,927 million).
Zara is once again the only Spanish brand present in the global Top100 that Kantar compiles every year. Specifically, in this year's 2022 edition, it occupies 83rd position, the same as last year. It is also the second most valued brand in the world in the Textile sector, only below Nike and above Adidas, Uniqlo or H&M.
Apple takes back the lead
According to this study, Apple is once again the most valuable brand in the world, after reaching 947.1 billion dollars, an increase of 55%. It ousts Amazon, which was the leader last year, but has now dropped to third place, with $705,646 million (+3%).
Google climbs to second place and is one of the fastest rising brands in the ranking, increasing its brand value by 79% to $819.6 billion.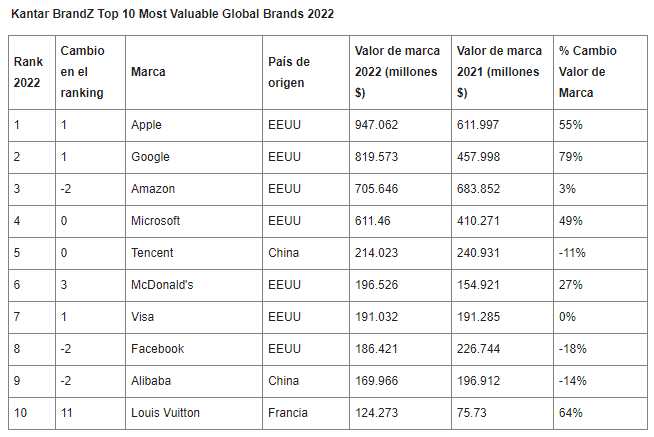 The main factor that Kantar mentions to explain the good results of technology companies in the ranking lies in creating their own ecosystem and continuing to innovate and diversify their offering, as their services combine technology, entertainment and payment services. On this, brands that rely on one category or market have a higher risk profile, while those that have diversified across multiple categories and markets showed faster growth in brand value in 2022 and are more likely to have above-average growth.
However, not all technology companies have performed well in the ranking. In this area, Facebook (-18%) and China's Tencent (-11%) and Alibaba (-14%) suffered a sharp decline.
Louis Vuitton, Europe's leading brand
In addition to Technology – a segment that has grown by 46% – the Luxury category also stands out. In this segment, Louis Vuitton is the first luxury brand to reach the global Top 10. Banking (+30%) and Automotive (+34%) brands also saw significant growth, while Fashion grew by 20% and Personal Care by 17%.
Overall, the combined value of the world's 100 most valuable brands increased by 23% to $8.7 trillion over the past year, highlighting the importance of brand strength in navigating an unstable global economy. In line with this, 37 brands out of the 100 in the ranking improved their position this year and more than three quarters of the value in the ranking comes from US companies, which already last year accounted for 74% of the total value of the Top100.