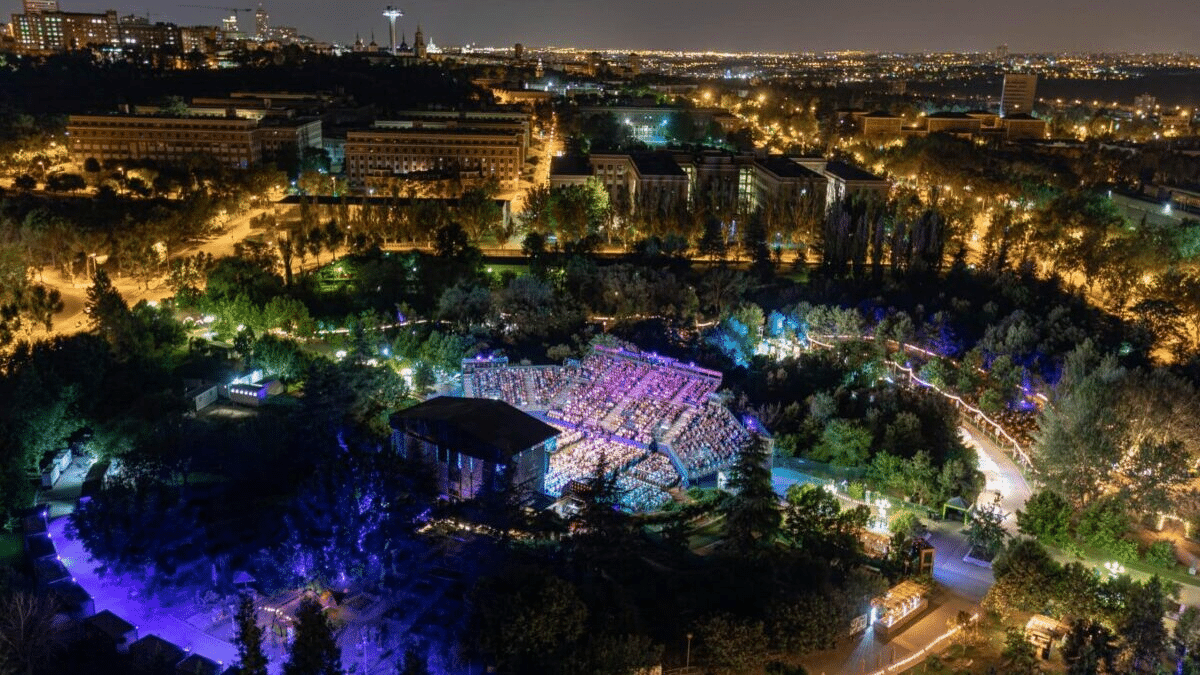 These are the festivals that will take place this summer in Madrid
PR
|
MAY 24, 2023
|
LAST UPDATE: MAY 24, 2023 13:34
NEWSROOM
Summer is almost here and Madrid is warming up to host one of its great attractions: festivals. Music, good atmosphere and food trucks are the perfect combination to enjoy summer nights in the capital.
Botanical Nights
The Botanical Nights festival celebrates its seventh edition from 7 June to 30 July 2023 in the Royal Botanical Garden of Alfonso XIII located in the Complutense University of Madrid. A series of concerts for summer evenings and nights in which a selection of national and international artists will perform to present their latest works and hits live in a unique setting.
The new edition brings together 45 musical events with artists such as Bob Dylan, Placebo, Nile Rodgers, Natalia Lafourcade, The Lumineers, LP and Zaz, among others.
Primavera Sound
The Primavera Sound festival celebrates its 2023 edition in a different way: this time it will be held in two Spanish cities. The first weekend of June it will take place in Barcelona, while from the 8th to the 10th of June it will land in Madrid, specifically in the Ciudad del Rock in Arganda del Rey.
The festival will feature over 200 performances at each venue, including artists such as Depeche Mode, Kendrick Lamar, Blur, Rosalia, Halsey, FKA twigs, Skrillex, St. Vincent, The Moldy Peaches, Calvin Harris and Le Tigre.
Boombastic Festival
Boombastic Festival celebrates a new edition in the Miguel Ríos Auditorium in Rivas-Vaciamadrid on June 17th 2023, becoming one of the first summer festivals in the city.
An event that brings together the best of urban music of the moment with artists such as the Argentinean artist Bizarrap, Funzo&Baby Loud, Recycled J, Delaossa, Ptazeta, Pole, Ysy A, Zetazen, Hoke&Louis Amoeba, Jaime Lorente, Leo Rizzi and Nano, among others.
Tomavistas Festival
The festival of reference with different styles and musical proposals will celebrate its seventh edition from 22 to 24 June 2023 in the Enrique Tierno Galván Park.
The Tomavistas festival will feature performances by groups such as La La Love You, Sidonie, Niña Polaca, The Vaccines and La Casa Azul, among many others.
A Summer Story
A new edition of the festival of reference for lovers of electronic music has arrived. A Summer Story returns to the Rock City on 23 and 24 June, turning it into the temple of the best music of today.
Enjoy two days of music with a wide range of styles: Techno, Deep House, EDM, Urban and Hip Hop, Remember or Hardstyle with a lineup formed by WADE, Armin Van Buuren, Klangkuenstler, TRYM, Don diablo or Nico Moreno, among others.
Rio Babel Festival
After the success of its previous editions, the Festival Río Babel returns to the Caja Mágica from 30 June to 2 July 2023 for its fifth edition.
A heterogeneous Ibero-American music festival with the presence of top national and international artists, where the participation of Morat, Juan Luis Guerra 4.40, Bomba Estéreo, Julieta Venegas, Guitarricadelafuente, Macaco or La M.O.D.A., and many more, has already been confirmed.
Puro Latino Fest
The City of Rock in Arganda del Rey will host the Puro Latino Fest festival on 30 June and 1 July, with more than ten top artists including Nicky Jam, Manuel Turizo and Myke Towers.
Among the first batch of confirmed artists are J Balvin, Dellafuente, Eladio Carrión, Gente de Zona, Juan Magán, Morad, Ñengo Flow, Omar Montes and Rvfv, along with sessions by Álex Martini DJ, Alvama Ice, Ballesteros DJ and José de las Heras.
Mad Cool Festival
One of the most important music festivals in the world celebrates its sixth edition from 6 to 8 July 2023 with a wide range of artists including Red Hot Chili Peppers, Robbie Williams, The Black Keys, Lizzo, Sam Smith, Queens Of The Stone Age, The 1975, The Offspring, Franz Ferdinand, Liam Gallagher and The Prodigy.
In addition, Mad Cool Festival changes its venue for this new edition and will be held at Espacio Mad Cool / Nuevo Espacio de Festivales de Madrid.
Reggaeton Beach Festival
The best Latin music will once again come to Madrid in one of the biggest urban festivals in Europe. Reggaeton Beach Festival lands at Espacio Mad Cool / Nuevo Espacio de Festivales de Madrid on 22 and 23 July 2023 with a large beach with inflatables and water attractions, food stalls and workshops and, of course, performances by the best of reggaeton: Anuel AA, Ozuna, Arcángel, Jhayco, Bryant Myers, Lunay and Sech.
Kpop Lux
The Estadio Cívitas Metropolitano (Madrid) will host the Kpop Lux festival on 22 July, which will feature some of the world's top K-Pop bands, such as Enhypen, Ateez and Ive.
The show will feature a minimum of six bands and more than 40 artists on stage. The remaining four bands will be revealed in the next month and Madrid is expected to be a city of reference for fans of this musical genre in Europe.