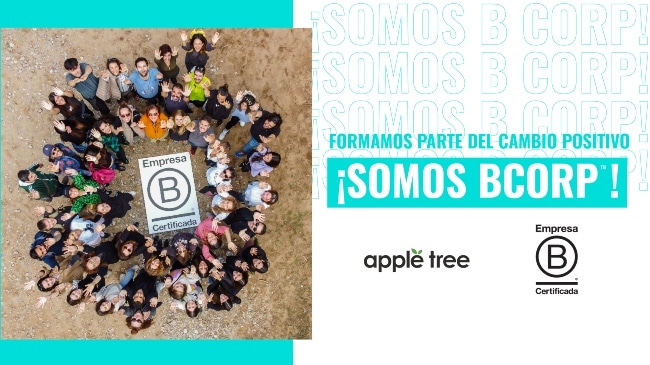 Apple Tree becomes a new B Corp agency
PR
|
DECEMBER 12, 2022
|
LAST UPDATE: DECEMBER 12, 2022 13:27
NEWSROOM
Apple Tree joins B Corp after exceeding standards in terms of social and environmental performance, transparency and corporate responsibility. In this way, the company has completed a strict certification process that evaluates the five main areas of an organization's impact: governance, environment, community, employees and customers.
For Carme Miró, CEO of the agency, "being a B Corp company is a dream come true. Since we founded Apple Tree fifteen years ago, our main objective has been to build a communications agency where only good people and good professionals have a place. Now, we can say that we have added a third 'b' to our DNA, that of B Corp, something that fills all of us who are part of this company with pride".
Pablo Sanchez, executive director of B Lab Spain – the non-profit organization that drives the B Corp movement in Spain – said, "We are especially happy to welcome Apple Tree, our communications partner, to the B Corp community. This community works to reduce inequality, respect and regenerate the environment, strengthen communities and create high quality jobs with dignity and purpose. Apple Tree is a new member of the B Corp community, demonstrating by example how these results can be achieved and how communication can be used to transform the world."
In order to pass the standard and become a B Corp company, B Lab conducts a rigorous certification process through which companies must provide evidence of their best practices. In the case of Apple Tree, all of the company's offices in Madrid, Barcelona and London have been assessed.
Apple Tree's commitment to society and its environment is articulated around three fundamental axes, which are equality, sustainability and partnerships, all framed within the same Sustainable Development Goals (SDGs) of the United Nations Organization (UN).
The company has been promoting a reforestation project for several years as part of its 'Goodness Day' strategy, whereby employees dedicate a day to improving one aspect of their environment. In the last two years, the communications agency's team has chosen two sites in Madrid and Catalonia, where its two offices in Spain are located, to reforest areas affected by fires. In the last edition of this activity, the team of more than 100 people planted more than 1,400 trees, with the aim of reducing CO2 emissions into the atmosphere.
In addition, since Apple Tree was founded, equity and equality have been two of its greatest aspirations. In fact, 64% of its management team is made up of women, including its CEO. This circumstance has led to a greater awareness of the agency's team towards projects of a markedly social nature and where equality between men and women is promoted.
Thus, three years ago, and as part of the activities that the company dedicates each year to the celebration of Women's Day, Apple Tree created the first "matrocinio" in history. Last year, and continuing with this strategy of support and visibility in areas where women are less represented -such as sports- the agency became a sponsor of the women's soccer club CFF Olympia Las Rozas. This "matrocinio" has materialized from Apple Tree in an economic way and also through a training and mentoring plan to support and make visible the CFF Olympia Las Rozas through actions that will serve for the young women to have an ad hoc training also in other more transversal disciplines, and thus add to the values that the club already provides them.
Beyond the confirmation of Apple Tree as a Corp company, the relationship between both organizations was born two years ago, when B Lab chose Apple Tree to define and implement the corporate communication strategy of the B Corp movement in Spain.
With its definitive and official inclusion in this worldwide reference movement, Apple Tree joins a community of more than 5,000 companies that are contributing to redefine the meaning of business success: a success that is measured not only by economic benefits, but also by the welfare of people, communities and the planet, and thus ensure that all companies compete to be not only the best in the world but, above all, the best for the world.