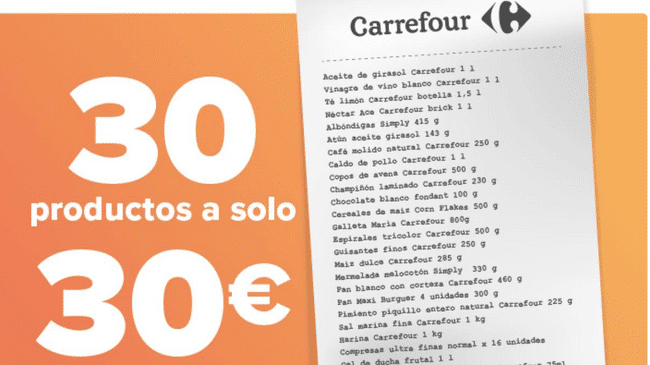 Carrefour's 'basic products' basket, a communication strategy with lights and shadows
NEWSROOM
In this news item we talk about: olivares
In the debate on shopping basket prices in the midst of the inflationary wave, supermarket chains are exploring new ways to position themselves close to consumers or, at least – somewhat reprehensibly – to appear to be so.
At a time when the price of food and drink has shot up by approximately 15% compared to last year, according to the INE, Carrefour has decided to be the first supermarket in Spain to raise its hand and approve a measure: the launch of a basket of 30 basic products for 30 euros to "protect the purchasing power of its customers".
A measure that, behind the headline, contains a small print that has been particularly criticised by users on social networks, who are debating whether this action really succeeds in helping out or whether it is merely aesthetic. Whether it is an effective or counterproductive strategy. Whether or not it contributes to improving its reputation.
Experts consulted by DIRCOMFIDENCIAL paint a picture of the campaign with lights and shadows. The executive director of the trust management consultancy TrustMaker, Sandra Sotillo, considers that "a priori, it is a successful initiative considering the context and the inflationary trend and its impact on food products. In terms of trust building, active empathy is the key. This type of empathy not only involves listening to and understanding your stakeholders, in this case customers, but also offering them solutions, which are within your power, to their concerns. And that is what Carrefour seems to be trying to do with this initiative".
Fernando Olivares, PhD and researcher in Brand Reputation and Family Business at the University of Alicante, also values positively "Carrefour's ability to respond to a current problem", although he warns that "we should not confuse speed with haste or haste, as this initiative, in theory, seeks to contribute to protecting the purchasing power of its customers, but in practice I believe that it does not achieve this".
The nuances of promotion
The first nuance contained in the 30 products for 30 euros initiative is that these products can be bought individually, without the need to purchase them together with a closed offer. But the reason why several users have been scandalised on social networks is because of the selection of products that the chain describes as 'basic'. Milk, bread, eggs and fresh produce are not included, unlike white chocolate, jam or Carrefour-branded lemon tea.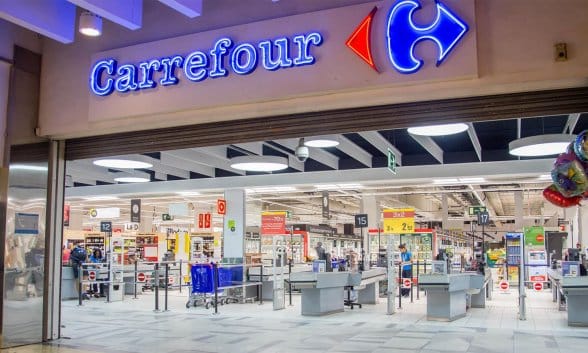 Sotillo, a specialist in intangible management, believes that "it is essential that the offer is clear, transparent, that the information is visible and the products are correctly identified". He considers that this "is not a cosmetic communication action. It is tangible and puts the consumer and his or her interests (savings, accessible prices) at the centre", despite the fact that it has "room for improvement" by not incorporating fresh products or alternatives for allergies and intolerances. In this sense, the company does not promise a "complete basket" and has expressed its intention to study the inclusion of other products. "It will be key for me to give an answer on this".
The academic is more critical. Olivares believes that "this initiative is not very well thought out from a corporate point of view, but rather from a promotional or commercial point of view. A serious matter has been instrumentalised through traditional promotional logic". The professor argues that this promotion "does not focus on the consumer, nor on truly basic products; rather, it is a pretext to sell the image that their white brand is cheap. I believe that this campaign has more impact in the media and networks – where it is criticised more than anything else – than it has a positive impact on sales".
This initiative," continues the expert, "generates some notoriety for Carrefour, but it does not build a positive image, nor a good reputation, the kind that adds value to the company. Much less does it contribute to increasing its social legitimacy," he says.
Inflation, the new reputational challenge for supermarkets after widespread success in pandemics.
Inflation is the current reputational challenge that supermarkets are being challenged to adopt a new position, following the sectoral milestone of COVID-19. During the pandemic, especially in the confinement period, the chains were recognised as important social actors, and were generally able to rise to the occasion.
In that unusual scenario, Sotillo acknowledges that supermarkets "made great efforts" and "can now place the needs and interests of their customers at the centre of the way they act and position themselves. This is and always will be the key to building trust".
In the most serious stage of the coronavirus, Olivares explains that "supermarkets gained reputation; they gained collective recognition and applause for their response", and there, Carrefour was, in his opinion, "one of the companies that did well, like so many other supermarket chains". "Now, however, I feel that this initiative lacks sensitivity, it is neither thought through nor designed from a holistic, comprehensive or corporate perspective".
Transparency and sustainability are, according to the experts, some of the keys to supermarket communication in complex situations such as the current one. Sotillo argues that "what can really make a difference and build a positive reputation is that this initiative is not just a one-off offer but a long-term commitment". Olivares believes that "the time has come for a policy of open books with the public, of continuous communication and total transparency, to show and demonstrate objectively where the margins really are".
Carrefour plans to keep this promotion running, in principle, olivare