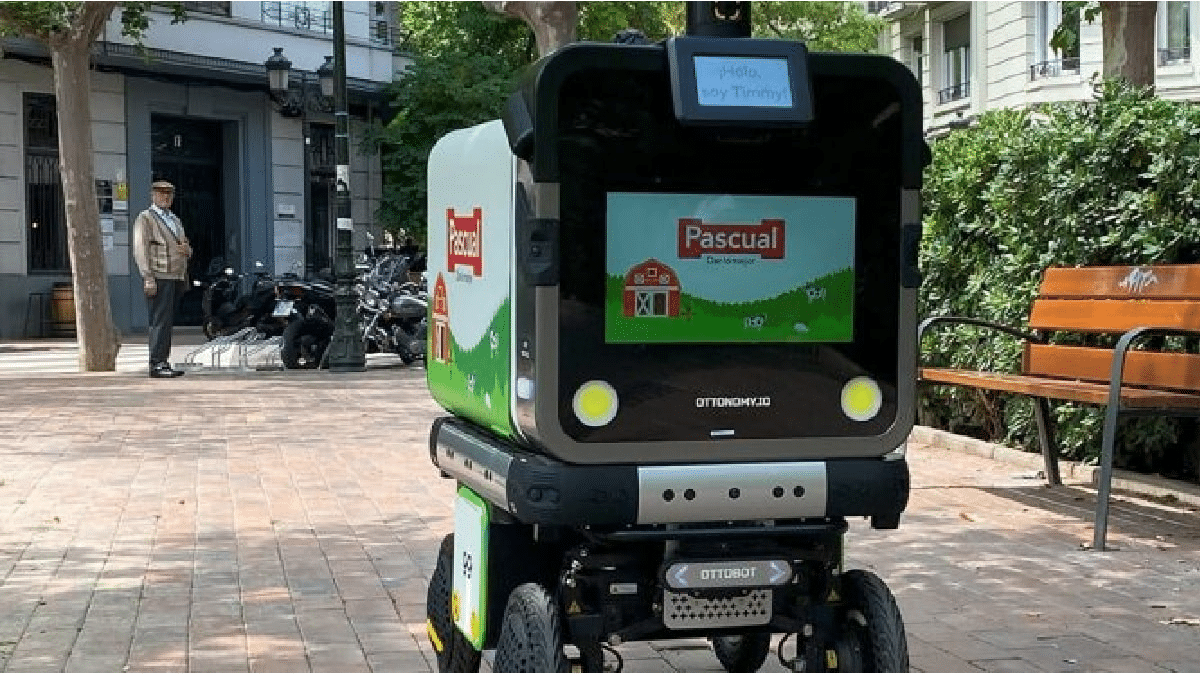 Pascual opens the door to order delivery in catering with autonomous robots
NEWSROOM
In this news item we talk about: Pascual
The present of the hospitality industry is as digital as it is sustainable. Pascual has taken an important step forward in its commitment to sustainable mobility with the launch of a new delivery service in the hospitality industry using autonomous and 100% electric robots, in collaboration with the logistics operator Goggo Network, which already works with Domino's Pizza to deliver orders in the Alcobendas area (Madrid):
The aim of this initiative is to complement the traditional delivery service, facilitating deliveries in urban areas and reducing pollution and traffic congestion in cities.
This strategic alliance between Pascual and Goggo Network is an important joint commitment to innovation and sustainability in our country. In this way, Pascual continues to drive its sustainable growth through disruptive initiatives that allow it to continue caring for the environment in which it operates, all with the aim of giving the best for the future of food.
In this way, the collaboration between the last-mile logistics operator and the manufacturer seeks to provide electric mobility alternatives through the creation of autonomous mobility networks in the hospitality sector. The project, fully consolidated, is already in full swing in Zaragoza, a city that is firmly committed to sustainable logistics and that stands out as an innovative and disruptive benchmark in the sector.
The use of autonomous robots in the logistics industry is booming globally, which represents an important opportunity for the sector and players such as Pascual, who are constantly seeking to improve their processes and offer innovative solutions to their customers.
In this sense, Pedro Marín, Pascual's Director of Logistics and Planning, highlighted that "this initiative is part of our strategy to offer more sustainable and efficient delivery solutions for hospitality customers, and in turn, contribute to the protection of the environment and reduce traffic congestion in cities. Pascual wants to continue to add value to the logistics profession by using autonomous vehicles for these more costly deliveries, which are mainly made in city centres, leaving the value-added work to the people and thus reducing the cost of the profession".
For her part, the co-founder of Goggo Network, Yasmine Fage, emphasised that "this new strategic alliance with Pascual is a key step in our consolidation as a medium and last mile logistics operator in Spain. With this agreement, we consolidate our offer, incorporating for the first time B2B services in the Horeca channel to our operations. At Goggo Network, we are very happy that a leading company like Pascual shares our vision of innovative and 100% sustainable logistics".
Building a sustainable future for the hospitality industry
Pascual's constant search for and commitment to process improvement has led the company to form an alliance with Goggo Network, the first company to obtain a logistics licence for autonomous robots in Spain. This alliance has made it possible to complement its 100% electric fleet in logistics and distribution, offering more efficient and sustainable transport services to its customers in Zaragoza.
This model, which complements traditional delivery, has become the first B2B service with this type of autonomous vehicles to the hotel and catering industry. In addition, services will also be provided with its 100% electric fleet (vans and other vehicles) to Pascual's various catering clients in Zaragoza. The company is working with the aim of expanding this service to other cities in the country in the coming years.
Goggo Network's autonomous robots are equipped with advanced technology that allows them to recognise and locate themselves with total precision in real time, even in complex urban environments. Being fully electric, they offer an environmentally friendly solution, in line with the growing demand for sustainable mobility and transport alternatives.